No Telling
Dir. Larry Fessenden (1991 93 mins, 35mm)
Miriam Healy-Louie, Stephen Ramsey, David Van Tieghem
When Lillian Gaines moves to the country with her husband for a quiet summer retreat, she never suspects that meeting activist Alex Vine will force her to confront her deepest fears about the man she married, and the bizarre experiments under way in his lab.
VIDEO BUSINESS
August 1998
"Always spooky and at time genuinely horrifying, this 1991 independent production is an unusual commodity. At its roots a thriller if not an outright horror film, NO TELLING is also a drama with social purpose, namely a defense of animal rights and, more generally, the environment. Though occasionally stilted and preachy, this very watchable entry makes the most of a shoestrill budget, delivering its message with meaning, honesty and jolting, purposeful gore. NO TELLING should have been released on video years ago and proves that Fessenden is a filmmaker worth keeping an eye on."
THE BOSTON PHEONIX
1992
"A disgusting, horrifying spectacle. The Manichæn political correctness of Larry Fessenden and Beck Underwood's screenplay is bad enough for the way it shortchanges the real issues, but the depiction of what that psycho Geoffrey does to his animals will really send you reeling to the nearest washroom. Director Fessenden shoots Geoffrey's actions with a woozy un-SteadiCam, in the manner of cheap horror flicks like EVIL DEAD. But there's more gore here than in most horror movies, as animal torture is depicted with grim relish that surely crosses the line between expose and exploitation… the carcasses still pile up faster than in a Peter Greenaway movie."
THE BOSTON GLOBE
Jay Carr 1992
This sexual, political, environmental thriller is the year's real Sleeping with the Enemy… it's got hold of something and it's commitment gives it impact.
L.A. WEEKLY
Hazel-Dawn Dumpert October 30, 1997
"When Larry Fessenden made NO TELLING in 1991, the issues upon which he hung his reconstructed Frankenstein story – namely vivisection and environmental corruption – were on high boil. Which may be why, even today, viewers could miss the blatent romantiscism with which Fessenden re-inscribes classic horror conventions, commenting on everything from the clash and collusion of science and art to the beauty and horror of creation (filmic and otherwise) to the sadness of ephemeral love. The story of a young couple whose summer in the country goes terribly awry (he's there for his experiments in "chemo-electric therapies," she's ther to paint and get pregnant), NO TELLING is not without its flaws. Fessenden himself admits that the picture is mannered, and it does indulge in technique for its own sake; but through the blunders come bursts of Grand Guignol humor, some real thought about what's at stake for the film's wandering souls, and an appreciation for the idea that leaving ourselves open to the sentimental side of life exposes us to its terrors as well."
HISTORY
Finished in Fall of 1992, NO TELLING played at the Boston Film Festival and the Long Island Film Festival (winner, best first feature) and abroad in the Montreal World Film Festival and The Avoriaz Festival of Fantasy and Horror Films. It is distributed internationally as THE FRANKENSTEIN COMPLEX (Largo Entertainment). Since its U.S. festival run, Fessenden cut 20 minutes out of the film. It played recently at the 1996 Long Island Film Festival, and IndieQueens Showcase in Queens. It is due out in video in the Fall of 1997.
FROM THE DIRECTOR (April 1992)
"Certain stories in the horror and science fiction tradition hold a 'Don't mess with mother nature' message underneath. We wanted to work with a classic horror story structure–the remote farm, the maverick research scientist, the wife who uncovers the secrets of the lab, and the greater issue of what happens when man 'plays God'– to explore certain contemporary assumptions about scientific progress.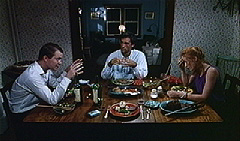 We stray from the genre by having Geoffrey do nothing that is illegal, or necessarily immoral. His wife is aware and supportive of his work, in the way that all of us, being the lay-public, are aware of the basic methods of science and assume that the goal of science is to better mankind. Only when Lillian feels personally rejected by Geoffrey does she begin to question his work. Only when illness strikes the farmer in the film does he veer from chemical farming. Only when we are touched personally by environmental calamity does environmentalism become an issue to us. The horror then, is when the acceptable and the every-day turn against us. When what we have supported and believed in becomes abhorrent to us.
No Telling is a portrait of the scientific process, which like any other human endeavor, is clouded by competitiveness, ambition, eagerness and waste. But the same blundering trial and error rhythms that lead to discovery in other creative fields–like the arts for example–are performed by the vivisector on live animals, and this is a compelling moral problem. Still, most of us feel unqualified to comment on scientific issues. The essentially powerless position that the public places itself in on matters of science relates to the inability of the animal who is being experimented on to protest. We are all willing guinea pigs.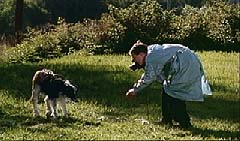 I've been influenced most by the movies of the '70s where happy endings were not a given. With No Telling, I wanted to celebrate certain truisms of genre clichés without having to follow them to their predictable end. The lack of any genre pay-off focuses the viewer's attention back to the issues of the film. The climax of the story challenges audiences to confront their own complacencies, both in relationships, and in the broader questions of ethics and responsibility in scientific exploration.
No Telling is not science fiction. The research in Geoffrey's lab is based on documented experiments. His quest for a method to suppress the immune system and allow the transplanting of limbs and organs is a common goal among transplant researchers. We chose these experiments because they are basically sanctioned by the public. The scientist in our Frankenstien is not evil: he is doing the public's bidding, finding remedies for society's ills. I wanted the absence of a real villain to make the film more disturbing, because it points the finger right back at us, the audience."
MIRIAM HEALY-LOUIE, "Lillian Gaines" – has appeared on stage in New York in the starring role of ROMEO AND JULIET directed by Bill Alexander, in Shakespeare in the Park's OTHELLO, and DANCING AT LUGHASA on Broadway. A graduate of New York University's MFA Acting Program, she has had major roles in productions at the Colorado Shakespeare Festival, both the Dublin and Edinburgh Theatre Festivals, and in several BBC/Channel 4 productions.
STEPHEN RAMSEY, "Geoffrey Gaines" – was cast in the original Broadway production of THE GRAPES OF WRATH. A 1988 Performance Studies graduate of Northwestern University, Ramsey was chosen to be an apprentice member of the famed Actor's Theatre of Louisville for the 1988-1989 season, where he worked with directors Jim Simpson, Jon Jory and Bob Krakower. Ramsey makes his feature debut with NO TELLING.
DAVID VAN TIEGHEM, "Alex Vine" – is world-known for his percussion-theatre performances, featured at Carnegie Hall and Lincoln Center as well as the entire circuit of contemporary performance spaces. As a musician, he has worked with brian eno, David Byrne, Laurie Anderson and Stevie Nicks and composed the scores for Lizzie Borden's film WORKING GIRLS and Penn and Teller's INVISIBLE THREAD. For NO TELLING, he has composed an array of sounds that underscores the mood of the film. As an actor, Van Tieghem has appeared at Joseph Papp's Public Theatre and on television in Robert Ashley's PERFECT LIVES.
Lillian Gaines MIRIAM HEALY-LOUIE
Geoffrey Gaines STEPHEN RAMSEY
Alex Vine DAVID VAN TIEGHEM
Philip Brown RICHARD TOPOL
Frances Boyd ASHLEY ARCEMENT
Chuck Boyd ROBERT BRADY
Martha Boyd SUSAN DEE
Walter Fealy WARD BURLINGHAM
Paul White DAVID FLYNN
Sam Bates J.J. CLARK
Dr. Sykes STANLEY TAUB
Simon Raft FRANCOIS LAMPIETTI
Peter Stone JOHN VAN COUVERING
Gary DAVID LESLIE
Waitress PAMELA CORRENTI
Delivery Men:
RAUL MORFI
GREGORY MORELL
Men in White Coats:
NEIL DANZIGER
FRANK DELLARIO
KERMIT COLE
KEVIN GREENBLOTT
Eden Ridge Employees:
LARRY FESSENDEN
MICHAEL ELLENBOGEN
BETSY MCMULLIN
Chester SPIKE, SAM
LARRY FESSENDEN (executive producer, co-writer, director) Fessenden's director credits include: HABIT (1996); HOLLOW VENUS; DIARY OF A GO-GO DANCER, (1989) THE IMPACT ADDICT VIDEOS (1986-89) and EXPERIENCED MOVERS (1985). (link to long bio)
RACHAEL HOROVITZ (producer) – Based in New York since 1988, Horovitz is currently head of developement at Fine Line Cinema. Before joining Glass Eye Pix to produce NO TELLING, she worked in marketing and distribution with Dino De Laurentiis' Los Angeles-based DEG since its inception in 1985 on such projects as David Lynch's BLUE VELVET, Roman Polanski's PIRATES and Bruce Beresford's CRIMES OF THE HEART.
BECK UNDERWOOD (co-writer, production design) – has worked as an art director, painter and illustrator in New York for seven years. Underwood was the production designer of the Glass Eye Pix movie HOLLOW VENUS; DIARY OF A GO-GO DANCER and a number of other short films. NO TELLING marks her first screenplay collaboration with Fessenden. She continues to develope scripts with Fessenden and is the founder was publisher of ZuZu, the internationally distributed bi-monthly newspaper for kids that flowered 1992-95, and can now be found on the World Wide Web.
DAVID SHAW (Director of Photography) – has shot dozens of well-known music videos for, among others, Technotronics, Pat Benetar, Dee Lite and Whitney Houston, and most recently, the abortion rights public service announcement, Choice directed by Juliet Cuming. Having been behind the camera on several New York independent shorts such as Grimness: A HARD DAY'S NIGHT, DORIS AND INEZ SPEAK THE TRUTH, and WILDBLADE, Shaw makes his feature film debut with NO TELLING.
MARO CHERMAYEFF (editor) – is a New York-based film editor whose credits include several award-winning documentaries, among them Peggy Stern's STEPHANIE, DEBUT, and BALI BEYOND THE POSTCARD, which she associate-produced as well. She was also editor on the latest film by Christine Choy and J T Takagi, KOREA, HOMES APART, and has worked on promotional campaigns for feature films including RAINMAN, THE ACCIDENTAL TOURIST, MOONSTRUCK, as well as trailers for MASTERPIECE THEATER and a music piece for Spike Lee's MO' BETTER BLUES. Chermayeff has edited several fiction shorts, and NO TELLING marks her feature film debut.
TOM LAVERACK (musical score) – is a singer-songwriter and lead member of the group Just Desserts. He has collaborated with Fessenden on a number of projects, co-writing and co-producing the album Sentimental War in 1987 as well as a number of underground tapes, among them American Nursing Home (1981) and Cold Hearts and Whiskey (1989). As a soloist, Laverack has played in many of the New York clubs, including CBGB's, The Knitting Factory, Kenny's Castaways, Tramps, and the Pyramid Club. A prolific songwriter, he has produced several collections of songs on cassette, most recently The Long Shot (1989) and Adolescent Soul (1990). Two of his recordings were released as a single in the fall of 91 on Bar None Records. Laverack has written songs for Fessenden's earlier films HOLLOW VENUS, and STUNT; A MUSICAL MOTION PICTURE; NO TELLING marks his scoring debut.
BOB FLANAGAN (creature and animal effects) – graduated from the Pratt Institute with a BFA in Art Education in 1978. While teaching developmentally disab led children there, he discovered puppetry as a teaching aid. In 1980 his interest lead him to television where he designed and built puppets for commercials. In 1982 Flanagan was hired by Jim Henson's company to create props and puppets for their film and theater projects. Flanagan's screen credits include: MUPPETS TAKE MANHATTAN; FOLLOW THAT BIRD; FRAGGLE ROCK; THE JIM HENSON HOUR; and SESAME STREET. In 1986 he teamed up with Norman Tempia and they eventually formed Den Design Studios. Their work has been seen on SATURDAY NIGHT LIVE, GET A LIFE, and LATENIGHT WITH DAVID LETTERMAN. Flanagan created the effects in No Telling with Tempia and puppeteer Peter Baird.