ROGEREBERT.COM—Simon Abrams | February 16, 2016
Hell to Pay: Indie Horror Icon Larry Fessenden on Wendigos and Ugly Americans
POP HORROR— 18 Aug 2018
Cult Filmmaker Larry Fessenden Talks 'The Ranger,' 'Depraved' And More – Interview
THE BEAT— 11 Oct. 2018
Larry Fessenden on Carving Up Space for Horror in a Comics Convention
ANTHEM MAGAZINE—22 Mar. 2019
A one-on-one with David Call and Larry Fessenden
AV CLUB—03 Mar. 2019
Larry Fessenden on Frankenstein, art, and Universal's Dark Universe: "They don't understand horror"
DAN'S PAPERS—26 Mar. 2019
Danny Peary Talks to 'Depraved' Director Larry Fessenden and His Four Stars
TALKHOUSE—Larry Fessenden, 09 Sept. 2019
Musings Of a Filmworker
Rue Morgue— 23 Sept. 2019
INTERVIEW: GETTING "DEPRAVED" WITH LARRY FESSENDEN
Ready Steady Cut—16 Dec. 2020
Depraved: an interview with Larry Fessenden
SCREAM HORROR MAG— 26 Dec. 2020
AN INTERVIEW WITH DEPRAVED FILMMAKER LARRY FESSENDEN
ComingSoon.Net— 18 April. 2021
Larry Fessenden on Unique Role in Horror Pic Jakob's Wife
BLOODY DISGUSTING—27 Aug. 2021
Larry Fessenden Revisits 'The Orphanage' to Discuss the Remake He Never Ended Up Making
AMERICAN CINEMATOGRAPHER— 11 Jan. 2022
Halyna Hutchins: A Cinematographer's Legacy
RUE-MORGUE— 5 Apr. 2022
EXCLUSIVE INTERVIEW: LARRY FESSENDEN ON GLASS EYE PIX'S PAST, PRESENT AND FUTURE, PART ONE.
RUE-MORGUE— 8 Apr. 2022
EXCLUSIVE INTERVIEW: LARRY FESSENDEN ON GLASS EYE PIX'S PAST,
PRESENT AND FUTURE, PART TWO
8 Apr. 2022
EXCLUSIVE INTERVIEW: LARRY FESSENDEN ON GLASS EYE PIX'S PAST, PRESENT AND FUTURE, PART TWO
Below we continue our interview with filmmaker/independent horror mogul Larry Fessenden (which began here), currently enjoying an expansive retrospective at New York City's Museum of Modern Art. All of his directorial ventures and many more movies he's produced through his Glass Eye Pix company are screening in this series; go here for the full schedule and details. Fessenden also works frequently as an actor, and he reveals that he recently wrapped a small role for one of the true greats…
What does Glass Eye have in the works now, especially horror-wise?
Well, as soon as I finish my MOMA retrospective, I'm going to start on my next film. It's written, and I wanted to shoot last fall, but I couldn't quite wrap my brain around it, and I did a couple of acting gigs. This may be a scoop for you: I'm in KILLERS OF THE FLOWER MOON, the Martin Scorsese film, which I made sure to make myself available for whenever that was going to happen. It was just a couple of days' work, but it was very seminal for me. He's my favorite living director, and I savored the whole thing, and spent time reviewing his movies and reminding myself how much he has meant to me over the years. That was a big deal.
Who do you play in KILLERS?
I'm in, ironically, a radio broadcast that happens in the film. It was a nice nod to [his audio-horror/drama series] TALES FROM BEYOND THE PALE, and I guess that's all I can say about it, but it was a special experience. So a number of things kicked my film out of fall production, and let's face it, I wasn't ready. But now I'm eager, so that's what I hope to be doing next. And I have a film that I produced called CRUMB CATCHER, by Chris Skotchdopole; it's his first feature as director. We shot that last summer, and it's in post right now.
You know, the thing is, people keep growing up and moving on from Glass Eye. Jenn Wexler [THE RANGER] is hoping to make her own film now, not a Glass Eye movie, but we've certainly been trying to help her for a year or two. People graduate from our fold, which I encourage, but then the new crop comes in with new projects.
What can you tell us about your next movie and CRUMB CATCHER?
CRUMB CATCHER is a thriller that stars John Speredakos, who is one of the longest-standing Glass Eye collaborators. He was in WENDIGO, and then about 12 of our other movies, and a lot of our radio plays. And then we have three other great cast members; it's a four-hander, four people in a house, and it's a thriller, not horror per se. [According to the IMDb, the plot concerns a newlywed couple held captive in a remote lake house by a crazed inventor and his wife.] But we don't really think about genre; we think about the unfortunate situations that people find themselves in in our movies [laughs]. So I'm excited about that.
As for my own film, I never talk about my movies in advance, but I am very excited about it. I hope to get it out quickly, because it's been burning for a little while now, and I'm eager to get it out there.
Your directorial projects have all had similar themes running through them, such as environmental concerns. Are we going to see those carry over into your new project?
Yes, but that's because I'm mostly concerned with how humanity, and Americans, I suppose, put society together. This was an urgent issue 10 years ago, and now it has even more urgency, because there's more distortion and lack of respect for truth, there's more manipulation, there's more narcissism and self-involvement and more environmental collapse. All the themes of horror movies are unfortunately coming true: the apocalyptic ideas of zombie movies and societal discord, and addiction themes and vampirism. All the themes that I'm interested in, I think they've always been true, but they seem very acute right now, as the world becomes overrun with avarice. It's just getting louder and louder, we can't find an escape. The theme of THE LAST WINTER is, you can never go home if the environment's collapsing, if there's climate change. You can't escape anywhere, and I feel like with our technology now, and our social media, you can't escape the noise of other people, and that's another form of deep, deep depravity.
So the answer to your question is: Yes, those themes will always be in my movies, until humanity gets their shit together. And then I'll be happy to make comedies. Everybody always says, "Why don't you make comedies?" because I'm actually a very silly person [laughs]! But it's because I'm so upset.
You mentioned zombie movies, and you've previously done your own variations on vampires, werewolves and the Frankenstein story. Do you have a zombie movie in you?
Oh, I do! It's called PITILESS SUN. It's a hard name to say, but if you see the words, it's profound, and it's from a famous poem ["The Second Coming" by William Butler Yeats]. I've been trying to make that one for years; it's supposed to take place in Mexico, and it's a great story. I wrote it with the same guy I wrote THE LAST WINTER with, Robert Leaver, and I sent it to a couple of companies… You know, the irony is, I love the act of creation so much that the act of following through is very hard. Like, how long do you pursue a single movie? How long do you try to get it made? And when I settled my sights on DEPRAVED, it took me nine years. So it's not like I can make a call and they make the film; I can never get enough money, and that's because the movies don't make a lot of money.
So this is a big problem that I have, but the nice thing is that I produced STAKE LAND, and that's a great apocalyptic zombie movie; of course, they're vampires, but they live in the mind as zombies, right? So that's why I produce, because I get to vicariously experience movies that I maybe haven't committed my own time to, or that I don't know how to get done, or that are better written and conceived of by Jim Mickle and Nick Damici, who did such a wonderful, passionate job with that movie. So I'm privileged to be part of their creative process, and to be an enabler and making sure they happen. I'm much better at fighting for other people than for me, because it seems effortless. If I believe in them, I will fight to the death, but if it's me, I'm like, "Gee, shucks, maybe it's not to be." It's tough.
You've supported so many up-and-coming filmmakers, you've kind of become the East Coast Roger Corman. How do you feel about your place as a mogul in the horror world?
I think the Roger Corman thing is great; I've also been compared to Val Lewton, which I like, because it's a reference to a producer who had an aesthetic that affected a small group of movies. But as a kid, I didn't love Val Lewton because there weren't enough monsters–it was all too subtle! So I'll probably be remembered similarly by future kids as, "Oh, those Glass Eye movies, there was never enough going on!"
But look, you know, it's a struggle. I have a retrospective going on at the Museum of Modern Art, which appears to be amazing. But the real thing that matters is whether you can raise the money for the next movie. And that remains elusive, so to me, I'm just struggling along, and I don't really have a place in any kind of movie history. I'll be a footnote, but when you're in the thick of it, what you've done is important, and I do feel that I've helped young filmmakers find their voices, and we do get movies made. Because that's my thing: Let's not talk about it, let's not yearn for more money, let's actually make the movie. And we can do it cheaply, because we're smart, and we care, and the art is what matters.
5 Apr. 2022
Exclusive Interview: Larry Fessenden Has So Much to SEE
An archive interview from The Gingold Files.
Editor's Note: This was originally published for FANGORIA on April 5, 2009, and we're proud to share it as part of The Gingold Files.
New York genre stalwart Larry Fessenden has been a very busy man as of late. The writer/director of the much-praised Wendigo and The Last Winter has become a veritable East Coast Roger Corman in recent years, producing a string of low-budget genre features for the Scareflix banner of his Glass Eye Pix production company. One of them, the psychedelically tinged I Can See You, will soon have its premiere theatrical engagement in Manhattan—with a special added bonus.
I Can See You, the feature writer/directing debut of Graham Reznick (sound designer on Scareflix's The Roost, Automatons and Trigger Man), will be playing at the new hi-def Cinema Purgatorio theater at KGB/Kraine. Cinema Purgatorio, part of a distribution concern run by Ray Privett (a veteran of NYC's late, much-missed Two Boots Pioneer Theater), will present with the feature a new 3-D short called The Viewer, also scripted and directed by Reznick.
"Yes, Glass Eye is getting into the 3-D business; we won't be outdone by Hollywood," Fessenden says. While he prefers to keep The Viewer's story details secret for now, he does add, "Let's just say we had Brian Spears [a makeup FX creator on Scareflix's I Sell the Dead] on the case, so obviously there are some ghoulish delights in there. But it's typical of Graham's work; it's very trippy and heady, wonderful stuff."
I Can See You itself follows three advertising guys as they trek into the woods to develop ideas for a new cleaning-product campaign, and the trip takes a scary, hallucinatory turn. "It's one of the more concise and artful of our Scareflix," Fessenden says. "I'll certainly acknowledge that it may be a bit obscure to the average audience, and it's a little bit more of a treasure that you have to carefully unfold." Beyond its big-screen play, he's looking forward to more people seeing See You on DVD. "It'll be out on Amazon and also through the Cinema Purgatorio label in late May," Fessenden reveals. "We're very happy to be one of Ray's debut titles, and we're gonna continue partnering with him because Ray is a great, hard worker. He has helped us on a lot of movies, and it's time for us to team up in public instead of him just slaving away in the dark."
The filmmaker further reveals the extras we can expect to see on that disc: "We'll have a lovely making-of, and a great commentary which should be enlightening, since the film is a bit of a mystery. It will be great to hear what Graham has to say, to whatever degree he reveals his intentions. The movie is so carefully crafted with so much great sound design, and editing rhythms we haven't seen since Nicolas Roeg. It's very provocative and quite mysterious, and even though we're looking forward to its theatrical run and hope people will come, it's also a movie that will work great on DVD, where you can really spend some time enjoying it."
Also poised to greet a wider audience soon is the aforementioned I Sell the Dead, a horror/comedy about 18th-century graverobbers written and directed by Glenn McQuaid, and starring Lost's Dominic Monaghan, Fessenden and genre favorites Ron Perlman and Angus Scrimm. "I hate to be mysterious," Fessenden says of the movie's distribution, "but we're in negotiations on a couple of fronts, and we hope we'll be able to make an announcement within a week or two. Whoever we go with, we're hoping for a fall release in theaters—however large that release is, that's part of our conversation—and then obviously VOD and DVD. It really is a charming film that belongs on every shelf."
Regarding the sequel McQuaid is scripting, Fessenden adds, "I've read 100 pages, and it's totally delightful. Glenn actually does want to make another film first and get something under his belt. I just want Glenn to make more movies sooner rather than later, and The Further Adventures of Grimes & Blake will hopefully be among them, but not necessarily the next thing he does."
And then there's The House of the Devil, Ti West's third Scareflick after The Roost and Trigger Man, in which a babysitter (Jocelin Donahue) makes the mistake of taking a job in a home run by a diabolical couple (played by genre stalwarts Tom Noonan and Mary Woronov). The movie will have its world premiere at this month's Tribeca Film Festival in NYC. "We're so excited; everybody's coming to town for the event," Fessenden says. "It'll be so great to finally get that out in public. We've all been laboring away, once again with Graham Reznick working hard on the sound."
There's plenty more on the Glass Eye Pix horizon too, including a deal with Dark Sky Films for a series of new fright features. "It's a matter of days, if not hours, before that deal is inked," Fessenden reports, "and then we'll be making three very exciting movies in the next year. We'll call them Scareflix; the fact that they're being financed by an outside company is merely a relief rather than a change of approach. These are low-budget films by some of our favorite people: Jim Mickle of Mulberry Street is making Stake Land, James Felix McKenney is doing Hypothermia and we have a very interesting filmmaker making his first movie for us, and our most contained film.
"I've deliberately gone to a non-horror guy and invited him to sort of step into the genre," Fessenden continues. "He's a great, smart director I've known for years, and he's gonna make a great little movie. We'll announce that when we have it all squared away." (The Woodstock Film Festival recently spilled the beans about his identity, though, reporting that "director Joe Maggio [Paper Covers Rock] confirms that he will in fact be shooting his next feature film in the Hudson Valley this coming May. We can't reveal much about the still untitled project, other than the fact that it is being produced by horror maestro Larry Fessenden and Glass Eye Pix, and that it will feature a menu of culinary delights with a side order of horror.")
And finally, there's Satan Hates You, McKenney's latest feature (modeled after the "Christian scare" films of old, with a cast headed by Don Wood, Christine Spencer, Scrimm, Reggie Bannister, Michael Berryman and Fessenden) and his third collaboration with the Glass Eye Pix chief after The Off Season and Automatons. "There's not much I can say—it was for my eyes only—but I finally saw Jim's first cut of Satan Hates You, and I'm extremely excited," Fessenden says. "This movie is gonna be truly, unfathomably strange, and it's wonderful. It just confirms all my belief in Jim's voice as a filmmaker, and Angus is outstanding in it. It's just a crazy romp filled with truly eccentric characters."
5 Apr. 2022
EXCLUSIVE INTERVIEW: LARRY FESSENDEN ON GLASS EYE PIX'S PAST, PRESENT AND FUTURE, PART ONE.
By MICHAEL GINGOLD
For the past four decades, Larry Fessenden has been crafting some of the best, most personal and idiosyncratic movies on the independent horror scene, and has produced dozens more via his Glass Eye Pix. With a major retrospective of his and his company's work now underway at New York City's Museum of Modern Art, RUE MORGUE spoke to Fessenden about his history and influence in the genre, as well as his genre acting gigs and what's coming next.
"Oh, the Humanity! The Films of Larry Fessenden and Glass Eye Pix" is showcasing both virtual and in-person screenings of Fessenden and co.'s features. The man himself is represented by the don't-tamper-with-nature thriller NO TELLING, his semiautobiographical vampire drama HABIT, the mythological chillers WENDIGO and THE LAST WINTER, the killer-fish flick BENEATH and the FRANKENSTEIN variation DEPRAVED. Other notable movies in the lineup include his son Jack's STRAY BULLETS and the new FOXHOLE, Ti West's THE HOUSE OF THE DEVIL and THE INNKEEPERS, Jim Mickle's STAKE LAND, Glenn McQuaid's I SELL THE DEAD, Ana Asensio's MOST BEAUTIFUL ISLAND, Joe Maggio's BITTER FEAST, Jenn Wexler's THE RANGER, James Felix McKenney's AUTOMATONS, Graham Reznick's I CAN SEE YOU and more.
With such an expansive retrospective now playing in New York, how does it feel, looking back over Glass Eye's filmography after all these years?
I like to imagine that the tone of our movies is sort of personalized horror, and that that was unique back in the '90s, when we started. And then I was lucky enough to meet like-minded people such as Ti West and Kelly Reichardt; she doesn't make genre films, far from it, but there's a sense of observation in her work, and you see that in a movie like Ti's THE HOUSE OF THE DEVIL: the same fetishizing of detail and character motivating the stories. Obviously, HABIT is a very personal film of mine, and then WENDIGO is in a way personal as well, but I bring in mythologies and other horror tropes.
So what I like about Glass Eye is that all these movies are connected in some way, in approach and attitude. And then there's always the aspect of craftsmanship and building a community of people who love the details in the work, like Graham Reznick, who did Ti's early sound design in all his movies, and had great theories about that craft, and then he worked with Jim Mickle and Joe Maggio and some of the others. And Joe Maggio wasn't a genre filmmaker either–he told personal, low-budget stories–but I loved his stuff and asked him to do a genre film. So I benefitted from meeting all these other filmmakers, and encouraging them to work at Glass Eye.
I really hate to use this word, but you were elevating genre cinema before "elevated horror" became a catchphrase. Do you see Glass Eye as ahead of the curve, and a predecessor of companies like A24?
Well, A24 of course is working with Ti West [on X], so there is a through-line. I love the recent horror films like THE BABADOOK, IT FOLLOWS, THE WITCH and HEREDITARY. Those are all remarkable recent genre films that are also dramas, and concerned with themes that are often associated with indie dramas: family deterioration, mental illness, all that sort of thing. Not that you want to become a hand-wringing sort of genre, but the reality is, that was what these movies were always about. When you see WHAT EVER HAPPENED TO BABY JANE?…that's just a random classic, but you can go even further back, and these themes always existed in horror movies. ROSEMARY'S BABY, THE OMEN…these are films about families and struggling with darkness.
But yes, I believe Glass Eye was an early adaptive of this idea of the personal, elevated horror film, treating it not as a body-count genre–and in a way, to our detriment, not always for kicks. I mean, that's essential to say: Not everybody likes our movies; they're a little bit headier, they may be slow-paced, because their agenda is not simply the shocking and the gory. It's more of a mood agenda. So they're not for everyone, but I think it is an essential niche.
You mentioned Ti West and A24, and X, which employs a number of your past collaborators, is kind of the best Glass Eye Pix movie that Glass Eye never made. Did West ever discuss that one with you?
Oh, no, because I was never able to raise that much money. Of course, I raised money for THE HOUSE OF THE DEVIL with my fellow producers Josh Braun and Roger Kass, which is how I hooked up with Greg Newman's company MPI, and that started a long relationship: We made THE INNKEEPERS, STAKE LAND, BITTER FEAST, LATE PHASES… But in general, I usually produce people's early films, and then they graduate and move on, and take what they've learned and go off into the real world. The nice thing about Ti is that he always reaches back. He put me in his Western, IN A VALLEY OF VIOLENCE, and he always sends me scripts and we talk about whatever. And of course X was produced by Jacob Jaffke, who came up through Glass Eye, and Peter Phok, who did the same, and Graham did the sound on X. So there's a continuity, always, and that's what nice. Jim Mickle always picks up my calls; even recently, I asked him about an actress, and she's in a new Glass Eye movie, someone he knew. These are relationships that were forged at the beginning, and they've lasted.
In recent years, you've been making more appearances in other directors' movies, in larger parts. In JAKOB'S WIFE, you have the second lead, and you had a sizable role in WE ARE STILL HERE.
Yeah, well, JAKOB'S WIFE was wonderful, and that came about because I knew Travis Stevens and Barbara Crampton. We also have TALES FROM BEYOND THE PALE, the audio dramas I do with Glenn McQuaid, and that's been a great way to meet other actors. I've met Vincent D'Onofrio on that; I don't think he's gonna call me for anything, but the point is, it's a secret weapon to also be an actor, because you end up on bigger sets and you meet people, and it's a thrill but it can also sometimes lead to a collaboration down the line. You know, I've worked with Bill Murray and Adam Driver [on THE DEAD DON'T DIE], and all kinds of stars, which is fun. But then I go back to my little camp, and they won't take my calls [laughs].
And then I was just in BROOKLYN 45, Ted Geoghegan's new film, which was a wonderful experience. It's been tough with COVID, navigating through production, but we worked with protocols in place and had a great shoot this past December. I worked with Jeremy Holm, who starred in our movie THE RANGER, and I think he was cast because [director and Glass Eye vet] Jenn Wexler recommended him. So that's nice; you see it just go on and on.
Can you say anything more about your role in BROOKLYN 45?
Just that I had very well-combed hair [laughs]. It's a very special movie, because it was all on one set, it takes place all in one night; it sort of unfolds in real time. I think it was very personal to Ted, because he wrote it in collaboration with his dad, and it's about themes of war and heroism. That's interesting because my son just made a war movie called FOXHOLE, which I've been very involved with for a couple of years, because we shot it and then we were in COVID and it took a long time to finish. So it was funny to suddenly find myself involved in a couple of war movies, and really thinking about that sort of commitment in life, and what it takes and what bravery means, and what we're fighting for and democracy and all that heady stuff. Ted's movie, of course, will be great fun; there's all kinds of ghostly things going on.
Would you ever want to star in and direct a film again, as you did in HABIT?
Oh, yeah! I've always threatened to remake HABIT, and I've lately thought that I really need to get on with it, because time is running out. You know, do people want to watch a 60-year-old traipsing around? Now, maybe I'm shortchanging audiences; obviously, there's great movies with older leads, but that's sort of the stumbling block. Personally, one reason I've stayed in the independent world is that I like having a certain amount of control, but also the interplay of all the jobs on a set. I like building the set, and I want to be in the art department, and then I want to act, so to me it's a more personal, handcrafted medium than when you do a big film, and everything is designated. That's a great talent as a director, to designate well, but sometimes I just want to get my hands in. So I really enjoyed making HABIT, because I was in it and I could direct from the inside, and kind of move the scene where I wanted. Subtly, of course; I was still working with the script.
You also did voiceover work on the animated horror/fantasy THE SPINE OF NIGHT.
Well, I really enjoyed meeting the two creators, the co-directors. That's a special movie, though my stint on it was very brief, but it's wonderful as an actor to be involved in interesting projects and meet the filmmakers, and gain the insight into how they make their movies. Everyone has an origin story; that's the nature of movies.
Having taken part in the animation process with SPINE OF NIGHT, have you thought about Glass Eye doing animated films?
Well, my wife Beck Underwood is a stop-motion animator, so there's always a great affection there. And actually, when I did CREEPY CHRISTMAS, a little holiday-themed, spooky film festival of 25 different artists offering their little Christmas movies, I've been lucky to get one of the 25, and I always do animation. I do my own stop-motion, alone; I made a short called WILD RIDE, and one called SANTA CLAWS, and I really love the process. We have a movie at MOMA called THE PAST INSIDE THE PRESENT that's 7,000 hand-drawn pictures, really cool, almost a form of rotoscoping, which is what SPINE OF NIGHT was. And even in my own feature films, I use pixilation and animation; WENDIGO has a lot of those techniques.
So I love all the different textures that are possible in storytelling, and that's why I love horror, since it allows for more surreal and visionary expression, because very often they're subjective. They're frequently about madness and the darkness, so you're allowed to use more unusual cinema tricks that might not make sense in a normal drama, you know?
AMERICAN CINEMATOGRAPHER
11 Jan. 2022
Halyna Hutchins: A Cinematographer's Legacy
Looking back at a life ended by an on-set tragedy, and forward with an array of veteran motion-picture professionals who discuss workplace safety and how the film community can do better.
Producer-Director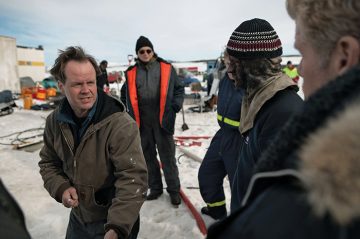 Larry Fessenden
I run a small production company out of New York called Glass Eye Pix. We have made dozens of movies, often with first-time filmmakers and often with the same crewmembers.
Our motto is: "Safety first, movie second, feelings third." And by "feelings," I mean ego. For me, this has philosophical weight. Safety of body and mind is the most important, and over the years the concept has expanded from car crashes and gunplay to include sex scenes, dietary restrictions and reasonable working hours. Let's just say it up front: Good food, communication and a respectful schedule are essential to a creative team's morale.
Having said that, production safety is everyone's responsibility. As a producer, my approach is to build a community of trust around the movie — the thing we are working together to achieve. I want collaborators who are enthusiastic and who bring a sense of pride to the project. I encourage camaraderie as well as personal responsibility among the ranks. If it's just another gig, they're not going to be fully engaged in creating the kind of environment where everyone can do their best work.
At every budget level there should be a pursuit and expectation of excellence and care. On the low-budget ($250,000-$3,000,000) films I've produced — which have included fire, guns, underwater sequences, icebreaking, plane crashes, car crashes, boats sinking and bad weather — everyone knows each other and has each other's back. A crew with fewer people means that everyone takes on more responsibility, and this group mentality has the effect of focusing everyone's attention.
This also goes for those in above-the-line production, who must be responsive to the needs of the crew. If there's a fear of speaking up on set, you're already in trouble, and those producers who are cutting corners and pushing crews past their limits are ruining the business for everyone else. Producers must listen and assess. If a complaint is well-founded, you adjust. A filmmaker who truly understands the power of film knows you don't need to endanger people to create a sense of danger on the screen. As Hitchcock would say: "It's only a movie."
Even so, I consider filmmaking a robust activity, and I expect my team members to have some grit. I grew up loving the films of Werner Herzog, Akira Kurosawa and John Huston; these movies have an aspect of controlled danger to them. You just have to create an environment of trust where your crew feels like they're always given a choice, and where saying no doesn't feel like a rebellion — it might just be a reality check. — As told to Iain Marcks
THE NEW YORK TIMES
30 Oct. 2021

Why the Vampire Myth Won't Die

Joe Dante, a veteran horror director, speculated that we have so much more to be scared of today than in recent years, both politically and medically, that "it may be difficult to go back to the purely supernatural approach." But Larry Fessenden, who starred and directed in one of the best vampire movies of the 1990s, the intimate New York indie "Habit," sees new opportunities for horror.
"The pandemic has heightened our fear of each other, of infection and contagion, invisible droplets delivering a cataclysmic blow to our physical beings, leading in turn to an atmosphere of deep mistrust and isolation," he wrote in an email. "And always, there will be those who don't believe the monster even exists. I think a wave of vampire stories that captures a claustrophobic preoccupation with death and paranoia may be filling our screens next."
INSIDE + OUT
21 Sept. 2021
Hollywood on the Hudson with Film Director, Larry Fessenden
Meira Blaustein: Hello Larry. We're sitting here in your interesting barn, surrounded by some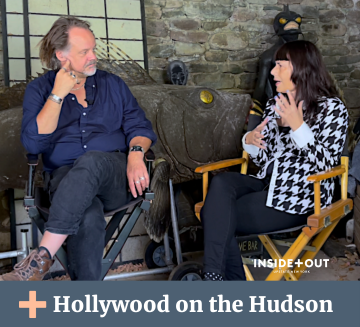 of your artifacts from the films that you've made, including this big dead fish here–what film was it from?
Larry Fessenden: "Beneath," a much-loved picture.
Meira Blaustein: So, Larry, you've been making films for how long?
Larry Fessenden: Since the 70s.
Meira Blaustein: Did you ever have this aha moment, when you realized that you wanted to make movies?
Larry Fessenden: Well, the truth is that I came to movies through acting, I wanted to be an actor. I did a lot of stuff, you know, even in grammar school where I managed to make an impression by playing a dragon in the school play. I fell over the stage backward onto my head, and everybody was talking about it for a week. So that's where I got the bug. And then, in the late 70s, like 79, I got a Super 8 camera and I started filming. I realized that the camera told the story; where you put the camera, the first shot, leading to the next shot. So, I sort of discovered how movies were made. And I became more and more interested in all the aspects, even beyond acting, that made movies. But the thing is, movies were much more mysterious about how they were made back in those days. It was much more piecemeal, and it was a great process of discovery to become a filmmaker.
Meira Blaustein: Do you remember your first film and where you made it?
Larry Fessenden: Well, the first movie I made, I would shoot Super 8 outside with friends and sort of find my way, I really loved that. I still think it's a great way to learn filmmaking. Obviously, now you could do it on an iPhone, but to compose and to sort of edit in-camera and really think about how one shot leads to the next. My first four films: one was about a car that runs over a child. One was about a man chopping up another man in a bathtub into little pieces with an axe; that was played by my brother. And then I made an existential drama about the history of humanity. These films were all Super 8. And that's how I found my way.
Meira Blaustein: Larry, I know that many of the films that you have been making the past few years have been shot in the Hudson Valley. Can you talk a little bit about what makes you want to shoot in the Hudson Valley? What is unique about it? Does it affect the style or the subject matter of the films because you're shooting it in Hudson Valley instead of any other place?
Larry Fessenden: Well, I believe very strongly that one of the main characters in a movie is the setting. And I've shot in New York City with great affection for the colors, the streets, the energy and the sounds. But we moved up to the Hudson Valley in 1999. We'd been visiting for five or seven years before that. And once I have a love for a place, then I want to put that on film. And, all the seasons are great. I made a movie up here in the snow, and there's so much richness. And now as I get older, I just like being at home, and sort of realizing, you know, you can shoot something just down the road. And if it's composed, right, and it's part of your story, it becomes really exciting to capture something that you know; the light and all the things that you're familiar with in one place. I've shot in Iceland. I've shot in Tennessee and Mississippi. But I always tell people to shoot upstate. There's vitality and enthusiasm here. Even though now it's HBO and Netflix, we still make independent films up here and I believe in holding to that ideal.
Meira Blaustein: You are the epitome of independent filmmaking. You're considered the uncrowned King of Horror Film, especially in the independence genre. Can you talk a little bit about the meaning of selling out in film?
Larry Fessenden: The whole idea of selling out. I've had friends over the years who were frustrated with me because they thought I should be more famous, or just famous for that matter. And you know, you can't actively sell out. What selling out really means is getting a job in a big budget studio. And I've had many interviews over the years to try to make bigger pictures. I came very close to making a movie with Guillermo del Toro called The Orphanage. And it's funny when it fell through, everyone assumed that I asserted my independence and said "to hell with Hollywood", and walked away in a huff. But that's not it at all, I wanted to make the film. I love the artisans, the professionalism of the Hollywood system. But the reality is, when I sit down to conceive of a project, it has an offbeat nature because I'm interested in riffing on cliches that are known in cinema, especially my genre, and then bringing something very personal in. So, there's enough of a contradiction there that it appears to be uncommercial. I would say that I have a very long sellout in that I've set up what Jason Blum does. Over the years, I made the idea of personal horror films my little corner of the world, and now that's much more popular. Even a movie like Hereditary and other artful horror movies sort of spring from that genre. So, I'm just a slow sellout.
Meira Blaustein: Thinking back about your career, be it acting, producing, directing, or nurturing young budding filmmakers, is there anything that you can take from those experiences? And think of it as one of your favorites? And if so, why?
Larry Fessenden: Well, I'm very lucky because the way I interact with the business is very varied. Sometimes I'm a very small actor in a big movie, I've done that. I've worked with Jodie Foster, Adam Driver, Bill Murray, and wonderful movie stars that I love as a fan. I've been in a Scorsese movie. I was in the Jim Jarmusch movie twice. These are seminal moments because you're working with people that you like, as a consumer of cinema, so to speak. They are cherished memories, but usually, they're fleeting. Then, on the other hand, I have my own films that I lived with, and to actually realize them on screen is so meaningful. Wendigo was a fulcrum because it was both extremely personal and it was in this very location, the Hudson Valley. I also had wonderful actors Patricia Clarkson and Jake Weber, so that's kind of a great memory. But then there are other things that I cherish because I fought so hard to finally got it made, like my film Depraved, which is my Frankenstein movie. I went to Hollywood, and I pitched it for seven, eight years. I finally made it for very little money and now it's on the screen, or as I say, it's on the shelf, because I like physical media. So many, many cherished memories. I'm very lucky. I feel like I'm a journeyman more than what everyone says– that I have a successful career. I always correct them and say, "No, but I have had many wonderful experiences in the movies, the business of movie-making".
Meira Blaustein: You've been part of the Woodstock Film Festival, at least since 2001. Many of your films have been at the festival, and films by your friends or people that you've supported have been in the festival. What do you think the role of the film festival is, for a filmmaker's career as well as just the film industry at large?
Larry Fessenden: Film festivals are essential, especially for indie filmmakers. Very often you found the money, and you've made the movie and now you have to sell it. So, it's an important business venture to go to a film festival. But more importantly, it's where you learn whether your film is going over in front of an audience. There's a ritual of going. You meet people and you scheme. You talk about your movie and have the actual applause and the Q&A, or the silence, and then the interrogation. But either way, you've just finished your movie and you finally get into a festival. I can also say, festivals bring great heartbreak because unfortunately, there's a hierarchy as with all things in movies, and so you want to be in Sundance, and then you don't get in. It's just like trying to be with the popular children. It's like everything in life. There's this hierarchy that you're always dealing with, so it brings sadness as well. It's great vindication and happiness–I've sold some movies out of festivals.
I love the Woodstock Festival because it feels like home. And it's fun to be in your own environment going to events and feeling a consistency because I have been through my films and films made by my friends. I always enjoy the vibe of the festival up here. But that's also because I like being at home. I've traveled to exotic festivals all around the world and it's always thrilling. You're in a bubble of cinephiles.
Meira Blaustein: I know that you're working on a number of projects, can you talk a little bit about what's coming up for you?
Larry Fessenden: I don't usually talk about my own films, because I have many superstitions. I'm writing a movie that I will shoot in upstate New York, in this beloved area. And that's what I was talking about. I literally want to shoot on the road next to this–I don't even have to get my car. In a funny way, it requires a great many locations in our community. I'm going to have to see if the shopkeepers will let me just quickly drop in. So that's all in the next six to eight months that I'll be scheming to do that. More importantly, I was the producer of my son's film, which is called Foxhole and I'm very excited that it's playing at the Woodstock Film Festival. It will be premiering in the US here. And I can't wait to show it, I'm very proud of the film. It had an extended life because of COVID, so we sort of took a year, waiting around for the opportunity to show it. We filmed right in the backyard, as we like to do, and yet it's a very ambitious and quite a beautiful film. I'm also a proud father. I produced a movie that's still shooting in California. I help films get made in different ways. Sometimes small investments, sometimes I give them my insurance, sometimes I give them a word of encouragement and recommendations. So, there are many ways that I'm involved in movies, and I'm acting in some films as well.
BLOODY DISGUSTING
27 Aug. 2021
Larry Fessenden Revisits 'The Orphanage'
to Discuss the Remake He Never Ended Up Making
"Well, I was in my office in downtown New York City," Mr. Fessenden begins. "I got a call from a Hollywood agent. They asked if I wanted representation. I said, 'Well, I don't know why you'd want to represent me. I'm just an indie filmmaker from the East Village.' And they said, 'Well, no. You're going to remake The Orphanage.' At that point, all I knew about the project is that it had been produced by Guillermo del Toro, and it hadn't even been released yet.
"I said, 'That is crazy.' I told her I'd get back to her at some point. I called my pal Ron Perlman, who had been in my film The Last Winter. 'Ron, what do you know about this?' Because of course, Perlman was a friend of del Toro, and Perlman was on set doing Hellboy II, I think. He said, 'Oh, well, Guillermo has news for you.'
"So it turned out that Guillermo had very kindly handpicked me to direct the remake. And it also turns out that Guillermo had been something of a fan of my work, starting with the movie Habit. We had never met, but I came to learn that he had been a supporter behind the scenes, which I've appreciated ever since. So I was hired by New Line, which was on a high right then because they'd made the Lord of the Rings with Peter Jackson. They were a company that was going strong at the time.
"I got a translation of the original version of the script, and I went to a private screening of the movie. I thought it was beautiful. Lovely direction, a very elegant piece. The good thing is that I could still imagine what I would want to do with it. So I took the script, and my memories of the movie, and I actually wrote a draft before ever meeting Guillermo. I sent it to him and he said, 'Why don't you come to Los Angeles, and we'll work on this?'
"When I sat down with him, he said 'Fessenden! It's like you're sleeping with my woman, writing a draft before we talk!' And I laughed. I said, 'Well, listen, man, I just wanted to get to know the material, and I look forward to talking to you about it further.' So we kind of started over. Not as a rejection of my work, but to have a conversation in a very organic way about the remake.
"It was like being in a film noir or something. I was staying in a hotel in Thousand Oaks, which is sort of a mountain suburb of LA, and then in the morning I would drive up the long road to his house. His assistant would greet me at the door, and I would go into his little playhouse. This was his second house, not where his family lived a ways away, but just where all his monsters and toys lived. It was filled with beautiful books and art and sculptures of his favorite fantasy figures and props from his own movies.
"There was a Jaws room, and a Hitchcock room, a room of illuminated manuscripts. It was just a wonderful museum. In fact, he wrote a book about that house called Cabinet of Curiosities. You can see what I'm talking about. I think it got threatened by the fires last year. I hope it's still there. And you know what else? Just to give some context, Guillermo was packing stuff to go down under to make The Hobbit. So that was the setting. Imagine sitting there with the maestro himself, talking about the script. What I found is that he's just got such a deep knowledge of genre, but a depth derived from literature and mythology, high-brow and low-brow, and of course from movies, too.
"So we spent about four days where we would chat and then I would go back to the hotel and write stuff, and then I would come back and we would chat some more and we built the story together. We're almost exactly the same age. But Guillermo, with his experience, his intelligence, and his success, felt like my elder.
"It was a real education. I believe we had fun together. I mean, I certainly had fun, but I think he got a kick out of it, too. Because when you are an artist, you enjoy the work, the problem solving, and the camaraderie.
"Then I went off back home to the East Coast and wrote the script. I would get notes from him, then we'd get studio notes. He would send me e-mails in ALL CAPS saying, 'Fessenden! What are you, Agatha Christie?! There's so much dialogue!' And I'd be like, 'Fuck you, man! I got all these points that need to be made!' [laughs] All very inappropriate, I guess.
"I finally invited him to be billed as co-writer on the script because I just felt his influence had been so essential. He brought some very personal things to the story. For example, his own father had been kidnapped in Mexico when he first became famous. Guillermo had to figure out how to negotiate with the kidnappers to get his father back safely. He brought some of this personal experience to the story. As you know, the child goes missing in the story, and Guillermo was talking about how when a tragedy like that strikes, people show up and say they're clairvoyant, that they can help you find your missing loved one. We incorporated that very personal experience into the script. The draft we came up with was not that different from the original, but very different in nuance and temperament."
For those who haven't yet seen the original film penned by Sergio G. Sánchez, a brief synopsis: Decades after having been adopted as a child, Laura (Belén Rueda) returns to the shuttered orphanage where she had spent much of her youth. Accompanied by her husband Carlos (Fernando Cayo) and adopted son Simón (Roger Príncep), Laura intends to reopen the orphanage to care for disabled children. While there, her son (revealed to be HIV positive) declares that he's made a new friend in Tomás, who he illustrates as a child wearing a creepy sack mask.
Not long after Laura discovers sinister social worker Benigna Escobedo (Montserrat Carulla) sneaking about the orphanage, Simón goes missing. A police psychologist suggests that Benigna may have abducted Simón, all as Laura and Carlos search desperately for their son. Months pass, until Laura happens across Benigna in town just before the suspected kidnapper is hit and killed by an ambulance. In the aftermath, it's discovered that Benigna had worked at Laura's orphanage, hiding her deformed son Tomás there until a cruel prank by the other orphans inadvertently led to his death.
With no other leads to go on, Laura enlists medium Aurora (Geraldine Chaplin) to suss out Simón's whereabouts. Aurora holds a séance, telling Laura that she can see the ghosts of orphans from Laura's own past, which leads our heroine to a terrible discovery: the bodies of the orphans, each having been poisoned by Benigna for their role in her son's death.
The orphans' ghosts guide Laura to her son, revealed to have died on the very night of his disappearance, having been trapped in a secret room beneath the orphanage. Laura overdoses on pills, freeing her spirit and taking her place as the caretaker of the orphanage's ghostly residents, including her own son.
"The most substantial thing that I changed, that I really was passionate about, was I made it all happen in about six days," Fessenden reveals, discussing his own take on the original material. "Whereas in the original film, it says 'Six Months Later' after the initial setup. When I see that in a movie, I always feel like, 'Well, what the hell happened during those six months?' I am quite literal that way. I just felt that I wanted to have the intensity of a mother not knowing where her child is, a child who was sick and needed to take medication. Every day, every hour would matter. I felt it was a revision to the original that would give it a different energy.
"And I wanted to make it a contemporary ghost story, set it in modern-day America. In my mind, I was going to shoot it differently than Bayona had by making it more naturalistic, with more of a Polanski vibe. I wanted to shoot in Gloucester, outside of Boston, on the shore. There would be a real, practical location with a lighthouse. We would have the orphanage there. I even traveled to Gloucester a few times because I knew the area. I had gone there and taken pictures, really getting a clear idea of how it would all go down. Guillermo and I had some differences about how it would be shot. He was more oriented to the control of working on a set. But, you know, I looked forward to the challenge of convincing him I was right."
Was there any sort of mandate as to how faithful Fessenden had to be in adapting the original story? He explains: "Look, I like updating classic stories like Frankenstein and Dracula. And when you update them, you have to bring a psychological realism to the telling to reassert the vitality of the stories. I had slightly new perspectives about the characters' relationships, about the agony the mother would have been going through. And about thematic things like the piano piece that the kid plays, and the details of the maps, and the clues and the games.
"One thing is, I didn't even want the kid to be sick. I fought with New Line about it, and they won. I didn't mind having them win, but I was like, 'How many tragic storylines do you even need?' You know? I didn't need that, but it was fine.
"Guillermo was, I think, on the fence about that, and a number of my impulses. He of course had been involved in the first one. So he could see the merit of all the choices that had been made. He loved the original. I don't think it was ever that he wanted to do it better. He just was curious to try it a different way, and I think he felt the property could afford a revisit. Anyway, we were pretty faithful all the way to the end.
"One thing that we brought out that I thought was cool was that they are reading Peter Pan in the original, and I leaned into that. You know, I delved deep into that book by J.M. Barrie, which is a book about children that don't grow up. And of course, if all the children are dead in the orphanage, they are suspended in their youthful state. So there are lots of themes and connections that we made that amounted to a difference in emphasis. I think that's what can make a remake interesting.
"Also, remember, another fun thing is that the third part of the movie is basically like a Ghostbusters sequence. I watched all the Ghost Hunter TV shows and had a lot of fun doing that research, just to sort of evoke all of that. Now we can say it would be similar to a movie like Insidious, but those ghostbusters are kind of played for comedy, which never suited me. So we really leaned into what that experience would be like. Maybe nobody needs to make this movie now, because it's kind of like the Conjuring movies in terms of ghosthunters showing up and dealing with family trauma. But this was before all of that. So at the time it seemed fresh. And I wanted to make that sequence terrifying and sad."
Fessenden giggles at this point, thrilled at going back through the beats of his story. He laughs, puts on an old-timey, Mid-Atlantic accent: "Now I'm getting excited! I'm gonna call the coast! We're gonna make this picture!"
Fessenden notes that his screenplay retained many of the same names as the original film, though the character of Benigna Escobedo was tweaked. "This character, [now named] Belinda … we expanded the character, and we sort of analyze who that was and what that storyline was. That character was important. We tracked her from the past back to present day. So quite a bit of subtle work with stuff that was already set up, but maybe not followed through because the original director had other points of emphasis. I'm mostly just talking out of my ass because I can't remember, I should have reread the script before doing this interview."
The original film ends on a surprisingly dark, emotional note. Would Fessenden's version have concluded with such a bold finale? "It's the same. We had the so-called dark ending. I just wanted the whole movie leading up to the end to be like the clock was ticking. And then, because they did keep the sickness, every day she was like, 'He should take his medicine today! This is another day he didn't get his meds!' You know what I mean? It's just more agonizing. So by the end, you're like, 'Oh my God, this is too much!' Anyway, I think it was pretty great. Guillermo was very tickled that we kept it really bleak."
Given the project's pedigree and the box office success of its source material, it's genuinely surprising that this particular film never made it into production. So why is it that audiences never got to see this Orphanage? Fessenden explains: "We had a fantastic script. It was very well liked in Hollywood. People felt it was really compelling, with appropriate changes to the original. Guillermo had it in mind to hire the best actresses in Hollywood. We went to absolute top-notch A-list actresses, and most of them passed graciously."
Fessenden even reveals that the Aurora character might have been portrayed by a legendary Oscar winner. "We talked about Meryl Streep. I mean, it's crazy, but for a fleeting moment there were some connections being made that could have led to an offer. But showbiz is filled with such illusions.
"Of course, the actors that passed, they all said that they loved Guillermo, but some of them weren't confident in my level of ability to protect them in such a vulnerable role. Or so I came to understand. I mean, everyone had a different excuse, and the material is very dark. But it is a horror picture, isn't it?
"Anyway, we tried to cast for about three or four months. My favorite experience was flying over to London and meeting Kate Winslet in a little hotel. She was just really awesome. When we finished our meeting, she said she would do it and she gave me a big hug. Two weeks later, I got an email from her agent saying that she was actually not going to do it. That she had done two bleak films in a row and wanted a change. But I think it's because Todd Haynes offered her Mildred Pierce. Ha. Anyway, Kate's the coolest.
"But, of course it's all very heartbreaking. That was sort of towards the end. We had been declined by some other actresses of note. Meanwhile, I met all kinds of production designers, costume designers, really top notch people. All of this was delightful and inspiring. I got great stories. One line producer we met had worked on Marathon Man, and talked about how that was shot. Another artist had done the costumes for Burnt Offerings. All kinds of random, wonderful professional from the studio system.
"But, the clock just ran out. I couldn't land an actress of the caliber they had hoped for. And then there was my last minute missteps where I went against my original instinct right at the crucial moment. When Guillermo said, 'Well, we've been through all these options, we can't figure out who to get. Who do you actually want?' I had someone in mind. She had been my original choice months before. But instead of naming her, I faltered. Impulsively, opportunistically, I named someone else. And that someone else declined, sinking the project.
"I try not to have regrets in life, but that's one of them. I betrayed my original instinct. After that rejection, the team said, 'You know what? Maybe we need a different director.' Guillermo called, and he was so sweet. He said, 'We're going to get Ridley [Scott]. We're going to get an A-list director, and they're going to make our script. It's going to be fantastic. But in fact, they went with Mark Pellington, who had made The Mothman Prophecies, a movie I loved.
"I thought, 'Well, Mark isn't quite of the stature of Ridley Scott, but fair enough.' I was excited that he was going to take over, because I really did want to see the script made. I must tell you that Mark was so enamored with the script. He really loved it, and read it three times in one day. We would chat about it, and he was just very committed. He had his own personal connections to the loss depicted in the story. But then as time went on, it was sad to see him kind of twist in the wind as well. Three or four months later, he called me and said, 'I'm going to make an independent film. I can't take this Hollywood game, and waiting around.' He got frustrated, and that's pretty much how it ended.
"When the news got out that I was leaving the production, I remember there was a lot of commentary from the indie scene saying, 'You know, Fessenden flips the finger at Hollywood!' But actually, it was not true. I love the professionalism and caliber of craft in every aspect of Hollywood moviemaking.
"I mean, we can talk now about how cinema has been ruined by The Avengers and all that kind of thing, but this was years ago. Ten, fifteen years ago, they would make these mid-level movies like at $20 million, and they could be auteur-driven. Hell, New Line had given The Lord of the Rings to a maniac indie filmmaker like Peter Jackson."
Fessenden reveals here that even though The Orphanage ultimately fell through, del Toro was still keen on collaborating with the filmmaker. "Guillermo said, 'Let's make another movie right away.' Another mistake I made in my life, I offered him my Frankenstein movie, and he said, 'I can't read your Frankenstein script because I have one of my own. I was so stuck on making that movie that I didn't come up with some other script for him, so that was my mistake. My lesson to the kids is – you gotta be light on your feet. I should've given Guillermo another property that he would have made, but maybe our time had come and gone at that point.
"He remained a friend and confidant for a time. We've drifted apart by now, but whenever I see him, he's still friendly, and it all feels like yesterday. Oh, and I did make my Frankenstein movie. It's called Depraved."
Though it's been nearly a decade since the project was in development, is there any chance that The Orphanage might yet see the light of a projector some day? "Well actually, I think in Hollywood anything's possible," Fessenden says. "It's a great story, it's timeless. It doesn't need a marker to make it worthwhile. I mean, maybe Jason Blum should buy it. It's a single location. The script exists, it's in the archives of New Line.
"You know, Jason's on a roll. I don't know why I'm saying this, I'm always feeling a rivalry with Jason Blum," he laughs. "I'm just saying the script really is very cool, it is a great role for a woman, obviously Guillermo would be attached. So there'd be some cachet. But you know, things come and go. Guillermo's great quote that he speaks – not about this movie, but just in general – that the natural state of a film is it not getting made. And that's true, especially if you're an indie filmmaker. You realize how many movies that you don't get made. You know, the cliché of having the scripts in the drawer."
Even still, would Fessenden have any interest in revisiting the film should it be revived someday? "Sure! You know, these are your babies. I mean, I remember every shot. I could shot list the movie right now. It's all there in the ol' noggin. I picture a movie in my head when I'm making it, and I usually put that into the script. It doesn't mean anybody can discern it, although I bet you could get a sense of what the intentions are. And as I say, I feel like it's a timeless story of loss and what a mother goes through, what a couple goes through. It's appropriately moody and nasty, and it has that lyrical element of the children's game."
In closing out our talk, Mr. Fessenden offers up his final thoughts on The Orphanage: "I think it's a really good property still. And you know, the original stands the test of time. Nowadays, that's what they love to do, is remake stuff. But you know, they wouldn't want me to do it. That's the bottom line. They wouldn't. That's the other truth about Hollywood. They're gonna look for some young pup, or maybe a woman, and that's fine. So it goes."
ARTS HELP
25 Jul. 2021
Climate Horror and Culture Wars: An Interview with Director Larry Fessenden
What is the scariest thing in the world to you right now? 
Obviously, it's climate change.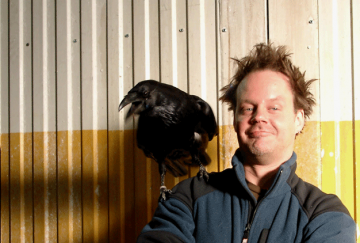 And another thing that's scary is that we've proved, at least in America, that we no longer believe in cooperation and getting along to solve problems. We've spiralled into a narcissistic death spiral of tribalism and I think stems from the commercialization of capitalism leading to identity obsession.
This all came from the power of commercials. After the 60s, people realized they could sell their sense of identity so you'd start to become more and more oriented with the products that you bought – they became your identity.
And I'm speaking very generally to your question because I think this is a trend in human history that has happened for the last century and has led us to an intractable ability to solve problems together and there's no greater problem than climate change.
Before we go into that film, The Last Winter, the Wendigo (a mythical evil creature in Native American beliefs) is not something that's very common in popular culture. Why do you feel it's an important creature of myth?
One thing I love about the Wendigo is that it is, in fact, somewhat undefinable. It, of course, originates in the Ojibwe mythology and it was, as I understand it, designed to be a cautionary tale about overreach. Specifically, if you're caught in the wilderness with your fellow travellers you don't attack them and consume them.
So it's associated with cannibalism, but I think it works also as a metaphor for manifest destiny. So I've used it both as an intimate cautionary tale and then with bigger implications, that's why I like it.
Also, it's not clear how it's depicted because it's mythology. Not like our Western monsters where there's an origin book – Frankenstein's a book – so you riff on that. Whereas because the mythology of the Wendigo is so much more unknowable and unattainable, it's that much more rich and wonderful.
What comes first when you're developing an idea – the monster or the story?
Well, they're inextricably linked because the way I think of things is in terms of themes and the implications. Even in speaking of a monster, the question is what is the essence of a monster, what makes the story enduring?
Why do we care about Godzilla? Well, first, it was a response to the atomic bomb and the usual sort of cautionary tale about if we play with atoms we're going to end up with things that are out of our control. As such, Godzilla seems to be more about nature.
The character itself even has personality quirks; sometimes he's bad, sometimes he's good. So, you can spend all your time deciding whether he has gills or not, but you really ultimately have to deal with the themes that the monster represents.
Once you've decided that you're focusing on a particular creature with particular themes, what dictates what makes it scary? You've used multiple approaches with the Wendigo.
Ironically the sad part of my life is that I don't know that my movies are very scary. [Laughs]. Which is why I'm not a very popular filmmaker. I feel there's a sense of dread in all my films, and, in a way to me, the essence of horror is unknowable dread. A lot of the themes in my movies are about self-betrayal.
In The Last Winter, it's a self-betrayal on a societal level. How we let our disagreements – personal disagreements – overwhelm our ability to use humankind's great resource, which is reason and communication. To toss those aside is another self-betrayal.
And then I made a movie which was disliked for reasons I don't fully understand called Beneath which is about a bunch of kids in a rowboat with a monster in the water. The thing is, they can work together and get to shore – it's only like 20 feet away! But instead, they argue and come up with stupid solutions that are counter-productive and actually quite vicious.
In my mind, that's where we are politically. Instead of trying to solve problems, we're figuring out more and more nasty ways to combat each other. That's why I liked that film, I'm not here to apologize for it but I'm not sure why people don't respond to that because I think it's as biting as anything I've done.
It's not your job or horror's job, but what insights do you feel the genre has to offer in the problems we're facing today?
I think the most relevant answer to that question is simply that, while being in entertainment, we can discuss issues that are important. But also, I don't sit down and say, "Let's see, what's the issue of the day?"
I'm not a propagandist. The fact that I am saddened by something like climate change is actually much more of a personal thing where I feel that sense of self-betrayal in the same way that it does relate to alcoholism and things that are much more personal to me but also to other people.
I always reject the idea that you can't have a story with a message. It's funny, you know, if you make a cop movie – cops and robbers or murder and a detective – no one is saying, "You're making films about justice, what kind of preposterous, pompous, person are you?" No, it's in the guise of justice that I'm telling a cool story about a gumshoe who's solving problems.
So if I have a horror film where clearly the theme is Frankenstein's monster was brought into the world and then abandoned by his parents [Depraved], yes, it's a movie about parenthood – but it's also about Frankenstein which is cool! So there's an aesthetic aspect to genre filmmaking that's completely about the colours, the mood, the music, etc..
The greatest emotion that I feel is this sense of awe and existential bewilderment that we're alive and then eventually we're not alive. That all seems crazy, that you can die slowly from cancer or quickly from an axe in the head, that all seems like great stuff to make movies about.
So the idea is that entertainment is still the agenda, but not pandering entertainment that's designed to make money; entertainment that's designed to draw you into an individual voice, which is what a filmmaker is. Obviously, a painter is too but a filmmaker is also a singular voice and the fact that it's a hugely collaborative medium doesn't take away from that.
The Last Winter is a film I can see certain people having issues with. How hard is it to get something financed that's both horror and politically charged?
It's impossible. I can't do it anymore. I couldn't do it with Depraved. I had meetings for seven years about my Frankenstein story. I mean, I could have pitched it harder, it's not a particularly political movie, but it is about society in crisis which – I thought it was in crisis then, you can imagine what I think now. [At the moment] people don't want to finance all of my films.
If you were smarter than me or a better showman you could go in there and emphasize other elements in the meetings. I certainly did that, I said, "My Frankenstein will be sexy," I had a lot of ideas. But in the end, I'm talking about a war veteran with PTSD during the Iraq crisis and it's obvious I have other things on my mind than just getting the kids into theatres. It's also a trick with timing. I always feel that if I got Habit into Sundance back in the 90s, I would have been given a little bit more mojo and it would have altered my career.
In the end, what I always talk about in showbiz is that everything from your reviews to the distribution model is about power, not to soak your ego but to continue to do the work that matters to you.
How do you feel about how media is consumed today – in this less precious fashion?
I am extremely resistant. I'm just a product of my time. I don't even like television series, or at least I resent them, because they demand so much of my time. I prefer the 90-minute, two-hour format. I'm not quite as fetishizing about going to theatres because I have a very big television.
I believe it's such a lost art. I grew up in New York City and I would go to the theatres to see double bills. That's really where I saw all the 70s movies, Little Big Man or the Hitchcock movies in the 80s. At the Thalia theatre uptown, there was Cinema 80 where I saw Citizen Kane – rear-projection. Now, the kids are watching content on their phones, and apparently, they don't really watch movies, they're watching TikTok.
The thing about the 90-minute movie is that it's about empathy because you're watching someone else's point of view. Even if the characters don't do what you want, you're trying to understand, and so I believe that's a very wholesome experience.
Whereas if you're playing video games, you're primarily preoccupied with what you want to do which is what you do all day long anyway. Making choices to perhaps benefit yourself. I'd be fine to have an argument with someone who would school me and correct me but when they say they're replacing movies, I get antsy.
However, you did write a video game! How was that experience compared to screenwriting?
I did indeed. I wrote it with Graham Reznick and was invited in because I was sort of a Wendigo expert. Also, because I don't play video games, I invited Graham to participate in writing the spec script and we got the gig.
We had the best time because we loved our bosses, Supermassive Games, and they really were committed to doing something very special and unique. And, in a way, we were tasked with writing not one but 25 movies because of all the branching.
It's really almost like just exposing the writing experience. Because, you're thinking, "What if Henry, goes off the scene and falls off the cliff?" Well, we have to write it. "What if Mary has an affair with Louie?" And then you have to write that too.
It's important to understand that Graham and I did not come up with the story. We were sort of the architects of the characters and then Supermassive would say, "We want these things to happen" and we had to make it psychologically realistic. That's why I had such a good time doing it; it was almost this Choose-Your-Own-Adventure style.
ComingSoon.Net
18 April. 2021
Larry Fessenden on Unique Role in Horror Pic Jakob's Wife
ComingSoon.net: So Jakob's Wife is an absolute blast of a movie. I got to check it out before South by Southwest and then at SXSW, and I just love it so much, but what about it really like drew you to the project?
Larry Fessenden: Well, I have a relationship with Barbara, we've done radio plays together and two movies, though I didn't see her on the first, on You're Next, but she's just fantastic, and I guess we're a little bit older than the kids out there, so there's sort of a camaraderie of being middle-aged. I liked the script a great deal, and then I had also known Travis for some years, so it was a great combination of personalities behind the camera, and it was a great role for me to do something a little different, as a man of the cloth.
CS: I was gonna say, that was one thing I talked about a little bit with Barbara as well was that it was a very different role than what we're used to seeing you in where you're more rambunctious of sorts, but in this one, you're a little more timid. You're a man of the cloth! What was it like exploring this different personality for you?
LF: Well, I like that, you know, I am interested in philosophy and some sort of thoughtful things of how do you get along in life and how are you a good leader, so there's some sort of aspects of the character that I related to, maybe not religion, but the idea of having responsibility in a community. Then I just think it's funny to play an uptight, older white guy [laughs] who's sort of oppressive to his wife, so I was able to access all of my grumpy attitude. It was fun.
CS: Would you say that you had any sort of creative challenges than going into the role?
LF: No, the way I approach acting is you try to find some empathy with the character and understand where he's coming from, and then you just bring that to each scene. Then, of course, the director makes adjustments, and you have the other actor to play off, which was a great privilege to work with Barbara. She's so lively, always just really jams with anything. So that combination is really a winning one.
CS: It was interesting to hear Barbara talk about how long she had been trying to get this project off the ground, so I'm curious for you what was it like working with her where she's acting in both the producer and actor's chair?
LF: At this level of filmmaking, you're all working together to make the movie. It was very natural to hear her concerns as a producer, she had ideas about casting, you know, Travis had written the scripts after the other writers he had done a pass, so it was fun to watch her dealing with her fellow producer Bob Portal, Travis and then me as an actor, but also as a filmmaker. It all seemed very natural to me. I often wear many hats, and it was great to see her really flexing her muscles as a producer, and she enjoys filmmaking and the genre.
CS: Since you mentioned that you'd worn different hats as well, what was it like for you working with Travis to sort of help further flesh out your character, given that you know you've worked as well as both a writer and director in the past?
LF: He had a nice idea, he asked us to fill out some sort of questionnaire for our characters, and it's one of those things where I don't think he was trying to learn what our answers were, but gave us the opportunity to sort of think about how our characters would answer the questions. Like one of them was "Who was my favorite president?" as my character, and that was sort of cool. It was fun to just come up with an answer. It forced you to give a backstory and all kinds of other things about our relationship, what was her first boyfriend, and what was my first girlfriend and all these kind of things. So I thought that was really inventive of Travis. There were other times on set when I might sometimes suggest a way to do something, but he had a strong vision. It's all collaboration, and, you know, the actors are in the service of the director, so I only gave advice if he seemed overwrought.
CS: You and Barbara have worked plenty of times before, but what was it like building the chemistry for your character-specific relationship before bringing it in front of the camera?
LF: Well, the cool thing is that we filmed in Mississippi, but we all went down there, and we never went home, that's where we lived for the month. Barbara and I lived in a house together, so we sort of lived the married life. Someone would make the coffee in the morning, etc., and we hung out both before and after shooting. So that was nice. I think we both knew that not only were we enjoying each other as actors and as fellow artists, but we also were sort of logging in the time together, which gives you a more naturalistic character. We just like talking. We talked about our own marriages. It was cool. It's very not always what happens to a lot of movies. You walk on set, and you just start working, and it's very disorienting.
CS: I can only imagine, especially if it's like, 'Hey, we got to go be a married couple in five minutes.'
LF: I mean, that would be a badly-directed movie. [laughs]
CS: You've had plenty of movies that you've been a part of that have gotten into South by, but what was it like hearing that this had gotten into it and then seeing this outpour of love from the horror community upon its premiere?
LF: Well, the outpour of love was so wonderful, and it was so great to see Barbara, who did work long and hard on this movie, just getting props. It really felt like it was a culmination of her hopes and dreams for the piece because it'd been through a lot of iterations. It's always satisfying to see that, and for myself, I was very happy to be part of it, and I enjoyed that people chuckled at my whole look in the movie, all cleaned up. You don't realize how people think of you until you change up, and then everybody's in shock, so that was fun. For me, it was pretty torturous because I looked like I'm 20 pounds heavier just because of those. But that's the joy of acting. You throw away any kind of vanity and really become the character to whatever degree one is in the method. That's the job. It's a fun, fun job.
CS: This isn't the first time in a horror movie either where you've had to get bloody, but what was it like filming some of the more gory or practical effects-heavy sequences in the film.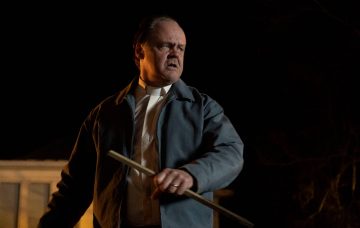 LF: I'm always very at home with all that ever since I was a kid, you know, I'd put bullet wounds all over myself. And real blood too. I've always been prone to helping myself and living on the edge [chuckles]. So it was all fun, it was cold, so some of the geysers of blood got a little icky, but it's all part of the gig. I enjoy it. In horror, you're shocking people in one way or another, and that's sort of been my M.O. [laughs], make people feel uncomfortable, that's my jam.
CS: So what was it then like for you getting to see Bonnie in the full Master wardrobe and makeup?
LF: Well, Bonnie is so cool. She's such a big character anyway as a person. She'd show up and do a couple days and then disappear, but I think design is fantastic. It obviously references Nosferatu and Salem's Lot, those sort of categories of vampire films, and I just think that's such a favorite of mine, and hers is so awesome. It was great fun with that kind of iconic-looking character. It's like welcoming back an old friend, that particular conceit, that design, that sort of rat-like face.
CS: To look away from Jakob's Wife, it's been a while since we really have seen you step behind the director's chair, Depraved was the last thing I can think of off the top of my head, so I'm curious when are we going to see you get back in the get back in that saddle?
LF: I'm hoping this fall, you know, got to find the money, that's really the only inch every time. But I got a script, I'm very excited, I'm starting to gear up, and nowadays I try to spend as little time on the money as possible. That sacrifices to make a movie cheaply, but I'm fine with that, so I hope I can find a couple of shekels early this fall. That would be pretty dreamy.
CS: Is it going to be another horror outing from you, or are you traveling outside the genre a little bit this time?
LF: Certainly not! It's a full-blown horror! More accessible than maybe my other films, though I mean, my movies are always a little elevated, preoccupied with different things. I'm not gonna give it away, but at the core is a very familiar, beloved monster, so I'm excited to get into it.
METROGRAPH
10 March. 2021
Pizza Party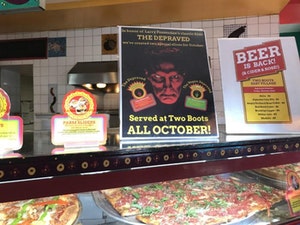 This is New York City. There is plenty of great pizza, even a standard slice of pie is a cut above in this town. I grew up here, so I have a lot of pizza memories. When I was in college here and spent all my money in bars, I would walk into St Mark's Pizza and just eat all the scraps people left behind. I was kinda making a statement about food waste, but also it left more money for drinks (I know, gross, but this was before COVID). Years later I have fond memories of buying a slice with my kid after school at Joe's Pizza on Carmine Street. But the pizza I want to highlight here is Two Boots thin-crust pizza. I may be biased because I know the owners of Two Boots, the whole damn family. But not only is their pizza great, they are art lovers and community builders, and they invested in some of my early movies, and for years had a video store in one corner of their pizzeria on Avenue A, and that's not all! They named one of their pizzas after my movie Depraved. Depraved slice anyone? (available at Halloween time). And my wife designed their logo. But anyway, even without all the nepotism, they make damn good pizza: they have a distinct crisp corn-meal crust that supports an array of topping recipes with names like "The Larry Tate" and "The Mr. Pink." Pizza and Cinema. A winning combination. – Larry Fessenden
SCREAM HORROR MAG
26 Dec. 2020
AN INTERVIEW WITH DEPRAVED FILMMAKER LARRY FESSENDEN

In the indie horror world, few names crop up as often as Larry Fessenden. From writing and directing films like Habit and Wendigo to appearing in cult favourites like Session 9, Fessenden wears a lot of hats and has an IMDb page long enough to make many A-listers jealous. Through his production company Glass Eye Pix, he's also given many genre icons their start, producing work by the likes of Ti West (House of the Devil) and Jenn Wexler (The Ranger).
Fessenden's latest horror feature, Depraved—which he wrote, directed, edited, and produced—had its world premiere at New York City's What The Fest!? in 2019. The first full-length film that the director has helmed since 2013's Beneath, Depraved is a modern-day retelling of Frankenstein, centring around a disillusioned army medic named Henry (David Call) who makes a man, Adam (Alex Breaux), out of body parts in a Brooklyn loft. What follows is a fascinating exploration of what it means to be human in a monstrous world—one with a lot of brains and a surprising amount of heart.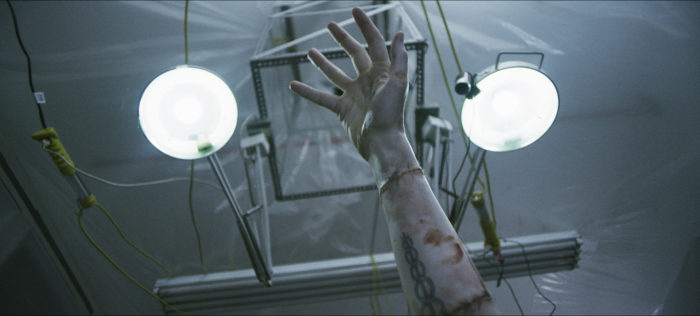 To celebrate the film's release as a Shudder Exclusive in the UK and Ireland, I caught up with Fessenden to talk about his approach to filmmaking, the evolution of the horror genre, and the humanity and depravity of Depraved. Here's what he had to say.
SCREAM: What was your first introduction to horror, and when did you know that this is what you wanted to do with your life?
LARRY FESSENDEN: Oh, ever since I was a little kid. In my generation, we'd watch TV, and there were like three channels in New York. I grew up in the City, and I'd always hope my parents would go away on the weekend or have a day activity, and I would just station in front of the television—Channel 5, Channel 9, Channel 11—and they had old reruns of the black-and-white Universal movies. The TV stations bought a package of Universal movies, and that was popular with kids, so then they made the Aurora models, and on it went from there.
So I'm really a child of my generation. These were the old movies that I loved—the Frankensteins, Dracula, Wolf Man. And then in the 70s, I did grow up finally, and I really loved Scorsese and the 70's grit. I always wanted to combine those two things and show the old monster tropes in a way that really felt fresh and immediate and of my life—of the streets and the City and punk rock and all the things that were speaking to me in my teenage years.
That was kind of a mission; I never got away from it. I always liked horror. My friends say, "Why don't you do comedy?" because I'm a goofy person. But when I look at the page, I just see the dark side of life, and it's out of a yearning for something better. I'm actually very sentimental—I love It's a Wonderful Life and corny movies—but it's because I wish the world was a sweeter place. That's the weird combination that makes my films.
Depraved is a very tender, sentimental film, despite the title. It's surprisingly sweet, especially the relationship between Henry and Adam as he's teaching him and he's getting frustrated and then realising that Adam's almost like a child. It's not what you expect from a Frankenstein adaptation.
I've heard people say that. To me, it's very intuitive. As I've gotten older, and I am old now, I really feel it's important to listen to one's own voice and not try to correct it—meaning, anticipate that it's not going to be gory enough for some people, or scary enough. I've never really made scary movies, ironically. But I do believe there's a sense of dread and melancholy that speaks to horror in a true classic sense—that we're all trapped in our own private lives and we can't get out of them, we can't experience other people's pain. There's so much grievance in the world, and of course, politically now in America, we're seeing that bubble up. If you don't tend to the tenderness, this is what you'll end up with: resentful people who are self-indulgent in their own misery. So I feel like, as a horror filmmaker, I want to express the fear that we all have and try to bring some unity out of that.
This goes over people's heads and they say, "Well, the movie wasn't scary." It is what it is. [It's called] Depraved because I'm trying to draw attention to the little things in life that are depraved. Of course, you'd think you're going to go to a movie where a guy's chopping arms off and raping women, but that's too obvious, or that's another movie. I'm trying to say, look at the depravity and the subtle shocks between a father and a son, or two friends [Polidori and the doctor]—clearly, their resentments are deep enough that they're willing to destroy each other, and the PTSD that the doctor suffers is enough for him to make terrible choices. I'm interested in the subtleties that are just as shocking and in play as a more overt, gory film.
I mean, to anyone who says it's not a scary film, the novel Frankenstein is a melancholy text. It's very much about the monster's loneliness, and many adaptations don't capture that. But with so many adaptations already out there, did you have any trepidation going in, or was there something in particular you felt you needed to say?
Well, I think my basic premise was, let me tell it from the monster's point of view. Obviously, the great Frankensteins, you feel pity for the monster—[Boris] Karloff being the iconic version. He surprised the world by being both frightening because of the fantastic makeup design, but also he brought a melancholy. That was a choice, I think, between James Whale and Karloff to really heighten that loneliness, which is, as you say, derived from the book. Later on, you see more frightening versions, but in a way, the underlying story is one of alienation.
I thought for my film, to make it unusual, what if you woke up and you were the monster? I use some of the clichés, like the brain implant, so I just followed the logic. I love to follow the logic and go back and find the vital truths of these goofy stories that we've heard over and over, and go, "What would that be like if you were the brain?" I believe, not so much in a religious sense, that the brain is the centre of the soul and the psyche. So okay, now you're in a different body—what would that be like? You'd feel completely confused, and you'd have the memories of being someone else. And then things flowed from there.
I try to write intuitive to these great stories and give them all the respect possible to revitalize them. As I say, as I get older, I realise this is what matters to me, and so I just have to pursue it. I try to advise and mentor people by saying, "You have to get to the core of why you're doing this." I believe strongly in the mission of the artist. Of course I have tremendous insecurities and anxieties, but I think you have to soldier forth. That's the braveness of being an artist.
You mentioned the monster's brain, and the brain science in the film is really interesting, especially since a lot of adaptations gloss over the scientific aspect. Did you do a lot of research to bring that side of it to life?
There was a seminal book that really oriented me. It's called My Stroke of Insight by Jill Bolte [Taylor]—look her up, she has a TED Talk, she's amazing. She was a brain scientist and she had a stroke, and she knew enough to realize it was happening and she managed to call for assistance. She was hospitalized and she lost half her memory, and she really had to reconnect the synapses and bring herself back and re-learn math and everything, and her mother helped her back. It's a beautiful story, and it's also a scientific chronicle of how got herself back, but never completely.
I was also very influenced by Oliver Sacks who writes what are almost crazy, surreal accounts of how, when the brain is damaged, your personality can change—you can't remember anything after seven seconds, all this stuff. The famous book he wrote is called The Man Who Mistook His Wife for a Hat; because of some physical attribute in his mind, he thinks his wife has a hat. It's the ultimate surreal imagination at work—and yet, it scientifically happened to these individuals.
All of that soup made the movie feel so vital to me—like, what would it be like? And you mentioned science—I also thought, well, how would this all go down nowadays? And of course, we do have medical technologies that can bring people back, and yet, what is that quality of life? I wrote this during the Iraq entanglements (which we're still in, of course), and you heard about soldiers that would get brain injuries and they'd come back but their wives wouldn't recognise them. They had great misery, and there was something about all of those ideas that seemed to fit in.
So you see how I write. That led me to think, well, where would a doctor be absolutely incredible? Well, the guys we send overseas. I read another book, it's called On Call in Hell, and it was the account of a field surgeon [Dr. Richard Jadick] who figured out how to bring equipment out into the field rather than the soldiers back to the tent. I thought, that's exactly who Henry would be—driven, brilliant, and yet somehow so damaged by the war that he comes back and does this thing that's… ill-advisable. [Chuckles]
Absolutely. And let's talk about his creation. The creature design is always so important to Frankenstein adaptations—but again, there's been so many of them that coming up with a unique design is difficult. What was your process for getting to that final design?
I worked with Brian Spears and Pete Gerner—they're two friends who have done a lot of effects for my low-budget films—and I gave them the challenge. I wanted to evoke the original Frankenstein (meaning Karloff) in terms of stature, clothes, the design of the coat that he ends up in. But I also wanted him to have a certain sex appeal and kind of a sinewy body, so I cast with that in mind. Alex Breaux, my actor, had this large forehead—it was almost unbelievable, this big brow—and that influenced me. He had a strange look, which was just right. I mean, he's handsome in one shot with one lens, and in another lens, he's just odd looking. That was exactly what I wanted to create: this feeling of otherness.
The other conceit was to start him out as naked as possible so you absorb the physical damage, all the scars. Of course, that was the most arduous makeup, so get that out of the way. Once the audience has seen the nude and all those scars and the bruises, then you can start putting clothes on and hope that that sense memory will stay with the viewer.
One thing we weren't able to do is the scar in the front, because we researched that you would cut in the back and flip the head over to put a brain in. The Robert De Niro Frankenstein monster [in the 1994 film Mary Shelley's Frankenstein] is just so absurd. He's got scars all over his face, and I really didn't want to fall into this absurd trap—no doctor would do that, no matter how insane they were; [they wouldn't] deliberately distort their creature. Another movie that influenced me is called Frankenstein: The True Story. It was a 1973 TV movie with Michael Sarrazin, and the conceit there was to have a beautiful Frankenstein monster. That movie has a lot of the doctor teaching the monster, so it was an influence. But what's cool is that he starts out very beautiful, but then Michael Sarrazin starts decaying, and that was really interesting.
I have the white eye, which is a tribute to Christopher Lee [in 1957's The Curse of Frankenstein]. We gave the Karloff scar—the makeup guy said, "Well, that was a scar on the face, it wasn't even from the operation." So we had some fun with that. And then by the end, I wanted to show it in black and white; my excuse is that it's a dream scene, but for a moment, to have something that feels like a Universal movie. By then, he's come into his own, and he's vengeful and angry and he moves like the monster.
You always wonder, can you go a little further? But that was my idea: to keep it real, researched, and still a loving tribute to all the monsters that have come before.
That one shot of him silhouetted against the lightning is wonderful. And Alex brings a real physicality to the role, especially in the early scenes when he's first learning how to walk again. How much did you work with the actor to get that movement right?
The idea of the movie was that I was going to cast wonderful, committed indie actors, raise lots of money, and put them into a horror movie, and it would be a classy production. Well, none of that worked out at all, did it? Along the way, I realised the one thing I can do is possibly cast the monster because it doesn't have to be a name—in fact, it would be cool if it wasn't. I did open research and I saw a picture of Alex in a play—ironically very close to my house in New York City—and I said, "Can we bring him in?" He had this physique I described, but he brought a great tenderness to the reading. I was captivated. So I started talking with him and I said, "Well, whatever version of this movie we make, I think you should be the monster." I gave him Frankenstein videos and books and all that, so he did the research.
The other thing I liked about him is that he was an athlete. In fact, he only became an actor at the last moment when he was in college, so he really approached it physically. And I also made him starve himself. It was amazing: I would drive him around to the makeup or something before production just to do tests, and he would come home in the car with me and be like, "Oh, I can't wait, I'm going to get my one little salad for dinner." And I would just be chuckling away like, "Not too much now!" He was wonderfully committed.
With the language, we wanted it to have a progression from hesitant to increasingly confident. The idea was that he was reading all these books. Of course, we put Paradise Lost in there, a tribute to Mary Shelley, as her monster read that.
So Alex was with me for a long time. And then at the last minute, I realised I'd never get the money, I'd never get the cast, and I cast a bunch of wonderful New York actors and my friend Josh Leonard [who plays Polidori], and then we had the show. But all that while, I'd been working without.
There are a few faces in there that horror fans will recognise—Chloë Levine from The Ranger, and of course Josh from The Blair Witch Project.
Owen Campbell [who plays Alex, the man whose brain ends up in the monster] is in an amazing movie called Super Dark Times, which I recommend to your horror fans. It's actually, I guess, more of a thriller, but it's a fantastic indie movie.
Yes, it's a good one. Now, you mentioned that you cast New York actors, and New York is almost a character in the film in itself. Maybe it's just because I'm homesick right now, but I feel like you managed to capture a side of a city that you don't often see in movies—the warehouses, and those parts of Brooklyn that tourists don't go to. Was it a conscious decision to show that side of the City, or was it convenience?
Oh no, that was essential. I made a movie called Habit years ago, and that is also a tribute to the streets of New York, and once again trying to make a Gothic, old-fashioned movie in the modern vernacular. In Habit, the colours were essential: we have the brown subway cars, and I would wait until we got one of those before we shoot; the green door of a restaurant—all those things I fetishise because I have a colour palette in mind.
In all my films, the location is as important as the actors (I hate to tell the actors that, but between you and I). I filmed a movie in Iceland that's all about the snow, I made a movie upstate that's all about that location, and I knew that this was a Brooklyn-based Frankenstein movie—Brooklyn because of the basic premise: how would you make a monster nowadays? You look at all the lofts [in Brooklyn] and you think, anything could be going on. Somebody can be making art up in that loft, and someone can be making fantastic clothing and jewellery, and somebody can be murdering people and sewing them together in that window. [Chuckles] I just love that mysterious part of Brooklyn.
The irony is, I wrote it for Dumbo—before Dumbo was gentrified. And as the years went on (I did spend almost seven or eight years trying to get the money and all that), I saw my main location slightly disappear and become too chi-chi. There's still a couple of shots there—that's where the kid gets murdered. But when I found Gowanus, I was just so happy, and we found a great loft.
The other thing I wanted to romance is, when I was younger, people and artists would buy lofts—even in Soho—and they would live there and there was this great openness. It was a very different vibe. Now, all of that is precious and beyond the reach of any kind of artistic person, but that's the tradition that came bubbling up as I put this together. I knew you could move to Brooklyn and maybe conceive of the same thing. Plus, I love the canal. That's what I'll be shooting my Creature from the Black Lagoon—in the Gowanus Canal. [Laughs]
There's probably one in there already.
I know right?
And you know, the first time I watched the film, I was thinking, "This has to be shot in Brooklyn"—because I live in Harlem, and you can't build a monster in Manhattan. There's no space for that.
Maybe a very small monster. [Laughs]
I wanted to touch on the editing in your films. You have quite a distinctive editing style, especially the connective tissue between moments—a lot of little fast cuts to create a mood. How do you view your own style? Is it something that came about naturally, or something you're very conscious of when you're working on films?
It's funny you mention it, because I'm editing something now and my family is working on it with me—meaning my wife and my kid, and they're both artists—and I realised I'm following my instincts. I like almost a jagged editing style that is surprising, and then I love long takes that sort of remove the voice of the filmmaker. Scorsese once said, "You should feel the edit." Now, that's very much the opposite of the Hollywood tradition where it's all supposed to be seamless. But I think of it more as a sculpture—it should have fluidity and then jagged moments. It's slightly more aggressive. Of course, the agenda is to be fully immersive, but you're feeling something that is maybe a little more unexpected.
I always say that, in a weird way, the editing and pacing of a movie is one of the few places that an independent film can still surprise and stand up against Hollywood—because Hollywood now has an edit every three seconds. It trains the audience to be stupid and to be impatient and to need a new angle on something, as opposed to forcing them. For this moment, we're gonna make you look a little closer, a little closer, and then right when you're looking—bam, bam, bam—you hit them on the head with something unexpected.
So, I don't think of any of this as a style. But when I get into the material, that's how I end up shaping it. And I do believe—this is not for every director—but for my own filmmaking, which has become, by definition, very handcrafted, I really need to edit. That's kind of where the movie is found. Now, that doesn't mean I haven't carefully plotted it; if you read the script of Depraved, you'd go, "This is crazy. This seems to be what he made." At the same time, that edit is where you let the film speak to you, and that's where you make the movie. So I find it difficult to have the collaboration at the end be one where you're discussing. I need to get in there and just be with myself and trust myself. Of course I show the movie to people, but to be honest, less and less so. Even sound, I do as much as I can and then I pass it on to a professional.
That's just the way I do it. I'm not saying what's right—if I advise other people, I say "It's important to work with collaborators and get a lot from other people in the making of the film." But I love editing.
Now, Glass Eye Pix has been around since 1985. In your eyes, how has the indie horror landscape evolved over that time?
I don't mind making this claim (it's fine if it's not true, but it is what I think): the idea of personal horror is something that I was doing in the 90s and even before, because I made the original Habit in 1981. You can go back and see that that's what interested me—taking the classic tropes and putting them into a more modern sensibility. I feel like that's something that is now more acceptable, and some of our great films like Hereditary or The Babadook or It Follows are truly a blend of indie sensibilities, character-driven, with shocks and scares. Those three movies are all quite different, but you see what I'm saying. And a German guy wrote me about Southbound and said he loved it so much, and I consider that one of the highlights of recent indies—just a good old-fashioned anthology, but it really works.
I guess I'm saying two things. I'm laying claim to a certain progression. I grew up when Sundance would take movies about killer leeches—that's what they thought horror was, and it was all very sarcastic, and we'll do it at midnight, and it's all so silly, it has nothing to do with real movies. And now you'll see a good horror film premiere there. Not one of mine, I assure you—they won't have me. But this is, I think, a progression: the genre is taken seriously. And then you have Blumhouse which is making a lot of money with horror, so the industry admits now that it's a money-making enterprise, even though it always has been. It's one of the great perennials. Westerns come and go, but horror stays.
It's a great genre. I've always stood by it as an outsider genre. Everyone knows I love George Romero and what he brought to it. And it's also a political genre: it's where you can talk about things that are really awful in the world, while still having a bit of fun because there's imagination thrown in. But you can talk about what it's like to be an outsider; you can talk about identity politics; you can talk about oppression and authoritarianism—all of that while still having a good time. And that's the beauty of horror: it's not too self-pitying.
Ready Steady Cut
16 Dec. 2020
Depraved: an interview with Larry Fessenden
Larry Fessenden has been making films for – let's say – a number of decades, a thoroughly hands-on auteur in the American indie horror scene. An interest in such films had crept up on me over about half that time, so I was most intrigued to find out what insights he had to share. His latest film, Depraved, has recently arrived on Shudder, so we talked about that, as well as his approach to films, his production company Glass Eye, and a little philosophy of life.
I introduced myself as having been writing for Ready Steady Cut for just over three years, relatively new to interviewing, and laughed that Larry must have been talking to strangers about his films for much longer. ("Go easy on me," I begged without saying it.) "Yeah well it's fun to connect with people," Larry said "and find that people do watch the movies, after all the work. So it's fun!" And presumably, you make those movies as much for the fun, as for the audiences? "I take it all quite seriously: the idea of communicating, trying to find commonality with other people through movies, even if they're scary movies."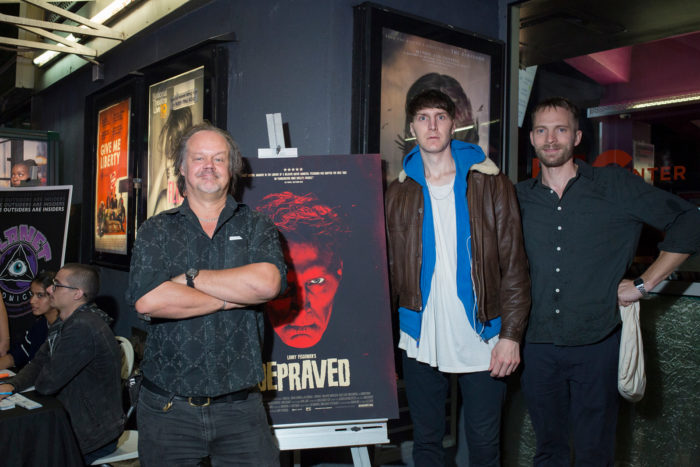 The name of Larry Fessenden is very well known in the indie horror industry, but not so much outside of it; he seems to be a legend in his own field. So I asked Larry how he sees himself. "I loved Jaws when I was little, so I thought I would be a filmmaker like that. But at the same time, in my generation, I didn't really know how to 'break into showbiz', so my point is you have different levels of ambition, and as you get older, you realize there are many different careers. I also very much like George Romero, he is a role model, and he always felt frustrated that he wasn't supported by Hollywood; he had a few forays. At some point they attached the word 'icon' in front of my name, and it's a complete mystery but why wouldn't I take it? Not for the ego: I always say you want good reviews, and words like 'icon' in order to gain power in the industry to make good work, or support other people's work. That's really the agenda. So it hasn't worked out terribly well, but it's still nice to have a voice; in that, I'm privileged. Even in my small section of the world."
Depraved was written, directed, edited, and produced by Larry Fessenden; an impressive range of roles just in one project, though it does reflect somewhat his whole career. It was a captivating film, and I found myself most interested in some aspects of the writing. Depraved is an adaptation of the Frankenstein story, largely from the monster's point of view, and it opens with a scene that shows where his brain was obtained from. I asked how a writer decides where to start a story: this one could have started with the doctor's research, with his inspiration for it, or indeed at almost any point. "Absolutely," said Larry. "And I think what struck me was that that in the overhashed story of Frankenstein what hadn't been explored was the experience of the monster. So with that in mind, I wanted to portray a very personal thing, which is that life is bewildering and alienating and you always feel unsure of your place. I think that's very universal, no matter where you are. This takes me back to what we were saying about career: I love that Scorsese never knew if he was going to be able to make another movie, all through the seventies and eighties, yet he is now one of our most cherished filmmakers. So you have to always know that no matter where you are in the pecking order, there is still insecurity and no sense that anything is definite. I wanted to bring that personal subjectivity to the story of Frankenstein's monster, and have him wake up, be an individual who doesn't know his past, doesn't know who his friends are, and has to learn life all over again. So that's what led me to have the opening scene, and from there just traced a very familiar story through that lens. Many stories would start with the doctor, the lab, and everything; but I do show the creation of the monster, through his own eyes, when he discovers the videos. So this is just a way to re-engage and revitalize the true pathos of the story: he doesn't know how he came to be. And I think that's a strength that films have: to surprise and reimagine a story through pacing and how you reveal the story."
I asked Larry whether he'd stretched his creativity like this before, writing from the point of view of a completely fictitious creature. "Well, I made a movie called Habit, which is about a guy who lives on the Lower East Side, drinks too much, meets a girl, and becomes convinced she's a vampire. So there I'm asking again a fundamental question: in taking these great stories – the vampire, the Frankenstein monster – and let's picture what it might really have been like. That's the question I ask. If I'm going to do a home invasion or a slasher, rather than using the tropes of horror to create a wonderful artifice, I'd rather consider what it would be like from moment to moment. That's sort of my way into any story. If I made a war movie, I wouldn't be concerned with the great battles, but the things you carry in your rucksack, what takes you to the next moment. So it's just a matter of scale: my vision of life is about the details and how profound they are. My movie is called Depraved, a rather lofty word which kind of invokes butchery and people frothing at the mouth; but I'd rather listen to that word again and look at the little depravities in the way people act with each other. So it's trying to get you to focus more on the so-called daily horrors of life.
Something else interesting that struck me about Depraved was the trauma the doctor had experienced as a medic in Iraq, and how he was in firm denial of it. "I'll answer your other question first, about getting into his shoes, thinking about the monster's brain. I learned a bit about the brain from a book called 'My Stroke of Insight', about Jill Bolte Taylor who had a stroke, and she happened to be a brain doctor. So as it was happening, she was very self-aware, saw the abyss, and was slowly brought back. She reconnected her synapses and is now functioning, wrote a TED talk, but there's a part of her brain that's gone. I highly recommend the book and the talk, in which she talks all about her experiences. That was influential in terms of the monster, how he tries to remember his former life, reignite cognition.
"As for the doctor, I read another book called 'On Call in Hell' and that was an account of being a field surgeon in Iraq. You could see the sense of loss that this doctor had and the passion to save lives at all cost. I felt that was a story we don't tell enough, especially as I read the book during the Bush era when we were in Iraq: there was all this political talk, but nothing about real experiences of doctors who wanted to save the kids. Once again it is about thinking more closely about personal experience on the world stage, or in the genre of horror."
Thinking of other characters in Depraved, I asked is it just me, or are the most likable characters the women? "Of course they are," said Larry with a big smile. I especially liked Shelley (who the monster – called Adam by then – meets in a bar) and asked whether she was based on someone Larry knows. "Maybe, in the sense that she's the one I'm most fond of, she's like the kind of chick I'd hang out with in a bar. A salt-of-the-Earth character, but it's also Addison: she brings such humanity to the character. She's a loner and a bit of a drinker too, she's at this bar, and willing to talk to this slightly creepy fellow and give him the benefit of the doubt; which, you know, leads to tragedy. It's an observation about how sad the world is: two people who cannot connect. I always joke that I make feminist films because I feel the male ego has driven history and driven it into the ground. As I'm an environmentalist, thinking about the imagery of mother Earth and all those things, I always feel it's the childish male ego that's responsible for so much damage in the world. Look at the male characters: there's rivalry like two boys in a sandbox. And now we have an entire national drama in America based on these kinds of emotions, all of which I think are entirely disdainful. The other thing is that in most horror movies the women get killed, and there's an unfortunate feeling of glee from the filmmakers creating this exploitation feel. Not that I'm above anything, but my interest is to show how innocence, kindness, and tenderness are the first casualties in this society we've built. So that's really what the girlfriend, Elizabeth, represents: even the monster knows this, but he acts on it not to hurt her, but to hurt the doctor, his 'father'. Once again you see this sad chain of pettiness and desperation from the men, and the women fall by the wayside."
Adam's character had to grow up rapidly and didn't have the chance to do so except with the influence of two significant male figures. "The film's about, well, lots of things, but mostly fatherhood. Henry's very sweet at the start, very patient, but he lets his own ego and disappointments and frustration and – quite honestly – his lack of interest get in the way. The monster is tender enough that he feels that psychological violence and rebels against it. So it's also about those little shocks in life that lead to damaged people: in this case, the monster is clearly damaged and lashes out, which is just the same trajectory of the book: I didn't make anything up here!"
There was something Larry had certainly added which I liked a lot: there were swirling colored graphics added that presumably reflected Adam's mind developing, though I wasn't sure how to interpret them. "Everything is for the audience to decide what it's about. But I wanted to assert that the brain is how we interpret the world: the brain is actually a physical thing that is having synapses and little jolts. And it's also a reference to the Hollywood versions of the story where the monster is brought to life with electricity. I don't have that in my movie, but I'm saying that the brain is driven by electricity: that is in fact part of my Frankenstein story, in that the electrical impulses are our synapses, which are reconnected if you have a stroke. When I make a film, I like to get into that world and see the connection of the themes. I had some resistance to those effects, even from my collaborators who felt they were a bit goofy, but I felt we haven't seen that. I'm always aware that my body is a part of my experience in how I'm seeing things, so I wanted a layer of that awareness on top of the movie. And only in the Frankenstein story do you have this as part of the DNA of the story, a reason to think about a person who has been reanimated: you wouldn't see this perspective in any other story, so you have an excuse to contemplate those things. Well, maybe you could in a thriller or detective story: they have things on the screen in the Sherlock show, invoking his thought process. It may be a bit ballsy, but these are the kind of experiments I want to do in my work because no-one really cares what I do: I don't have any executive! Perhaps I pay the price of obscurity."
I suggested that his independence does bring freedom, a notion which brought me back to the ending of the film, which I really liked: Adam simply walking away to find himself and his new life. The way it was presented was reminiscent of The Incredible Hulk that I watched as a kid: at the end of each episode, Banner walked off, to his next episode. I asked whether Larry had another episode in mind for Adam. "I do actually. I wrote Depraved originally as a TV series. I don't love that format, because it often feels like it could go on forever, but in the course of trying to raise the money, I had several meetings with HBO. They eventually felt that they had other Frankenstein projects – none of which I've seen, so I think perhaps it was a way to get rid of me! But I do have a wonderful way to continue the story of Adam, and I am amused to think about that challenge of what you would do with that character."
Larry didn't give away any of that potential story: "it's so sad when you go back and read this interview five years from now and see that I've done nothing. But you know, when I was a kid, I used to watch The Mod Squad with my brother, and they always used to have a walk-away at the end of the episode. I think maybe it was a fun seventies TV trope."
The conversation broadened to other aspects of Larry's career. I had first come across his name as an actor in other people's films, such as You're Next and We Are Still Here. I asked whether he had ever been tempted to tap the director on the shoulder and say you don't want to do it like that, do it like this instead? "No, I'm firstly in the service of the director. I really believe in empowering that single vision and everyone needs to work towards that vision. But of course, any director can get lost and be helped by a gentle prodding. For example, I brought my experience to a scene where there was going to be a bloody nose, and I said I think we should make sure to get all the material up to that point because once the blood starts, you don't want to be changing shirts and washing things. So I don't mind asserting myself in a practical respect. I'll occasionally say things like we might just get the wide here and we can go in later, so I can get a little bossy: not because I know best, but if I think I can be helpful. You always need to be sensitive to what they're after. I've felt that as a producer: the director is really able to hear their own thoughts and instincts and you want to support them and gently push them towards that.
"I've had the experience of working for my son. He's now twenty years old, but he was sixteen when he made his first feature, and I was an actor, producer, and DP, but it was his movie. So it was a very interesting dynamic, the father and serving his vision at the same time." I was going to ask what it was like seeing his son take the same direction and supporting him with that: "it was good. My wife is very practical so of course, we were both mindful that it's a tough road. But there are many jobs in film that are rewarding, and you don't have to be endlessly at the typewriter, conceiving of an entire world: you can be director of photography, many crew positons. I really love both the art form and the burden of collaboration, the real check you have to have on your ego: you want to give whatever's possible, without being overbearing. This is a very engaging activity, a rich soup; and I hope my son does some things differently from me. He's maybe not as stubborn."
So does Larry have a regret or two? "No, I just don't know how I could have done all this differently. I've always been a loner, so maybe you have to ask for help more, so you have more people invested in your future. I don't have an agent or manager, never have, so need to be understanding of my own personality. I don't believe in regrets, either. You just make your bed and sleep in it."
And then get out of it the next day, I offered. "Well exactly! 'Soldier on' is the other metaphor."
Considering all the types of films Larry had been involved with, different subgenres, and so on, I imagined there was a cupboard somewhere full of props and costumes: is that right? "Oh, it certainly is! I have a barn upstate with a giant twelve-foot fish, a water monster, all the guns from Stakeland, zombie apocalypse signs, and everything. Actually, the loft in Depraved: we built that whole space and then got it in a truck and brought it down from the barn. If you were a Glass Eye fanatic, you could look and see props from different movies as set dressings there."
Moving the conversation into the present, I had to ask what this year had been like in Larry's part of the film industry. "Well, there's general anxiety about how we can go forward. It's interesting when you lose the ability to dream, that can weigh on you: you think about a movie you want to make and then realize it could be pretty difficult. Having said that, I've always been a creative person, and my wife has too: we made a film in May, a short film with my son as DP, made in isolation that addressed COVID, and that was cathartic. I've made music, I'm writing a script, and we've had the thirty-fifth anniversary of my company, so I've made videos celebrating that. It's about being myself, and at the same time doing work in a community that is defiantly original. So I really like celebrating what Glass Eye stands for, it's not really just self-glorification.
IndieWire
25 Mar. 2020
RIP Stuart Gordon: Fellow Filmmaker Larry Fessenden Fondly Remembers the Horror 'Maverick'
IndieWire asked Larry Fessenden, actor/producer/filmmaker and founder of indie production outfit Glass Eye Pix to remember fellow filmmaker and long-time playwright Stuart Gordon, best known for his trademark horror offerings "Re-Animator," "Dagon," and "From Beyond." On Tuesday, Gordon died at at age 72.
Like many horror fans of my generation, I saw "Re-Animator" in the theater on the big screen. It was a revelation, so bold and sassy and that Barbara Crampton, whew! The practical effects had such exuberance (talking severed head in a medical tray anyone?) you could sense his history in experimental theater by the way he staged gore gags. "Re-Animator" put filmmaker Stuart Gordon squarely in the company of iconic horror auteurs John Carpenter and George Romero, and it began his life-long affinity for H.P. Lovecraft adaptations. His follow-up film was another Lovecraft story, "From Beyond" and it did not disappoint. Gordon would go on to put "Dagon" on the big screen and a couple more Lovecraft tales on the small screen too, for the aptly named series, "Masters of Horror."
I believe his last Lovecraft adaptation was for our own "Tales from Beyond the Pale" episode "The Hound" for which he "got the band back together," writing with Denis Paoli, music by Richard Band, and a cast including Crampton, Ezra Godden, and Chris McKenna. It is a tribute to Stuart's warmth and character that these collaborators would show up to work on a low-budget production like "Tales."
My partner in "Tales," Glenn McQuaid, served as in-studio producer and eventually as Stuart's sound designer. Stuart ran the production with great humor and professionalism and was very stern with Glenn, pushing him until the sound scape was just how he wanted it. It was a wonderful experience to see how Stuart worked, he was demanding, gregarious, and firm, even in overseeing a humble radio play. In fact, we were in talks to do a second radio play from a tale by Stephen King.
Stuart and I had been corresponding since 2010, trying to put together a couple films for him to direct. I found this period very invigorating, as the idea of working with a man of his grace and stature was very affirming. He felt that Glass Eye Pix would be able to deliver a quality production on a budget. It is heartbreaking to re-read the old e-mails now, and to recall the phone calls where we really did think we could make something together.
At the time the most recent movie I had seen of his was "Stuck," a remarkable flick that I consider among his best work. He also directed "Eater" for "Fear Itself," which felt like a companion piece to my own episode from that series, "Skin and Bones." I could sense in our calls that Stuart was frustrated by the industry to which he had given so much: along with the classics, there was "Dolls," "Space Truckers," "Castle Freak"… and of course, "Honey, I Shrunk the Kids" (story by). It has always been the same for horror auteurs of that period: Romero too felt he could not count on support from Tinseltown. Horror makers were second-class citizens.
But Stuart had always been a maverick who saw the world clearly: his early theater was confrontational and challenging, traumatizing audiences in an effort to shake societal complacency. His last play, mounted in 2014, was "Taste," about the German cannibal who ate his date. Stuart did not shy away from difficult material.
I finally met Stuart and his wife at the storied Stanley Hotel where Stephen King had become inspired to write "The Shining" and where in fact Mick Garris had filmed his version of the King classic. Stuart was attending the Stanley Film Festival and he was very warm to me; he always complimented my work and showed genuine affection for the world he inhabited, a world populated by rabid fans, hard working artisans, and the occasional auteur always up to the challenge of responding to a cruel and unjust world with kindness, dedication, and a macabre wry wit.
So long, Stuart. You will be missed.
Rue Morgue
23 Sept. 2019
INTERVIEW: GETTING "DEPRAVED" WITH LARRY FESSENDEN
Depraved marks Larry Fessenden's return to the director's chair following 2013's Beneath. In his latest feature, Fessenden gives a contemporary spin on the Frankenstein tale, just as he'd updated the vampire film in Habit (1995), taking the Gothic trappings and setting to modern day Brooklyn and New York, and with a doctor, Henry (played by David Call), whose ambition to reanimate the dead stems from his failure to save lives while working as a field surgeon overseas. Here, the director speaks about the new movie, the monster, Adam (portrayed by Alex Breaux), and the themes that drive him forward as a filmmaker.
Mary Shelley's Frankenstein has made for a diverse range of films, from the Universal and Hammer pictures, to comedic takes like Re-Animator and Young Frankenstein. What aspects of Shelley's prophetic tale did you want to maintain, or modernize?
I loved the iconic creature from the old Universal movies. I grew up watching those on television. I really wanted to suggest the loneliness of the creature, which is apparent in the Karloff version. There's so much rich thematic [material] in the story that I thought was appropriate to modernize. The idea of the doctor – I thought, where would this doctor have these skills, and what would push him to the edge to do the experiment? When I was first thinking of the movie, there were the wars in the Middle East, which we were just getting into, and of course, we're still there. I thought of a field surgeon who would have the skills of Frankenstein to bring someone back to life. But then I wanted to bring the idea of someone behind him, pulling the strings, and taking advantage of his PTSD and so I developed the character of Polidori (played by Joshua Leonard) and suggested there are manipulators feeding off the talent in society. Obviously I enjoy the Hammer movies as well, and pay tribute to it in the makeup… Frankenstein always has the acknowledgement of the angst and loneliness of the monster. I wanted to look into that. We're seeing it from his point of view. There are also my philosophical concerns. All of that I poured into this version.
The 1931 Frankenstein's influence can be seen in this movie, such as in the portrayal of the monster, as well as the poster. What other films were an influence on Depraved?
It's funny, I just rewatched Taxi Driver, which I do every couple of months. I'm also influenced by the filmmaking of Scorsese… I grew up in the seventies, chewing on that on gritty street storytelling, like in Taxi Driver. But I was always very fond of old horror tropes. I kind of had been making that my mission, to blend these two things, old horror classics like The Wolfman, and seeing it through a much more contemporary lens, and filming it with the rich colors, the lights of the street… the naturalistic acting… that makes you feel in the moment.
In the 1931 film, it's lightning and technology that cause Frankenstein's monster to come to life, with dire consequences. Here, it's Big Pharma.
If you notice in the imagery, there's [still] a lot of lightning. That's my acknowledgement that we may not be using that trope anymore, but it's still there in the story. And as you know, Mary Shelley didn't deal with lightning. She was very light on her explanation on how the monster came to life.
I'm curious about the science in Depraved. The movie has a neat digital effect that tries to show the brain activity of Adam as he develops, or regresses, based on how much education or drugs he's taken – what research into neuroplasticity or brain science did you do to prepare the script?
I've read books by Oliver Sachs over the years in which he realizes the physicality of the brain affects your experience of life, and your personality. I read a book by Jill Bolte Taylor, who'd had a stroke, and in it, chronicled the reconnecting of her synapses. All of that was important to me… how personality and identity are based on the physical neurons that are firing in the brain. I [also] researched the drugs used to potentially keep a creature like that alive in the film, the psychological drugs used to calm the creature down… I did some research that I showed friends in the medical industry and they said it made a certain amount of sense.
One of your earlier films, 1991's No Telling, also deals with the ethics of experimentation – what are you drawn to about the mad scientist story, and what was your aim with Depraved?
I see a moral dimension in all of these stories, and really, any kind of movie of any worth is going to be talking about how society works… You have this idea of trying to defy death – to do what? If we had miracle drugs, and everybody lived, what would be their quality of life? I wanted to talk about how damaged this great talent was after the war. I wanted to talk about how we treat our veterans' inability to re-integrate in society… I'm not really making a stand but I want the viewer to think about those things… That's the fun thing about making horror films. You deal with bigger issues in a way that is accessible and fun, visceral, and impactful.
The movie has a neat urban aesthetic – the large loft space brings to mind The Fly, for instance. When you're filming in New York, what qualities of the city are you trying to capture?
The lights and colors of New York City are so delicious. The reds and yellows…the colors of the city are really potent. I like those rich colors, and I contrast that with the lab; the whites, silvers, and blues, which are more clinical. Also, the blood's going to show up nicely there. So you create a palette. You mention The Fly, which is one of my favorite movies, and [also] has the physicality of science on the screen… The themes of films in those days were about AIDS, and how we deal with disease – once again, taking a classic horror trope and infusing it with concerns of the modern day.
Alex Breaux does a great riff on Karloff in the film, and gives a pretty great physical performance – there's a development to how he moves and develops the capacity for speech – how did the two of you collaborate to find the right nuances for that character?
We started early, which is not a luxury you have with a low budget film always. Alex was just a very precise, thoughtful actor, and he knew the assignment… We talked about the idea of going from being a child… and about at what point in the story when Adam, the monster, is grasping language, how he would speak – what vowels and consonants are easier to use at first. We were tracking the physicality, the language, and the emotion. He would have done his homework and I would modulate as I saw fit, and we had a fun rapport. I also showed him a movie called Frankenstein: A True Story – that was a more unexpected reference, and he took that in. There's a lot of fun and responsibility when you're playing Frankenstein's monster – it's like playing the Joker, you're an icon.
Joshua Leonard's character of Polidori takes Adam on a tour of the MET, in which he cites humankind as being "depraved." What's your philosophy on the state of our species?
I think we're completely depraved and narcissistic and I think that will be our undoing; our complete self-involvement at the extent of the natural world – that will catch up to us and lead to our demise in one way or another. Our president down here is a perfect example of this kind of self-obsession, disconnected from the realities and also the aspirational aspects of the human creature, leaning toward empathy and ethics and building a good society… I feel like it is weakness of character that leads to this self-involvement. I developed Polidori's character who doesn't have the talent of Henry, but has a wily ability to manipulate people… [In the film,] he's not being mindful of the creature's betterment. So that's my critique of society and humanity. Polidori's smart enough to know that he's depraved. And there's no way out for him, as a small-minded person. I think it's a parable for our times.
TALKHOUSE
09 Sept. 2019
Musings Of a Filmworker
As his latest opus, Depraved hits theaters, indie horror maestro Larry Fessenden takes a moment to remind himself exactly why he makes movies.
I've had an odd couple of weeks, so I thought I'd share some thoughts about them, and about work, show biz and cinema.
I spent the summer making a film called Foxhole with a small crew of artisans. It was directed by my son Jack, who is 19. It's very difficult mounting a no-budget film nowadays. Though it's my stock and trade making no-budget films, I haven't been involved in the nitty gritty for a while, lucky enough to have had people at my company Glass Eye Pix like Jenn Wexler to do the heavy lifting on these productions. But Jenn has gone off to focus on directing and this movie was for Jack, so I had to step up.
I had help, don't get me wrong. But working on behalf of my son made the struggle more acute, I think; I was very protective of the director. And the film was ambitious, so it crept beyond the bounds of a home-spun DIY production. Everything from negotiations in the casting process to dealing with a payroll company seemed invasive and bureaucratic, like I was stuck in a Terry Gilliam film with an excess of paper-pushers and hoops to jump through. It seemed aggressive, somehow; we were working with an incredibly low budget, so why were these institutions intruding on our process? Even the bank would get in the way of us doing business: Every time we moved money around, it seemed like there was a three-alarm fire, with alerts and codes impeding basic transactions.
And then as soon as Foxhole ended, I was tasked with overseeing the completion of a series of behind-the-scenes featurettes about my own film, Depraved, which I finished a year prior and is in theaters this week. It was an odd experience, decompressing from one film while watching behind-the-scenes footage of another. Both had been very personal enterprises. Core crew members from Foxhole also worked on Depraved, so there was a continuum to the vibe and philosophy that got these movies made. Depraved had taken years and years to set up. It hadn't been easy.
Reflecting on making movies on the fringe of the industry with little financing leads inexorably to the question: why do this? Why try to make original, hand-crafted movies in the face of such adversity? It doesn't get easier with time. If you've made enough of them, you know it's not for the financial payoff – that fantasy dissipated some time ago.
I guess, for me, the answer is simple: cinema. Like Al Pacino in The Godfather Part III, even if I wanted to walk away, it would just "pull me back in."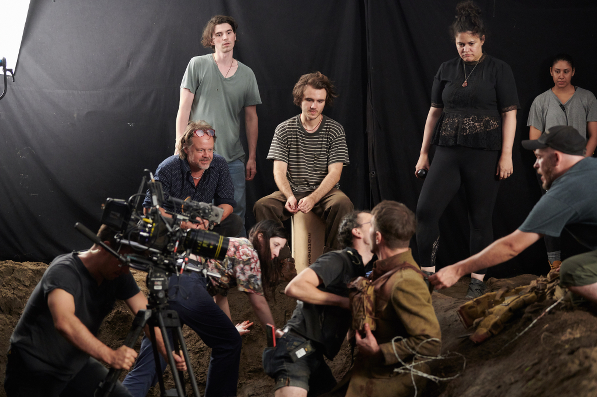 Cinema is an intoxicating art form, never mastered, but always beckoning. All the decisions that go into the creation of a single shot in cinema — the choice of the lens, focal length, color, lighting, camera movement, art direction and props, the visual effects, the ephemeral moments captured in an actor's performance, all the uncontrollable elements unfolding in the frame — combine to create a unique image. Every take in a film is a record of the effort that went in to it, a document of the moment in which the shot was executed. Butt that up against another shot, and that is the essence of cinema: The psychological impact of seeing one image juxtaposed with or flowing into the next, enhanced with sound design and music — this is the vocabulary of moviemaking, and when it comes together and speaks to you, it is alluring and potent.
Creating a movie is a campaign to make as many of the right decisions as possible, one after another in the building of a shot, a sequence, a scene, a story. There are myriad considerations in play, and the trick is to make good decisions in the face of the harsh realities of limited time, money and creative options. All the wars with the paper-pushers leading up to and during a production are waged to create a space in which you can make the best creative decisions. At any budget level, filmmaking is an artisanal process, mixing new technologies and old techniques in a hierarchical construct of rank and cooperation.
When we make cinema, we become kin to an amazing family of iconic artists who have also wrestled with this art form, people so beloved we know them by nicknames: Marty, Hitch, Stanley, Werner, Woody. I don't mind going on record as saying that it is movies I love; I know there is good television, but it feels like a writer's medium. (For any executives reading this, I do have a couple TV pitches …) Movies are succinct by definition. "Be efficient. Show, don't tell," they taught me in film school. (Not that I actually went to film school.) The greatest tool that can be wielded by a filmmaker is the design of the image, the order in which information is revealed. Hitchcock spoke about "pure cinema," by which he meant storytelling through the construction of shots to manipulate and transport the viewer.
Picture, if you will: the big-wheel driving down the hallway at the Overlook Hotel.
Picture: the overhead slow motion tracking shot of the carnage in the Taxi Driver finale.
Picture: the dolly in/zoom out to Chief Brody at the beach in Jaws.
Picture: descending from an overhead wide-shot of a party to the close-up of a key clasped in Ingrid Bergman's hand (Notorious).
OK, OK, famous shots, but I was going for the familiar. There are also images and sequences from Tarkovsky, Kurosawa, Polanski, Murnau, Cocteau, Welles … the list goes on.
Of course, everyone today is surrounded by images. Now there are screens at the bank, in taxis, on the subway platform, at bus stops, and in everyone's pocket. Moving pictures are everywhere. Maybe the only reason to employ a term like "cinema" is to reclaim some reverence for the medium, some understanding of its power and for the effort it takes to create.
So, back to the last few weeks: I was reflecting on the difficulty and exhilaration of filmmaking while editing the behind-the scenes footage of Depraved. I often edit the BTS features myself as a way to say farewell to a project. I've cut BTS epics on the making of many Glass Eye Pix movies, including The Last Winter, Beneath, Stray Bullets and Bitter Feast. I enjoy finding the hidden narratives and threads in the found footage. Again, it comes down to the language of film, the essence of cinema: The edit is where the story is revealed. All this is to say, cinema is about the act of putting images up against each other, building a rhythm with the material that creates meaning and mood. And it is a celebration of process, the extraordinary act of gathering a group of people together to make something that never existed before: collaboration in service of a single vision.
It has been fortifying to reflect on this process, so fraught with angst and disappointment, and take the time to assess and recharge. Maybe it's been a good couple of weeks after all.
Cherish cinema. For viewers and makers, it is vital.
DAN'S PAPERS
26 Mar. 2019
Danny Peary Talks to 'Depraved' Director Larry Fessenden and His Four Stars
I wasn't able to see any other films at last week's second annual What the Fest!? genre film festival at the IFC Center in New York City, but I am confident in assuming there were none better than Larry Fessenden's Depraved, which sold out on opening night.
A clever, provocative, terrifically acted and written modern-telling of Frankenstein, it is the cult director-writer-producer-editor-actor's best film in a long career that includes the prize-winning art-horror trilogy Habit, Wendigo, and—about another scientist doing diabolical experiments—No Telling). I especially appreciated how Fessenden exhibits respect for Mary Shelley's source novel and the classic horror films it spawned, yet injects 21st century ideas and issues into the story in startling ways without angering don't-change-a-thing traditionalists like me.
You may know Fessenden from his supporting roles for directors Martin Scorsese, Ti West, Neil Jordan, and Jim Jarmusch, and appearances in numerous horror films. You may not know that since 1985, his Glass Eye Pix has released an impressive array of low-budget films of all genres, including Kelly Reichardt's Wendy and Lucy and Ti West's The House of the Devil and The Innkeepers. A horror fan since he was a boy, Fessenden, who has "made it my mission to breathe new life" into Universal Studios' classic monster movies, wanted to update Frankenstein in order "to pay tribute and respond to one of the great icons of cinematic horror, to analyze where Western culture has succumbed to narcissism and collapse, and to tell a personal story of being alienated simply by being conscious in an indifferent and arbitrary world."
Having wanted to tackle the Frankenstein story since 2003, he finally "decided in December 2017 to mount a no-budget version of the film by committing to a location and starting to build a set. I figured if I couldn't raise the money, I would only lose the cost of the rental on the space [in Brooklyn] and the supplies to make the wall of windows that would play as our industrial loft. I liked to joke that I built my wall before Trump built his."
The (slightly edited) synopsis in the press notes: Alex (Owen Campbell) leaves his girlfriend Lucy (Chloë Levine) after an emotional night, walking the streets alone to get home. From out of nowhere, he is stabbed in a frenzied attack, the life draining out of him. He awakes to find he is the brain in a body he does not recognize. The creature, Adam (Alex Breaux), has been brought into consciousness by Henry (David Call), a brilliant field surgeon suffering from PTSD after two tours in the Mideast, and his accomplice Polidori (Joshua Leonard), a predator who married their rich classmate Georgina (Maria Dizzia) and is determined to cash in on the experiment that brought Adam to life.
After teaching his strong and smart but innocent creation things that will help him integrate into society—except about the birds and the bees–Henry is increasingly consumed with remorse over what he's done. Only Liz (Ana Kayne), Henry's estranged girlfriend, reaches out to consider the creature's loneliness. But that can't save him: when Adam discovers his own origin, he goes on a rampage that reverberates through the group and tragedy befalls them all.
Last week at the B Bar & Grill in Manhattan, I had this free-wheeling conversation with Fessenden (who doesn't appear in the film) and its four major stars: David Call (Tiny Furniture), Alex Breaux (Ana Duvernay's upcoming Netflix miniseries Central Park Five), Joshua Leonard (Blair Witch Project, Unsane) and Ana Kayne (Another Earth, NBC's new series The Enemy Within) about Depraved and its significant themes and characters.
Danny Peary: Larry, I read in the press notes that there was an audition involved in regard to Alex playing Adam. That surprised me because I assumed while watching Depraved that all your actors knew you and each other from the indie scene.
Larry Fessenden: That's good! It wasn't that we were a team, but we discovered that most of the people who worked on this film did know each other to some degree. For instance, it turned out that David had been in Behold My Heart [2018], the last film Joshua directed.
Ana Kayne: I knew David and Chadd Harbold [who co-produced the film with Fessender and Jenn Wexler].
Joshua Leonard: This was the second time that Maria Dizzia played my partner in a movie.
DP: All of you are not just actors but writers, producers and directors, so was there an instant community?
David Call: We came from the same background and worked with a lot of the same people over the years, so we were sort of on the same page. It was a really good group of collaborative folks.
JL: Larry set the tone for a good collaborative environment and there was a lot of camaraderie on the set.
DC (joking): And one of us—Alex [who has acted On- and Off-Broadway]—was highly trained.
DP: Larry, I read that when you were young you got hooked watching Universal horror films? Me too. I was eight when Universal sold all those films to television and I'd watch them one by one and not sleep at night. They changed my life and though you saw them more than a decade later, I think it changed yours, too.
LF: I appreciate your bringing that up because that's exactly what happened. Until Universal sold its movies, its monsters [the Frankenstein monster, Dracula, the Wolf Man, the Mummy and the Invisible Man] had fallen out of vogue. But suddenly a whole new generation of kids started watching them and that led to the Aurora Monster Models kits and fanzines like Famous Monsters of Filmland. It was actually a cultural phenomenon and kids my age grew up on those monsters.
It made a real imprint on me. That's why I grew up with Frankenstein and can still relate to it. Of course, they've always made new versions since the original in 1931 [which was directed by James Whale and starred Colin Clive as the Doctor, and Boris Karloff as The Monster]. For me, the version starring Michael Sarrazin [a 1973 TV-movie titled Frankenstein: The True Story] was very striking because the Monster was humanized. He actually starts out very handsome and then he slowly decays. That made an impression on me.
DP: So, Alex, when you saw that Larry chose to put in the credits that you play The Monster, rather than Adam, did you think Larry should have put the character in quotes, as "The Monster," or had you decided he is a monster? That's the big question people have been asking for almost 90 years.
Alex Breaux: You're talking about self-definition versus outside perception. My character is perceived by other people as a monster or creature, and he is referred to as that. However, our film is psychological in nature and I think Adam is living within himself and doesn't understand the "Monster" concept.
DP: The poster for the 1931 film proclaimed FRANKENSTEIN: THE MAN WHO MADE A MONSTER. So the character was always called a monster, even though there was some question about who really is the monster of the story. I don't think Karloff, who got the role when Bela Lugosi turned it down, objected to his character being called The Monster, but a theme of both James Whale films in which he played the role, Frankenstein and Bride of Frankenstein, and Larry's horror movies, is that our world has human monsters.
AB: In the script, the character's name is Adam. That's the name given to him by his creator, Henry, David's character. I treated the first half of the film as an accelerated coming-of-age film, where Adam's creator and father figure tries to build up his confidence and improve his behavior and capacity to integrate into society. I see that as an earnest movement forward by The Monster, even though it's motivated by Big Pharma and Polidori for more cynical reasons that he's not aware of.
DP: Larry mentioned Michael Sarrazin's Monster being handsome at first. Alex, if your character Adam were handsome and have no stitches all over his body, would anyone think him a monster and shun or fear him?
AB: I feel Frankenstein as a parable about discrimination against a minority. What are the differences people pick out that relegates one to the in-group or out-group? What makes Adam a monster is that he's not human because he's been assembled from all these human parts. That makes him different.
DP: There's an adage in horror: If you look like a monster, you will act like a monster.
DC: I think Henry's whole journey is to recognize Adam's humanity. In Henry's mind for most of the film, Adam is not a monster but an experiment or a project not unlike a car that he's building in his garage. I don't think he views his creation as a monster or as a person, but as a thing or object he's made that he wants to work and then work better and better. Only as the film goes on does he begin to recognize Adam is something more. It's like "Oh, this is a person. I made a person. Uh, oh."
DP: Larry, do you think Henry would have done this experiment to bring a dead person back to life if he weren't suffering from PTSD after being unable to keep some injured soldiers alive on the battlefield?
LF: I wanted to show that society thrust him into an impossible situation by sending him on a dubious mission. I'm saying society has let down our soldiers who fought honorably and were there to save lives. As a medic, Henry did try to save lives but felt guilty that he couldn't bring back to life those who died. He came back haunted by that and that's why he says he wants to right a wrong. But who takes advantage of that is his friend Polidori, an enabler.
DP: One of the most important lines in the movie is two words long. It's Henry saying to Adam, "I'm your…" He stops himself from saying more. David, what doesn't your character say?
DC: I don't think he knows what to say. Is it "creator?" Or "builder?" Or, since he's kind of a human being, "father?"
LF: Henry's whole journey is his coming to realize that he is his father. At a key moment late the film, Henry has a memory of them being together as, he probably views it, father and son.
DP: In the first scene of the movie, Alex and Lucy argue about his unwillingness to have a child with her and whether he could be a good father. Why was it essential for that to be what their conversation is about?
LF: Because the whole movie is about parenthood. Polidori says to Adam, "I don't suppose Henry has had time to teach you anything." Yet Henry has taught him music, how to solve puzzles, and how to play ping pong. But Polidori has his own idea of how to present the world to Adam, first with high art at the Met and then a strip club.
DP: Polidori also teaches him pool, which is much more of a vice than ping pong.
LF: Exactly. There are puzzles and games all the time throughout the movie. Even Shelley [Addison Timlin], the woman Adam meets in the bar, is solving a puzzle. The human mind is always trying to solve problems, actually our emotional and spiritual ones. That's the idea there.
DP: Larry, you won't mind my disagreeing with something you wrote in the press notes: "In most versions of the story, the doctor is repulsed by the creature." I think Frankenstein always sees his creation as a beautiful masterpiece. He is never repulsed by its looks. He is, however, horrified by its violent, cold-blooded acts, which are like a slap in his face and shock him back to his senses.
LF: Maybe you're right, but there is a scene in Mary Shelley's book and in most of the movies in which Frankenstein rushes into his bedroom and collapses out of despair, and the Monster comes in and parts the curtains. In the original story, that's the seminal moment—he rejects the creature and the creature leaves. Maybe I played too loosely with the word "repulsed." but the point is that he does reject the creature in the traditional sense. In my film, it's played more subtly with Henry slowly becoming more confounded and disappointed in his creation—that's his form of rejection.
DC: I don't know that he's so much repulsed by the creature as what the creature represents. The creature is a physical representation of Henry's own hubris and lack of a conscience. As I said, The Monster is his work, his experiment, and when Henry is forced to confront his creation's humanity he's also is forced to confront his own inhumanity. I think he's more disgusted with himself than with the creature specifically.
DP: Larry, in the scene from the novel and some films that you described, I believe The Monster opens the curtains in order to bring God's sunshine back into Frankenstein's dark, secretive world, which has been absent since the crazed scientist started playing God himself. Frankenstein realizes he has committed blasphemy by usurping God's creator role. Your modern-day film, however, doesn't bring God into the conversation.
LF: I believe strongly that this is an existential Frankenstein movie. It's precisely dealing with the idea that if there is no God and we are the masters of our destiny, then the ways we make decisions, handle technology, and address the issues of life and death are actually done in our names. This movie very specifically takes the initial premise from the great versions of Frankenstein but then moves away from our accepting the God-servant role and says we are in fact the gods. It presumes that.
Also, to me, one of the big little moments in the movie is during the scene in which Polidori takes Adam to the Metropolitan Museum of Art. Adam listens to Polidori speaking about morality in different ways and how humans are narcissistic and depraved, but there is one moment when Adam is looking at a painting of Christ and he is really drawn into it. We linger on that for a moment but Polidori just walks by without saying anything.
This takes place pretty much at the center point of the movie and my idea is that The Monster is drawn to that image of Christ and may be asking himself a spiritual question like "Why is this a powerful picture?" Yet Polidori just ignores it, because in a sense we're in a godless time in our history. Polidori had a line about the image that was a little preachy in which he says, "Never has humanity wasted more time on something," but I preferred having Polidori not think the painting is worth mentioning and so just keeps walking.
DP: Joshua, John Polidori is not in the opening of Bride of Frankenstein, although historically he actually was present when Mary Shelley, Percy Shelley and Lord Byron challenged each other to write the best horror story. In fact, he'd write the first vampire story. But Larry references Faust by making him a manipulative Mephistopheles figure in Depraved, a terrific villain who is, I believe, trying to corrupt an innocent. Is that the approach you took?
JH: No. I certainly didn't approach it with Polidori having the motivation to corrupt a soul. To me, it was far less calculated and far more tragic than that. It had so much less to do with his intentions regarding anyone else than his desire for self-preservation and the notion that he can't do much on his own. Polidori feels the need to align himself with people who are smarter and richer because he has so little of substance that he can offer himself.
DP: An elitist villain for our times.
JH: Yes. We talked a bit about how he represents the capitalistic id of America. There was a lot of media about Martin Scarelli at the time we were making the film. And that guy [who increased the price of a vital HIV drug by 50 times] was a fascinating creature to me because of how unapologetic he was about being a monster and yet when you watched him you saw this entirely broken human being.
DP: Making Polidori a villain, essentially taking the place of Ernest Thesiger's memorable Dr. Pretorius in Bride of Frankenstein, was one of Larry's big changes to the Frankenstein story. Another major difference is the role of the primary female character, who is Elizabeth in the novel and two 30s movies, and Liz in Depraved. The major change is that while Elizabeth is not privy to what her obsessed man Frankenstein is doing behind closed doors, Liz knows of Henry's unnatural experiment and, though reluctant, she is complicit in his crimes. So, Ana, was it interesting to you that the role of the character was being changed so radically?
AK: I actually wasn't familiar with how the character has been viewed. I didn't know about changes and just embraced what was on the page.
DP: What does she see in Adam that makes her be the only one to treat him warmly, as a human being?
AK: She is attracted to his isolation and loneliness. And she innately wants to take care of this obviously unwell creature. I'm just making this up right now, but I think there's a tenderness and vulnerability that she sees in Adam that isn't present in Henry, and she finds that beautiful and attractive and that escalates to… I'm not sure what.
DP: His innocence and honesty also must appeal to her.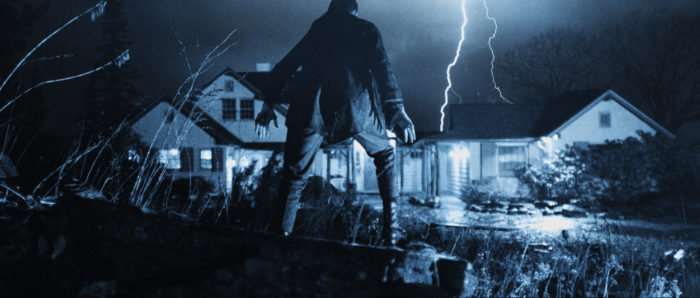 AK: Yeah, she's not really finding that in her primary relationship, and this nether creature is living in this place of vulnerability.
DP: You spoke of her innate desire to take care of him. Do her innate qualities include a desire to act as his mother would or act like a girlfriend?
AK: I think both. Although my original impression was that she doesn't have sexual feelings toward him and that she feels strictly a mothering thing. He is so lonely that her feelings move toward a slightly sexual thing, but I think for her it's more curiosity than a desperate need for connection. It can be interpreted as sexual, but I didn't come from that place.
LF: One thing you mentioned is important. She is complicit. She goes to Henry, "You mean you really did it?" That means he has been talking about creating someone from the parts of dead bodies for the longest time. Liz and Henry drifted apart perhaps, but there is a sense that she knew what he was up to all along. The same with Polidori's wife, Georgina. Before they see the creature moving about, the two women may not have entirely believed it's possible to create a living being from dead people's body parts, but they knew what Henry and Polidori were up to.
The other thing I'd like to say is that Liz is supposed to be the conscience of the movie. Everyone else is behaving very selfishly. And in her backstory we get snippets of who she is. She is someone who chooses to work at the Veterans Hospital and tries to help people. Henry tells her, "You can't solve everything with kindness." But we get the impression that kindness is what she does put out into the world. Even when it becomes slightly sexual with Adam, her allowing him to "explore" is another act of generosity.
DP: One of the interesting questions about the two Karloff films is: Does anyone feel guilty about the murders The Monster commits? In the two Karloff films, it's not clear if The Monster ever feels guilt for murdering people. At the end of Bride, he sends Henry and Elizabeth to safety and stays behind to die with the Bride and evil Pretorius. But even then we don't know if The Monster knows he has done wrong or just realizes that he is an abomination who doesn't belong in this world.
AB: I think he feels not so much guilt as confusion. He has an internal logic. When he ends up hurting the woman he meets at the bar, he assumes that Henry can perform the same magic he did on him and put her back together again. When Henry yells at him, "It doesn't work that way!," it starts dawning on him that he should feel guilty about something, that he misinterpreted the logic of the reality he is living in.
LF: He gives something of Alex's back to his girlfriend, Lucy, who'd given it to Alex on the night of his slaying, because he figures out that she is the girl he keeps having flashes of in his memory. Then, realizing he caused a lot of deaths, he exiles himself. In a way he does learn a lesson and knows that it's best if he removes himself and walks away, which, of course, is how it is in the book. In the book, he says he went away on the waves, which too is self-exile. That's the tragedy of The Monster.
DP: As I said, Henry is horrified by the murders, but perhaps his guilt is not about the deaths themselves, which he blames on The Monster, but about his defiance of God. David, does your character feels guilt of any kind?
DC: Henry feels guilt for sure. But not until The Monster tells him, "I want to have a girl, like you have a girl." That's when Henry is confronted with the humanity of this being he has created and the realization that it can never actually have a human life and participate in humanity even though it is in some degree human. That's where the guilt comes from and why Henry ultimately decides he should kill The Monster.
DP: Ana, does Liz feel guilt?
AK: Definitely. And she takes on Henry's guilt as well. She didn't help him create The Monster, but when she makes the switch and becomes complicit in Henry's attempt to get rid of The Monster, she feels tremendous guilt. That's what drives her toward madness.
DP: I think Polidori is the one character not to feel any guilt.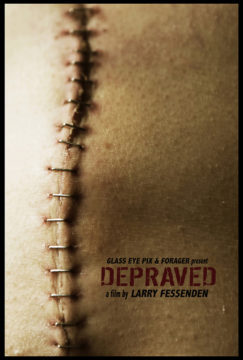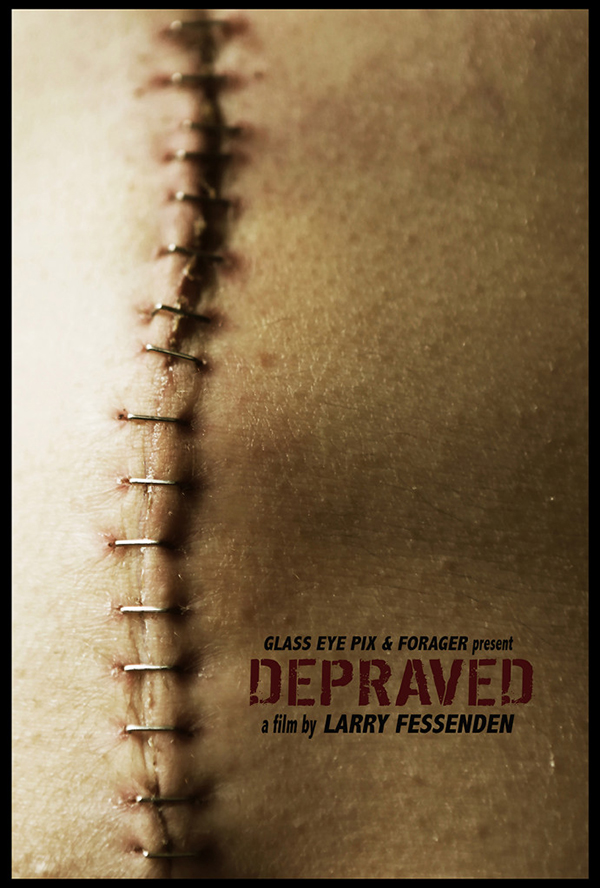 JH: It will take Polidori a good 10 years in therapy for him to get to the point where he can even touch on guilt.
DP: To me he exhibits the casualness of evil.
JH: I don't think it's so casual. I don't think he's a sociopath, I just think he has such a perilously constructed version of who he is in his own brain, and that if you pull one thread it will all fall apart.
LF: My favorite moment is when his rich father-in-law says he doesn't care about what his company is doing, and Polidori's whole world drains away.
AB: Polidori is a capitalist and his morality is connected to his survival.
LF: When Polidori tells the angry Monster, "I'll take care of you," he's just groping at straws to survive. He's feigning remorse.
DP: Did you want all your characters to feel guilt?
LF: It's a movie where I'm trying to say who accept their own responsibilities and to what degree. So it is a story about accountability and exactly when people will recognize they have it.
DP: Larry, in 2003 you came up with the idea of making this film by writing a one-page synopsis. Is this the film you had in mind back then?
LF: Yes. I like to point out that when I put the edit together—very quickly, because it all went together—I asked myself, "What did I do?" Because I wondered if I didn't make it scary enough or forgot to do certain things that would make it easier to sell and not let down people who will want it to be another type of film. So while this is absolutely the film I have wanted to make for all these years, I wondered if it is the right movie.
DP: I can say that it is.
AV CLUB
03 Mar. 2019
Larry Fessenden on Frankenstein, art, and Universal's Dark Universe: "They don't understand horror"
Larry Fessenden's name is pretty much inextricable from independent horror cinema at this point. Over the course of the past few decades, he's become not just an omnipresent indie character actor (turning up in everything from You're Next to Session 9 to Martin Scorsese's Bringing Out The Dead), but through his company, Glass Eye Pix, he's helped to bring countless ambitious low-budget films to to life—mostly horror (and what a resume: The House Of The Devil, Darling, Stake Land, to name a few), but also some bold drama and oddball fare (Wendy And Lucy, The Comedy). He's also dipped into the world of video games, winning a BAFTA award for writing the hit survival-horror game Until Dawn. And through it all, he's maintained a fairly consistent pace of writing, editing, and directing his own films at the slow but steady rate of one every five years or so. His latest, Depraved, (which had its world premiere last night at the What The Fest?! film festival in New York) is a modern reworking of Frankenstein set in the Gowanus neighborhood of Brooklyn.
When we caught up with Fessenden, what began as a discussion of his latest film turned into a fascinating and freewheeling look at the current state of indie cinema, the durability of horror, and why there's no justification for being an asshole in the pursuit of great art.
AVC: Even though it's a retelling of the Frankenstein story, Depraved feels like it's grappling with the ideas and themes you've been dealing with throughout your entire career. Have you always wanted to take a crack at Frankenstein in the back of your head, or was the genesis of this film more recent than that?
Larry Fessenden: Well actually, the truth is it's quite an old project. I say that I have a draft where I wrote a one-page synopsis from 2003. But it does fall into my usual themes of really trying to re-imagine the great horror movies I loved as a kid in a contemporary setting. So I think it's always been a part of me. I didn't re-read the book; I just know the book, and I certainly know all the movies. Especially the old Karloff movies, the sort of pathos—there's something about the story that speaks to me. You're both afraid of the monster as an objective thing in the night, and you also feel for the monster. So really, it just becomes a personal account of being an individual in this society, and confounded and confused. I think it's very intuitive to me. But I don't want to just tell a coming-of-age story. I want to have something fun in there, like the abstraction of monsters and all of the implications there.
AVC: That's what sort of stood out. Even going back to No Telling [Fessenden's first feature horror film from 1991—Ed.], you've always been interested in these questions of the uses and abuses of science. Is there something specifically about those sorts of thorny philosophical issues that drew you back into using the Frankenstein story as a way to talk about them?
LF: For better or worse, I just can't help but engage with the big questions. How do we run our society? What are the choices? It's funny, people think my films are polemic or that they're preachy about environmentalism, but I just can't see the world in any other way but to try to figure out, "How could this work? How could we get along?" It's on a very personal level. "Why doesn't my girlfriend like me?" All the way up to, "Why do we have such abrasive racism," and all of these things. It's never been an external thing for me. It's very personal, to try to grapple with these philosophical questions.
AVC: It's funny that people have dinged you for being preachy, because your focus and your interest is always on the psyches and relationships of the people who would involve themselves in such work. Is that what captures your imagination in the original Frankenstein? Or is that more the angle you feel you can bring to these kinds of questions?
LF: Well, I think it's both. It's why the story speaks to me. As I say, I relate to the monster as an outsider; he's bewildered by life. And don't we all feel that, ultimately? At the same time, one thing I grapple with in Depraved is the dilemma of science solving our problems, physically making us live longer. One thing is, the soldiers that come back from Iraq now, they actually are kept alive, but they have these terrible, traumatic head injuries. Is that really life? I'm not making a judgment whether they should live or die, but there's an ability for science to get us to a certain place, technology and all of that. And yet we will have to make amends of our mental, spiritual life. And that's sort of tossed aside.
So that I find really interesting, and that's why the Frankenstein story is so rich. At one point, the guy says, "You can't solve all the problems with kindness. Sometimes you need technology." That's such a perfect dilemma, because he can create this monster, but he doesn't know how to parent it. These are just the contradictions of life and I find them so interesting. And they are in these old stories, you know.
AVC: There's almost a Talented Mr. Ripley quality to these characters. The whole, "No one thinks they're a bad person, no matter what they've done or what they're doing." There's just that disconnect between what they can do and what they're able to do. The humanism is what I feel was of interest to you.
LF: Dude, you're singing my song. [Laughs.] That is my point. As an actor, I always say, "When you play a villain, you don't play him like he's bad. He absolutely thinks he's doing the right thing." Think of Heath Ledger's Joker. Such a beautiful portrait of insanity, depraved insanity. But he obviously thinks everything's ducky. I really wanted to bring that to the character of Polidori, that Josh Leonard played. He's horribly villainous, they talk casually about raising the prices on pharmaceuticals, like that villain in real life [Martin Shkreli] who's much more depraved than my character. Almost to a fault, I have too much humanity in my characters. Maybe that's because I wrote it before the current political climate, where just fucking outright disgrace is considered completely normal.
Anyway, whatever, I'm sentimental, so I still have my characters have human emotion. But I love how sad Polidori is. He's obviously the villain. That's the place where I stray from the original structure, because the doctor isn't the villain or the madman, he's sort of a victim of circumstances and PTSD, and he was tossed aside by society. Even the other guys' motivations are so petty. They're saying, "Well, my father didn't love me." "I was there in the room, I helped you!" I really feel that human interaction comes down to this little sad pettiness, and that's what I like to show, the details of the psychology.
AVC: It's funny that you mentioned the way in which you relate to the monster. The film travels from one of the world's great art museums to a strip club, and that blending of what we traditionally consider high-brow and low-brow culture felt almost like an exploration of your own art and career, where you've done just that. Did parts of that sort of take on an autobiographical vibe for you at times?
LF: I really appreciate the question. Yes, I feel like… all of us are so… there's such a richness of influence in our lives and our upbringing. I have all the books and the puzzles and the sort of things that jumpstart the mind. And there's this sort of other lofty notion of great art and museums, and they're rarified. But then there's just the physical impetus that you'll find in a strip club, those impulses. So it is, like, what makes a character of a human being in our society? All of that sounds lofty, but it's very visceral, to just show it. It's funny, there's a moment when the monster looks at a painting of Christ, and he's actually drawn in. And Polidori is sort of contemptuous and doesn't even comment on it. There's some yearning in the human animal to see life through that religious thing, but then you have a pretty good time at the strip club, too. There's something there, I don't know what it is. But yeah, that's the idea.
AVC: It's interesting, because it's not just grappling with that seeming disjunction between high and low, but also these ideas of the value of the old versus the new, as well. Both aesthetically and narratively.
LF: Yeah, and where do we make the choices of what we keep and what we discard? I showed Jackson Pollack, and I don't actually personally believe this, but Polidori says, "Art shat the bed." Or, "This is where narcissism took over." I do feel that human narcissism is a corrupting, toxic element, and the whole point is that you try to aspire to higher ideals. Anyway, the weird thing about the movie—I was trying to write about it, just for the fucking press kit, and it's not pretentious, it's just to say that it is about all these things. I used to joke on the set, I'd say, "Oh don't worry, we can show the wire, because this movie's about electricity among everything else." And everyone would laugh and roll their eyes. But my point is I really wanted to try to tell a very succinct story in which everything was sort of accounted for, the whole history of humanity. I used to say that on set. It's unbearably pretentious, except that I don't mean it that way. It's just that you're filled like a vessel with all this sort of stuff, and you have to sort through it in order to be a moral person. And of course, I suggest in the end that it's not possible, that everyone's an asshole. [Laughs.] Sad little tale.
AVC: The last time we interviewed you was almost exactly 10 years ago, when I Sell the Dead was coming out. Are you surprised by where your career has taken you? Or does this feel like the natural progression of where you were at that time?
LF: Well, I don't know. John Lennon, or you can quote whoever, "Life is what happens to you when you're making other plans." When I was a kid, I thought I'd be Spielberg, because I loved Jaws. But I also never quite played the game. You actually wake up one day, and you go, "I've done it exactly true to myself." It's very frustrating, though, because I see exciting, big movies, I see them fuck up the Universal pictures, whatever that's called—the Dark Universe—they fucked that up. They don't understand horror. So in that regard, I'm extremely bitter that I'm just where I am. In case you need to know. [Laughs.] That's the headline: "Fessenden's bitter!" But the reality is, I also accept that my movies are peculiar. I'd rather make them as best I can, try to make the best possible movie along the lines of what I see than be chasing a dream that's really just a dream to be at the Oscars. So it's complex. I don't profess to be delighted to have to spend 10 years raising the money to make a Frankenstein movie; that's ridiculous. But we've made a lot of cool movies.
AVC: I do think there's a philosophical element to the fact that oftentimes great horror comes from the margins. It comes from the underground, these weird, dirty, strange places that aren't the middle of the road.
LF: Dude, you are, once again, singing my song. This is the point. Horror is supposed to be alternative. It's supposed to make you really question society, quite honestly. It's supposed to shock you out of a certain complacency. As you well can imagine, all of the profound political implications of horror throughout the century, from Night of the Living Dead to Godzilla, they're all responding to real problems, real world problems. When you just turn it into—all due respect to Jason Blum—those haunted house movies, you're not really using the genre as robustly as you could. It should be alternative. I always say, it's right there next to porn in the video section. Eh, we don't have video sections. [Laughs.]
AVC: Has there been a shift, maybe even in your own thinking, about how horror is changing to express new thinking or new ideas? Because some of the projects you've been involved with lately, either as an actor or producer—I'm thinking here of Like Me or Darling or even Until Dawn—reflect a very different world and even a different public understanding of horror than existed 10 or 15 years ago.
LF: Well, horror was really the perennial, and it did manage to make money. The cliché is that you can make a cheap horror film because you don't need movie stars, because the genre itself is the star. So that's all wonderful. And it's a playground for young filmmakers to sort of learn their craft, Coppola and so on made early horror films. But at the same time, I do think the genre has grown up. And now you really can see a blend—I'm thinking of It Follows or The Babadook—between an indie sensibility and then something very dark.
Remember, horror is really just speaking of dark things, probably with a fantasy element, or some other layering of artistry, which is why I like it. The genre's grown up. I'm not really here to complain about that in particular. I feel great about the movies we've made. I don't know if Like Me is really a horror movie, except you could say it depicts a society gone fucking wrong. But the movies we make are challenging, unexpected, off-kilter, and that's really where cinema can still be vital. In all due respect to the superhero movies, you kind of know what you're getting into. You know, they might have a little tiny sheen of something forward-thinking when they have people of color or women starring in them and all those things, but those are just sort of cultural shifts. Are they really challenging you? I would say not quite.
AVC: With Glass Eye producing so many of the more noteworthy unconventional and challenging movies of the past decade or so, what would you say has most surprised you about the work you've done in that time?
LF: Just how little traction I get. A tiny pocket of very deep love, and I'm extremely respectful and grateful for the people that know my work. But there's a whole bigger game that I'm not very good at, to sort of get your foothold. Listen, all of this is for the sake of wanting to do your next project, do your work, do better, bring other people up with you. I sort of have done that by getting some young filmmakers their first movie. Some of them I've managed to push out the door, like [Jim] Mickel and Ti West, even Kelly Reichardt was my early pal, and we did stuff together. So that's also a mission. I've got to say, you don't always do exactly what you thought you wanted to do, but I feel like I'm still working that mission.
AVC: It seems like you've also discovered some unexpected angles to your own work. For example, I can't imagine you'd have guessed 10 years ago that you'd have this project four seasons and running that's essentially resurrected the radio play, complete with live performances at Lincoln Center. [Tales From Beyond The Pale—Ed.]
LF: Oh, yeah, dude. It's such a pleasure. But you know what? That's something we can do without the approval of others. We simply do good work and some people care, and they come. By the way, we're going to put that finally into the podcast format, for the kids. The kids can't seem to find our CD box sets. We're losing them. [affected voice] I have some 8-track cassettes here for the little ones. [Laughs.] So yeah, I do that with Glenn McQuaid, and we're just wildly proud of it. It feels like, while you guys are all raising money, we're going to show you how this is done and take you in an incredibly immersive world of audio plays that are of every conceivable tone. That's the thing about horror, it's a huge umbrella under which there's comedy, period pieces, grave robbers, toxic waste, giant monsters. Everything wonderful. I've made more monster movies on the radio. I assure you, it's very cheap. All you need is like three growl sounds. [Laughs.]
AVC: That's what is so great about Tales from Beyond the Pale, it cuts to the heart of the appeal of storytelling. Have you discovered a renewed love for the purity of old-school storytelling, stripped of any visual aspect, through doing that?
LF: Oh yeah. But I do believe some of them are very forward-thinking in terms of structure. That's the thing—you truly get to experiment in a format that's not going to break the bank, and if it doesn't work, so be it. Although, I have to say, they're all just so refreshingly different. One of the things Glenn and I loved to do is to say, "well, this one, we're not having dialogue. We're going to have only sound effects." And we've almost pulled it off. I did one in which this house was expanding and collapsing, and the guys were inside going, "Whoa! What's happening?" It's all just sound effects. It's so fun to imagine you can transport someone through sound. I always like to say this about my bad special effects: The audience has to help. They have to participate in building the monster. Wendigo['s monster] is famously poor as well, just some awkward effects there. But I believe that the audience has to go along with it. When I grew up, you could see the zippers on half the monsters.
AVC: That was always the thing—whenever somebody says, "Oh, that looks so fake," or "you can see the plastic," it seems like their problem isn't that they can see the seams, the problem is that they're refusing to surrender to the story, they're refusing to engage in that world.
LF: That is a profound truth. And actually, I feel like the nightmare is, that's what happened to the culture now. It's such a gotcha, told-you-so society with Twitter. "Oh, I saw this!" You're like, oh my god—what was the intention? Maybe they didn't have the budget. Do you still see the ideas? Or are you just trying to "gotcha"? It's a very entitled culture that we're in, all sides. Not just the well-to-do city kids. Everybody's sort of sitting, judging from their lofty place from their silly little Twitter-sphere. It's terrible. And the whole world's collapsing around us. The arrogance of humanity!
AVC: But maybe that's part of it—when people see everything collapsing around them, it's understandable to say, "Well, what can helpless little me do? I guess I'll just sit here and make some jokes on Twitter."
LF: Well, I understand, but I don't buy it. I always say, when you're in the lifeboat, and the hole's there, you got to bail. Just to say you did, even though you're going down. And that's how I feel about global warming, and I don't approve of this sort of "woe is me" attitude. There's a hundred reasons for it. One of them is called denial. One of them is called self-preservation and avoiding despair. But I'd rather say, let's roll up our sleeves and see what we can do here, guys.
AVC: Did the years of trying these different outlets for your work, whether it's directly through activism [Fessenden founded an environmental site, Disconnex] or whether it's through writing for radio and everything else you've done, did it change where your head was at when you returned to directing after six years since Beneath? Because Depraved feels like the work of a guy that's in a different headspace at this point than your last couple of features. There's an evolution to your direction.
LF: Well, that's cool. I'd like to believe I am maturing. Honestly, part of the problem with Depraved is I really, really insisted I had to get it out of my skin, out of my hair, before I could move on. It's been a bit of a bugaboo, to be honest. Everyone was like, "Well, you have all those other scripts, why aren't you pushing them?" I'm like, "No, I just got to get this one out!"
You know, I played saxophone in a band and I helped people do music, and I do this and that—and my point is, to me, all the arts are sort of the same, and the political aspect is the same. It's more about problem-solving. The real question is, how do you make a society work? That, I find a wonderful question. You know, you have to address that when you're on a set. I always discuss this with my people. Do you rule by fear or by love? I love that question, because it resonates outwards. And obviously we're dealing with that in the political spectrum right now. Do you make everybody feel uplifted and like they're participating? If so, therefore, you build a great little society for 30 days when you're making a movie. To me, it's the same thing. I don't really know that it's different.
Obviously, there are tyrannical directors who are mean and they make good work, and that's fine. But I always believe that it's all integrated. So I have an obligation to create an atmosphere so people can flourish and see if they can pull their shit together. To me, it's all about living. I'm trying to live right. I'm not saying I've achieved any of this, I'm saying those are the goals, that's the conversation, and then you take note of how much you're failing at it. [Laughs]
AVC: The arguments that people always make of, "Oh, sometimes to make something great, you've really got to be a dick and crack heads" or whatever, always seemed to be a very sort of Wall Street mentality. The idea that you don't care about treating people with respect because something else is important at the moment—it's like, do you really think they can't go hand in hand?
LF: Absolutely dude. And it's because the journey is the whole point. In other words, you don't even know if you're going to get to the fucking finish line. You don't know if your movie will be seen. So all the suffering—you see people lay waste to the location, leave trash and garbage, being jerks, saying, "We're too busy, we're making a movie! This is the most important thing! Soon we'll be at the Oscars!" And you're like, "Yeah, but what if none of that happens? Then all you've done is just fucking made a mess here and acted like an asshole, so get your shit together! You can do both things at once!"
AVC: At this point, you've been doing this long enough, you've become a fairly ubiquitous character actor for a lot of people. What is the thing you find you get recognized for the most these days?
LF: Oh well, it's a funny question, because the answer is Until Dawn. Can you imagine? I went to Comic-Con one year after the game came out, and because I'm in it for a minute and a half as a flamethrower guy, I actually felt famous for a brief second. It was absurd! I'm like, "Listen, kid—have you seen my picture Wendigo" He's like, "What are you talking about?" So unfortunately, it's video games. Oh, and also Tim Heidecker's movie [The Comedy]. I once posted about that, which I produced with Brent Kunkle and some others, and oh my god, all the likes I got made me feel very small when I'm just tweeting about myself. So there you go. That's when you learn how totally meaningless you are.
ANTHEM MAGAZINE
22 Mar. 2019
A one-on-one with David Call and Larry Fessenden
This week, the Second Annual What the Fest!? arrived in New York City. The five-day showcase of genre films kicked off with the world premiere of Larry Fessenden's Depraved, which was shot on the 200th anniversary of Mary Shelley's Frankenstein. In Fessenden's contemporary take on the literary classic, the Vienna castle is now a Brooklyn loft and the reanimating lightening bolt a miracle drug that's not yet FDA approved, while the monster—still very much cobbled together from various body parts—is similarly on a profound quest to learn what it means to be human.
Depraved opens with a twentysomething couple, Alex (Owen Campbell) and Lucy (Chloë Levine), making love in their Brooklyn apartment and then immediately squabbling about their future plans together. Then the film abruptly plunges us into a far more frightening scenario with Alex getting stabbed in a frenzied attack while leaving Lucy's apartment. He wakes up in his new Frankenstein body with only his brain having made the transfer. This monster named Adam (now played by Alex Breaux) has been brought to life by Henry (David Call), a surgeon and war vet suffering from PTSD, and his accomplice Polidori (Joshua Leonard), a deviant who's out to cash in on their experiment. Henry is the "father" of the two, "raising" Adam by way of toy blocks, children's books, a ping-pong table, and a rubber ball—Adam's first word is "gravity." Polidori, the "uncle," has mostly nefarious intentions, taking Adam on a joyride to a strip club, introducing him to cocaine, and generally keeping him hooked on a cocktail of his so-called miracle drug, opioids and meth. But when Adam happens on secret videos documenting his reawakening in a Frankenstein body, he goes on a vengeful quest in search of meaning, which costs the lives of many around him.
Anthem joined Fessenden and Call at B Bar and Grill in Manhattan this week to eavesdrop on this exclusive 1-on-1 conversation and for our photo shoot before Depraved's premiere at IFC Center.
DAVID CALL: I guess I have to interview you.
LARRY FESSENDEN: Well, that's novel.
DAVID: It is. I haven't done this yet.
LARRY: I'm just gonna sit here—yes and no answers.
DAVID: We're gonna sit here and stare at each other. So you like horror movies, huh?
LARRY: [Laughs] This is where we met.
DAVID: This is where we met. This is almost the exact booth we were sitting in.
LARRY: This is where it all began.
DAVID: I guess that sort of brings me to, where did it begin for you with this?
LARRY: When I was a kid, I just always liked this movie Frankenstein. I read the book eventually. Of course, it's traditionally a bit of a disappointment for a horror geek because it's so much more a thoughtful book than you'd expect. Of course, as life goes on, you realize how profound it is and you learn that it was written by an 18-year-old girl. It really has an amazing legacy. But it all came from the early Universal Pictures and that creature designed by Jack Pierce with the flat head and the bolts—it's crazy. I always find it worth mining this story, and I wrote the Depraved story like 10 years ago. It was coming out of the current events and that's why there's the Middle East veteran aspect of it, and just the way technology and medicine has gotten more and more sophisticated. All of that intrigued me and seemed to play into all the themes. Then the loneliness, the monster, and all that. It's a rich soup.
DAVID: Yeah, the loneliness of the modern age and whatnot. Something that struck me while we were shooting and noticed when I saw the rough cut was that you have such a hodgepodge, unique mixture of cinematic language. You almost created your own in certain places, which is really exciting. What were some of the influences?
LARRY: My base instinct is to very much design every sequence based on, "Whose perspective is it from?" and "What is the emotional thing?" I ad nauseam refer to Hitchcock because he was very deliberate in his design. From there, the agenda was to tell it from the monster's point of view, so that sets up certain rules. Then of course halfway through the movie, we fracture it and it's then from Henry's point of view. It already had a very specific structure. It was sort of a passing of the baton. I think subjectivity is worth highlighting in this story because it really reminds you that everybody comes from their own specific place, especially if we think about politics now. Everyone's being influenced by their own news media of choice and so they have a very specific take on reality based on their influences. Our story is supposed to highlight that. Also, I'm telling a story about how the brain is really where it all starts, which is obviously from the Frankenstein story, and since you're making a Frankenstein movie, you wanna talk about the brain. Then we brought in all kinds of strange imagery. James Siewert did all these animations and you're sort of highlighting all that. I felt that the story could sustain all that. It's all about how you take in information. There's also imagery of art and books that he's read. It's about the whole enchilada, you know? It's about what it is to be alive. There's so much stimulus coming in. I felt the form of the movie could actually handle that because the story, in a way, is so simple and familiar.
DAVID: One of the things that I loved and drew me to it was the ways in which you sort of departed from other cinematic Frankensteins. I mean, how many have there been now?
LARRY: It must be dozens. Then there are ones like Frankenstein like Species and Robocop.
DAVID: When I read the book after we met, I was really taken aback with how lyrical it was and how you switched perspectives between the doctor and the monster. I thought our version sort of hewed the most closely to the book, even though it was modernized. Is that something you tried to do?
LARRY: I always say that I didn't re-read the book to write this script. I just internalized it over the years. But one thing that both Frankenstein and Dracula, the books, do—I think it was a trope of literature at the time—is that they tell the story through letters, which is so interesting. You realize it was a very modern idea that one thing is from the diary of the captain who discovers the doctor off in the wilderness and brings him home and then he tells his story. Then you build the monster and the monster tells his story. You keep going into these subjective worlds. In a funny way, the way we made the film, it is that kind of structure where you're first with the kid who then becomes the brain and then you're with the monster and then the doctor. It's kind of a tradition that's baked into the telling of the story and it was fun to find a modern way to do that.
DAVID: Why do you think no one has done that before?
LARRY: You could say that Frankenstein, the 1931 James Whale/Boris Karloff movie, established a certain trope that the monster is sad, but he's gonna be scary and he's gonna attack the town and the villagers, and then you're gonna get your torches and burn down the windmill. In a way, it was so potent that that's the way the story is told. I don't think people were dealing with identity and the way the brain works and some of the things that became interesting to me. There were two books that influenced me: one was about a person who'd had a stroke and how they could reconnect their brain [My Stroke of Insight by Jill Bolte Taylor]. You have that whole speech in the movie where you're going, "Synapses!" and all this stuff. The horror fans love that! [Laughs] Whatever. The other book was called On Call in Hell [by Richard Jadick], about a field surgeon that really advanced medicine in Iraq by making the triage portable. He would bring the hospital to the soldiers and we'd save a lot more people that way. So I just thought about that kind of medical genius and what he would maybe want to do when he came home and felt bad for himself. That was part of it.
DAVID: One of the things that struck me when I was reading the book is the parallel between the creation myth and the ways in which the doctor's plight is similar to that of an artist's or a filmmaker's in the sense that a film is realized into the world outside of your control. Did you feel a certain kinship?
LARRY: Well, everything is going to come back to that process. It is a creative process making a monster and making a film. Also, the thing I did add to the story was the idea of the jealousy between the two creators. In other words, you're the artist and Polidori is your financier. I think their squabbling is very much about an artistic dilemma: who owns the rights to it? My favorite line that Josh [Leonard] delivers is, "You couldn't have done this without me! I was in the room!" How many times have two writers, or a writer and a director, said to each other, "I came up with the cool part of the story!" I do think I wanted to capture that aspect. It is about creativity. The whole movie is about human enterprise and where it goes astray. I've done that in other movies where I suggest that the arts is the best way to express boundless ambition, as opposed to in a world where it's going to do harm. Keep ambition in the arts!
DAVID: One of my favorite sequences from the film—granted, I've yet to see the finished product, but from what I saw—
LARRY: Oh, that's been cut. [Laughs]
DAVID: The museum. Is that all still there?
LARRY: Of course.
DAVID: The Polidori character takes the monster to the Metropolitan Museum of Art and basically introduces him to art.
LARRY: The history of the world.
DAVID: The history of the world through art. I loved it because it seemed like the creature after that has got in touch with his more human instincts.
LARRY: Yes.
DAVID: And also became more of a pronounced individual.
LARRY: I really feel that's true. In the beginning, he's sort of like an infant. He's learning puzzles. I love the scene where you're sort of impatient with him, like many fathers that don't quite get their kid until they grow up and start to be more cognizant. Then we have the ping-pong where he's learning the idea of competition and all of that. But Polidori introduces him to, literally, the history of ideas and emotions and morality and so on. After that, he's kind of an adolescent. So the thing I liked about the story is that you get to sort of tell an entire lifetime of development in this one succinct allegory. Of course the sad thing is, once you've been educated, comes your awareness of duplicity and moral collapse and narcissism like everybody. Then things go terribly wrong, unfortunately. You learn that your parents are vulnerable. That's all in one little story.
DAVID: Much like an adolescent, the creature starts lashing out and disrespecting seniority.
LARRY: Goes to the titty bars! [Laughs]
DAVID: Yeah, yeah, yeah, yeah.
LARRY: As you would do.
DAVID: As you would do as a teenager exploring New York City.
LARRY: Exactly, and things go horribly wrong. His uncle gives him cocaine. It's a real shitshow.
DAVID: You grew up in New York. Did you always want to set the story here?
LARRY: When I was first talking about it, I called it my Rock 'n' Roll Frankenstein. I just pictured a bunch of badasses sitting around in a loft. It was always the conceit to set it in an everyday place. In those days, Brooklyn was more mysterious. I started thinking about this story in the early 2000s. The idea of Brooklyn—who knows what goes on in all those lofts? Now I can tell you what goes on there: drinking IPAs and Tweeting! [Laughs] In the old days, it was a little more mysterious and I loved the idea that somebody was building a creature somewhere.
DAVID: There are still some parts of Brooklyn where you could probably get away with that.
LARRY: We chose Gowanus, which is great because it has the most toxic stream in America.
DAVID: I could see a creature crawling out of that.
LARRY: Yeah, well, that's a whole other movie. In fact, I don't want to overplay because we didn't really use the canal enough.
DAVID: You could do a swamp thing.
LARRY: Oh, absolutely. Don't get me started. I'll do Creature from the Black Lagoon: Gowanus!
DAVID: You could turn that into a whole trilogy.
LARRY: Don't give out all of our ideas here! Holy shit.
DAVID: I know you produce an awful lot. Do you have another thing you wanna direct?
LARRY: What I mostly wanna do is direct. I've got two movies I'm trying to get financed and made, but then I really wanna go back to directing because it takes too long between projects. Part of it is that I get distracted and enthusiastic about producing, but it's not even my forte. I've had the luck to meet a lot of great filmmakers and try to usher them into the world, but it took me a long time to make Depraved and I was very happy to be doing that. That's my passion, not producing. The only reason I'm a producer is that I always wanna get everybody excited about their work, and help them find their vision and be truth to it. So I do find that it's mostly a mentorship or just sort of encouraging them. I'm not good with numbers. I hate dealing with agents.
DAVID: Paperwork.
LARRY: It's terrible. Thank god for the producers on Depraved: Chadd Harbold and Jenn Wexler.
DAVID: Who are awesome.
LARRY: Liz Astor… I'm very lucky to have that kind of support system. So yes, I'll be directing more. As for what, I'm always secretive until it's really happening.
DAVID: That's probably a good idea.
LARRY: You don't wanna be too huffy puffy and then it never happens. Good lord.
DAVID: [Laughs]
LARRY: My most famous movie never got made. The Orphanage, a remake of a real movie.
DAVID: Is that dead?
LARRY: Well, it's still on IMDB. That's the point. You can't erase these things anymore. But that was a great experience. I wrote with Guillermo [del Toro]. As I say, onto the next thing.
DAVID: You've been doing this for a long time. I'm hopefully gonna be directing my first feature in the next year.
LARRY: Congrats.
DAVID: Thanks. Is there anything you learned on this that you hadn't learned previously? Also, is there anything you'd like to impart onto me?
LARRY: No. It's just the greatest privilege to make a movie and to get the team, you know? You really want a team that's making the same movie with you and understands the scale that you're able to work at. That was sort of my big thing. I tried to make a movie on a bigger budget for a long time and you need name actors to do that. I got good actors instead. It really is true that, as long as everybody's making the same movie, you can be so creative and get the shots you dream of. In a weird way, there was no compromise on Depraved, but on the other hand, certain things could've been done differently. You really have to not fight that aspect. You have to embrace what you have. You're gonna shoot in the Northwest?
DAVID: Yeah.
LARRY: That's incredible.
DAVID: You shot back there before.
LARRY: Most of all, you have to work with what you have. I always say, let fate be one of your partners, then your limitations become your strength. That's really the pep talk I give because you can sit around and moan and groan that you don't have enough time. The funny thing is, even the big movies—Scorsese never had enough time to do Silence. It took him 20 years to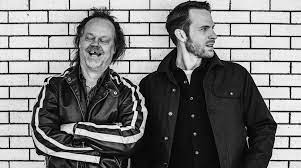 get it made.
DAVID: And I'm sure there's still stuff that he wishes he could've done.
LARRY: Oh yeah. Film is always gonna haunt you and there's always something that you might've done differently, but you have to be in the moment. Then it becomes thrilling and you're riding a wave. You just want good partners who understand the mission and then it's a blast. It is what we had with Depraved. I felt like everybody was in it to win it.
DAVID: When you feel like you're all playing on the same team, it's a much more enjoyable process, even when things are going badly. Having worked on a few bigger-budget things, it just gets so demoralizing so quickly when it feels like most of the people are not there for any reason other than to get the paycheck.
LARRY: That's no way to make art. If you care about what you're doing, especially if it's gonna be your script, you realize you really want everyone to bring their passion and their A game. Then the budget isn't the point. It's about the amazing discoveries you make with every detail, every shot, and every acting choice. It's fantastic. It couldn't be better. It's such a privilege. I made this movie on a raft on a lake with a giant rubber fish and some kids on a boat, and whenever the crew would complain, I was like, "You know—people your age are in Iraq right now."
DAVID: [Laughs]
LARRY: "There are people digging trenches. They're fighting. You should be just having the best time." That's the thing about making movies.
DAVID: I completely agree.
LARRY: That's all we've got.
LINK
THE BEAT
11 Oct. 2018
Larry Fessenden on Carving Up Space for Horror in a Comics Convention
Larry Fessenden is a Horror fan's Horror god. A humble speaker that is honest about his desire to scare people with his work just as much as he wants to enjoy the scares with them. Fessenden is an actor, directors, writer, producer, film editor, and cinematographer that also penned horror comics based on some of the movies he's been involved in (namely Wendigo and The Last Winter).
Fessenden heads an independent film studio based in New York City called Glass Eye Pix, which has been creating "fierce independent media" since 1985. Amongst the studio's most sought after films we find Habit (considered by many to be one of the best vampire movies ever made), Wendigo, Satan Hates You, The Last Winter, and Stake Land.
New York Comic Con 2018 wasn't Glass Eye Pix's first rodeo at the convention. I had the opportunity to chat with Fessenden about staking a claim for Horror in the convention, bringing hard-to-find Horror movies back to the market, and whether his studios will be digging a bit more into Horror comics as it continues to grow.
Ricardo Serrano: Larry Fessenden, creator of everything horror nowadays, especially through your company Glass Eye Pix, which has been around since 1985, correct?
Larry Fessenden: That's right. You know, it's been a name that I've used for my own films and then I built a community of filmmakers and artists, comic book artists, film directors. We do audio plays as well. We have a community of people making original art.
Serrano: So, you're in New York Comic Con, surrounded by lights, sounds, and other booths all vying for your attention, but your out here trying to carve out your own space for a horror both. I think that's really interesting and important, so, how do you go about doing that?
Fessenden: You know, I've always liked the idea of branding. The movies that we make have a certain tone to them, they're often called slow burns, they're based on character and not just gore but we have a little bit of both. Some of them are political minded, and just the idea of doing original work, more and more, especially, with the big franchises—Marvel and some of the ones I'm fond of, like the giant Godzilla movies—in other words, take your pic from pop culture. What we don't have is people making smaller films, and so that's a niche we can provide. Even at Comic Con, where we're obviously the smallest possible fish, people come here and their eyes brighten and they're excited to see somebody trying to make original work. We still work with big names, like Ron Perlman or Dominic Monaghan, Angus Grim—rest his soul—and so we've intermingled with major celebrities, but we remain very independent. I believe, in this day and age, you have to wave that flag.
Serrano: I agree. I did notice you have comic books in your booth, The Last Winter and Wendigo, based on some of the best horror films I've ever seen. Do you see yourself expanding further into the comics scene?
Fessenden: Yeah, I mean, I fantasize about Glass Eye Pix comics as a label. We do call ourselves that. There are more of our comics online as digital, at Comixology. We have a prequel to my film Beneath and other things like that. We always like the idea of a comic book tie-in, it's very thrilling. We even have—I don't have them anymore—we made an action figure of the Wendigo and so on. It's just fun to play like the big boys, even though they're all home-baked creations.
Serrano: You're featuring the Larry Fessenden Collection on Blu-Ray, which looks amazing. But one interesting thing in it is that you have the movie Habit as well as Wendigo included in it. Can you comment on how hard it is to preserve movies that received limited distribution or limited runs for home release. Movies that were great but didn't get mass distribution.
Fessenden: It's a great struggle and that's why I take it personally and also as a cause to preserve the more off-beat movies. Some movies will, unfortunately, fade into the distance if there's no way to preserve them, if Netflix doesn't pick it up or something. I also believe in physical media. I love to have the objects on the wall, you know. It's like buying a book. You could read it on Kindle, but the [physical] book you could look up when you're looking for inspiration and you're reminded of another book or a movie that matters to you, so there's something for the collector. This is a generational thing. The kids today don't really know about this, except for the exceptions. Anyway, I like physical media and also we have great behind the scenes videos associated with all our work. My collection has all kinds of crazy stuff on how we made the movies. There was a whole generation of filmmakers that grew up on the extras of DVD and Blu-Ray. They literally didn't have to go to film school because they saw the great artists talking about their work. So, all of that is kind of like the aesthetic that I like to uphold. It's a little crusty, but I think it's a—well, look every generation has to stand up for what matters to them and that's where I stand. That's the vibe.
Serrano: Especially now that we're seeing the return of cassettes with music. I associate VHS with horror quite a bit, at least in terms of what I saw as a kid and how I saw it. Do you think VHS maybe deserves its own comeback?
Fessenden: Only sort of. The difference is that Blu-Ray, actually, is a lovely format, it's a preserving format. But I would also argue VHS has its charm just like anything that has a patina on it, you know, if you're a thrift store collector you like the old garment that's been worn already, the old table that has a couple of chips in it. A lot of this comes down to aesthetics and I do think you have to fight the razzle dazzle, if you will, the golden toilets that certain members of our society are enamored with. You know, there's a little more to, uh, something that has age to it. So all this is an aesthetic. That's why people, the very few who like Glass Eye, is because they get that aesthetic and they have a fondness for something that's lived in and that is very unique and individual. It's the only way you can fight corporate entertainment is by doing something that has a singular voice that's original and true to the individual artist. That's what I support.
Serrano: Completely agree. So, what's next for Glass Eye Pix?
Fessenden: My own film, Depraved. It's a retelling of Frankenstein, speaking of old classics. Of course it puts it in a modern vernacular and, um, not by being gory, but by really examining the psychological shocks of being created in a laboratory and trying to grow up in a real world! So I'm very excited to get that out to the public. We also recently made The Ranger, which is sort of on the other end of the spectrum. Really fun, punk rock versus park rangers. Really energetic and there's plenty of gore in that and a lot of great music. So you know, we do support a lot of tones and it's all about if the passion of the director is on screen then I think we've succeeded.
POP HORROR
18 Aug 2018
Cult Filmmaker Larry Fessenden Talks 'The Ranger,' 'Depraved' And More – Interview
Ever since catching the film, Jug Face, back in 2013, I've been a huge fan of Larry Fessenden. I immediately went through his IMDb page, looking for more films to watch. I had no idea how far his influence reached… he's been directing shorts and indie films since 1978, but it wasn't until 1995's Habit that his true passion seemed to leak out onto the screen. With a talent for showcasing members of the dirty, unloved fringes of society, Fessenden can take a character already living in their own kind of atrocity and up the ante by dropping them into a whole new pit of dismay.
Between acting, directing and producing, this humble and passionate filmmaker has been involved in some of my very favorite horror films, including Stake Land (2010) and its sequel, The Stakelander (2016), The House of the Devil (2009), We Are Still Here (2015), Darling (2015), Jug Face (2013), Most Beautiful Island (2017), The Strain TV series, Bringing Out the Dead (1999), Fear Itself TV series, ABCs of Death 2 (the short "N for Nexus") (2014), Cabin Fever 2: Spring Fever (2009), The Transfiguration (2016), Session 9 (2001), I Sell the Dead (2008), The Innkeepers (2011), The Off Season (2004), Psychopaths (2017), The Battery (2012), We Are What We Are (2013), Birth of the Living Dead documentary (2013), Late Phases (2014), Pod (2015), Southbound (2015), Wendigo (2001), Dig Two Graves (2014), Mulberry St (2006), Beneath (2013), The Ranger (2018) and the upcoming film, Depraved.
So when I found out I would have the chance to pick the mind of the man himself, I was beyond excited.
PopHorror: Thank you so much for chatting with me!
Larry Fessenden: It's my pleasure!
PopHorror: You have a very interesting and unique way of filming, with the filmmaker and their camera becoming almost another character in the film. What is your reason behind choosing this kind of filming style?
Larry Fessenden: Look, I'm the producer on The Ranger, and every director that we work with has a different approach, but I do feel like a lot of our movies have a consistent feeling of trying to get personal and having a singular point of view that goes all the way back to Hitchcock and Polanski. It's a strong way to film, especially horror. That way, the audience really feels one with the character because they're following them and experiencing their story through one person's eyes.
PopHorror: Is it true that you let your actors ad lib their lines?
Larry Fessenden: Well, no. Not really. Actually, most of the movies that we've done are scripted. Obviously, when you're on set, you encourage people to feel as natural as possible. But most of our films, which feel naturalistic, are scripted.
PopHorror: That's amazing, because in so many instances, it seems like the actors are just saying what comes to them rather than trying to force out lines that someone else wrote.
Larry Fessenden: Cool! It's fun to hear that. I have a couple of movies that I made where I was the actor and the director, and people assume that it is improv. But I think it's that idea that you want everyone to be comfortable. And, you know, one approach is to show horror through a very natural setting and that makes it all the more shocking.
PopHorror: And relatable.
Larry Fessenden: Yeah, exactly! You can really relate to what it would be like to have an actual serial killer after you or a vampire or whatever the story is.
PopHorror: Do you prefer creating independent films over bigger, Hollywood-funded movies?
Larry Fessenden: (laughs) Well, I don't really have a choice! I've tried to make some big movies, and I've had some brushes with that. But, in the end, what I think is important, if you want to be a filmmaker, is to actually do the work. Sometimes, your budget goes down, and at my company, Glass Eye Pix, we say, "Let's make it anyway!"
PopHorror: Exactly! Just make it with that you have.
Larry Fessenden: Yeah! And use the sweat equity of your collaborators, and that actually helps make everybody feel committed and part of the experience. And then you come up with something unexpected. And maybe it has some of those things that you're describing. That kind of authenticity. That's the idea. That's the one way to fight Hollywood, kid! Make something scrappy.
PopHorror: And that way, you have that many less cooks in your kitchen.
Larry Fessenden: Oh, for sure! Because if there's a lot less money involved, then the suits have no claim, and you really are pursuing the idea of an original work, which is something that we love to do over at Glass Eye.
PopHorror: Many of your films are about Frankenstein's monsters, loners and recluses created by the real-life horror around them, who must now deal with some sort of supernatural horror. Do you have an affinity for Dr. Frankenstein's creation?
Larry Fessenden: Oh, definitely! And all of the monsters that I love, like the Creature From the Black Lagoon and Wolfman… you know, they're all outsiders. There's different things going on in horror. One of them is to, like, shock an audience into the idea of what it would be like to be attacked by a serial killer when you're just sitting at home. But there's also this sadness of being the monster and being the outsider, and I love to tap into that emotion as well.
PopHorror: When it comes to your projects, you've always had many fingers in the filmmaking pie. Which part of filmmaking do you prefer?
Larry Fessenden: I ultimately like to direct. By directing, you have this overview where you can meddle with the art department and the colors and the look of the film and the way the camera moves. But, as far as which part of the process I like… I really love editing, because, no matter what's happening on set, whether you fell off from the script or you got the wrong actors… all of that doesn't matter. Now you have this footage and what you can make with it. It's a really thrilling part of the process, and that's really where the film gets made.
PopHorror: That's so true. You could film 100 hours of something, but it's the editor who cuts and chops it into a cohesive story.
Larry Fessenden: Exactly! In editing, you can really depart from what you originally wanted or rediscover something new and achieve that. It's a really exciting process. And when you're editing, you know you're done. When you're writing, you struggle and you try to get the best ideas down and create the best thing possible, but it could all change once you're on set.
PopHorror: You can even do that a bit with directing, like if you realize that you can't shoot a certain scene or an actor drops out, you have to juggle everything constantly.
Larry Fessenden: Directing is such a managerial role. You have to try and keep morale high, and you're trying to make decisions. Sometimes you have to cut a shot, because you have to think of the whole and not just of the shot you love, and that's all very heartbreaking. So, you're trying to manage a team, and you're trying to manage your own expectations. It can be, well… stressful.
PopHorror: You really need to learn to balance between the two.
Larry Fessenden: Yeah!
PopHorror: We were talking about The Ranger earlier. Can you tell me how you got involved in it?
Larry Fessenden: Jenn Wexler, the writer and director, she works for me, and she's produced a lot of movies for my company. She came to us out of love for the kind of movies that we were making, and she made her way up the chain very quickly by producing a number of low budget films. Then she came to me, and she said, "I really want to do this film as my directorial debut." I'd already seen her short films and even acted in one, so I had a real sense of her seriousness. Also, she always gave really good notes and was always supportive of the kind of actors that we like to work with, so I was very happy to support her in this endeavor. And, you know, she really took to it. I don't think she'll look back. In fact, I might have lost a producer (laughs)! But I've gained a director. She's really reliable. You know, I'm kidding, because she produced my own film, which we made after The Ranger, that's still in post-production.
PopHorror: Depraved, right? Your Frankenstein movie?
Larry Fessenden: Yes! Depraved…
PopHorror: I am so pumped to see Depraved, man. I notice that you seem to work with a lot of the same people, like Lauren Ashley Carter, Nick Damici… Do you purposefully surround yourself with the same people? Or is it just by chance that you're always working together?
Larry Fessenden: Well, it's a little of both. We also do audio play, Tales From Beyond the Pale, and all kinds of side projects that keep us calling each other up and saying, "Hey, what are you doing next Wednesday? We've got a show." I really like the idea of a community of people working together to build a canon of projects. I do the same thing with the sound people that I work with and the musicians. You just develop a Rolodex of reliable people who want to be involved in this kind of storytelling. That's the idea.
Lauren is fantastic. We started on a movie called Jug Face (2013), and then we brought her in to Darling (2015) and she was also a producer on that. It's really about a bunch of people who all see each other at horror conventions and events. It's a community of people, and we love to work together.
PopHorror: As far as Jug Face, which is one of my favorite horror movies of the last decade…
Larry Fessenden: Thank you!
PopHorror: You're welcome (laughs)! In Jug Face, you never see the monster. The horror of that mud pit is so up to your imagination that it could be anything in there, and I think that's why I love it so much. What do you think is in there?
Larry Fessenden: Oh, I'm not gonna tell you (laughs)!
PopHorror: Come on (laughs)!
Larry Fessenden: (laughs) Well, to me, it's the fever of the community that creates this dire situation, and they're all so afraid of the monster. Their tradition, I think, has weighed them down. They're killing each other and beheading each other. So I think that's what's beautiful about that film is that you see how that group thinks. That community has created its own misery and tension. And certainly that's true in the real world. We're masters of our own world. We see the world through a dark filter. The horror is going to come through. My films have that suggested message. Of course, I didn't write Jug Face. But that's what I take away from the script that was actually written by Chad Crawford Krinkle.
PopHorror: Lucky McKee was involved in Jug Face, wasn't he?
Larry Fessenden: Yeah, as a producer. Of course, so was Andrew van den Houten, who was also on The Ranger. I have worked with Andrew ever since he called me to act in his very own film, which was… Oh, my God. I'm having a…
PopHorror: A brain fart?
Larry Fessenden: Yes, a brain fart. Oh! It was Headspace. I was an actor in that.
PopHorror: In The Ranger, your character, Uncle Pete, was an important part of Chelsea's story. It's implied that young Chelsea was responsible for his death. Do you feel that Pete's death was a pure accident or that the little girl had some help pulling the trigger by the ranger?
Larry Fessenden: Well, of course, it's the beauty of the arts is that it's the audience's choice to decide. But, you know, we filmed it pretty carefully. I'm not saying that there even is an exact answer. I think the whole story was about this girl that really had a kind of a grit and a ferocity that plays out through to the end. Did she do that on purpose? Was it an accident that changed her? Also, what does the ranger see in her? I don't think it's lusty. I think it's something else. I think that she's fierce. And that's what I think is so interesting, the chemistry between those two, and sure, he's a nutcase, but all of the elements play. I think that's why it's a good ride, because it's not all made incredibly clear—who's good, who's bad, and what the history is.
PopHorror: Right, exactly. And he even says to her that she's just like him, a cold-blooded killer. After watching the film's climax, I wonder if he's right. What do you think? Was this confrontation only another step in Chelsea's path to becoming a killer? When she's whaling on him, it makes you start to think…
Larry Fessenden: Exactly!
PopHorror: He even has this smile on his face like, "See, I told you!"
Larry Fessenden: True! You see it in that action scene… You know, look. We play with genre. We mess with things. Most of the movies that my company makes are horror films. But I always encourage the directors and the writers to push themselves to get something unique and original and even personal out of the material, and that's what I think Jenn did. She created an interesting character with Chloe Levine, and that's why the movie stands out. Any number of people can make an '80s throwback. There's plenty of style in The Ranger. But there's also this other thing that makes you wonder about the characters. And that's what I find exciting to be a part of.
PopHorror: That's really awesome, honestly. Let's switch gears for a minute. You're not only involved in filmmaking. You also wrote the video game, Until Dawn, with Graham Reznick. What is the difference between writing a script for a game compared to writing one for a film?
Larry Fessenden: About 9,000 pages (laughs). We figured out that we wrote about 10,000 pages for Until Dawn. And the reason is that you're writing a branching narrative. The difference is, when you write a screenplay, you write about 110 pages, and as you go along, you think, "Oh, I wonder what would happen if they went down that alley? Or, what if he robbed that bank?" And if you want the story to go that way, you decide to go that way and that's it. But in a video game, you actually have to write out every one of those possibilities (laughs) because the gamer might choose to go down that alley. That's, honestly, the main difference. Also, the technology is so advanced now. You can be more subtle. You can actually expect to see pretty cool acting depicted with the motion capture and stuff.
PopHorror: I agree. You get a real good sense of emotion in their faces that you never could portray before.
Larry Fessenden: Yup. We had a lot of fun with that. We worked with a really great company that put it together, and they were really ambitious to do something special. It was a perfect time for all of us. Me and Graham coming together to do that work was really fun.
PopHorror: That sounds like a ton of work! So, do you want to talk about Depraved at all?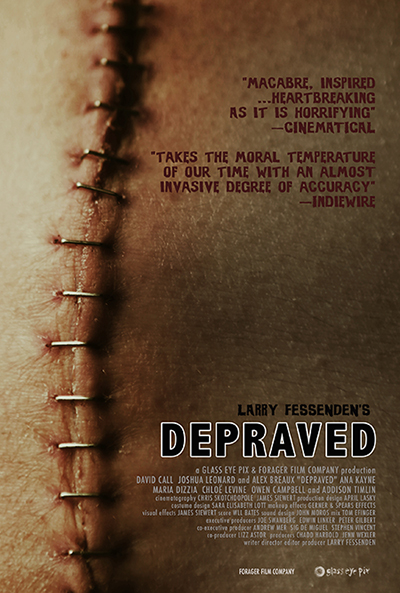 Larry Fessenden: Well, sure! What I can say about it is that I made an adaptation of Frankenstein. I've read the book, and I know it well. I've seen all of the movies. It was just something that came out of me. It's really a coming-of-age story. It's not going to be dripping with gore, but it's more about a deeper horror and how things can go wrong slowly in the consciousness of an individual combined with the weird parenting of the mad scientist. It's a contemporary telling. It takes place in a Brooklyn loft. I have a great affection for the ken in the Frankenstein movies, and I just wanted to throw my hat in the ring. As I say, it's not a scary movie. It's a contemplative film. Not everyone will like it, but it's quite heartfelt.
PopHorror: I was reminded of the Frankenstein story when I read a book by Neal Shusterman called Unwind. There's a character in there who was built out of other living people's parts. They took a piece of brain from this guy and an arm or a leg from that guy. So now they built this guy, and society and the government say he's not a real person. He was never born, he has no parents, so he has no soul.
Larry Fessenden: That's the thing about the Frankenstein story. You've got nature and nurture… whose brain is it? Are these your memories? What makes somebody who they are? What's your identity? I think it's just an endlessly intriguing mythology to deal with. I really hope that some people will respond to my take. It's just like you said. It's like being in the world but not really being a part of it. What does that do to your psyche? Who do you turn to for support and guidance? If they're fucked up, just think of how things can go wrong.
You know, I do think our society is fraying at the edges. I thought this was the right time to think about that. And there's morality and philosophy and human history. It's all in there. And I actually try to suggest all of those things in my film. It's sort of my ambition. I want to make a movie about the whole world (laughs).
PopHorror: (laughs) You sure are ambitious!
Larry Fessenden: It won't be for everyone, believe me.
PopHorror: Like you mentioned, you tend to make films with a horror slant. What draws you toward horror?
Larry Fessenden: I've answered that question the same way for years.
PopHorror: Oh, I'm sorry. You must be so sick of answering it.
Larry Fessenden: No! I'll say it again. I say it proudly. I think I'm just wired that way. I feel like people see the world in different ways. I mean, I had a perfectly nice upbringing. But whenever I think about things, I see their dark side. I see the disappointment and all the hopes dashed and how things can go wrong. Part of it is the sentimentality. I wish the world was the beautiful place that it could be. But all I see is pain and suffering, especially in our modern world, meaning contemporary stuff. There's so much anger and hatred and nobody behaving well. I think it's horrific, and it's so sad. Also, there's something cool about a spooky lightning storm. I just love monsters. I love the whole idea of fantasy creatures. I also relate to animals and dark places. So it's really, you know, a personality thing, quite honestly. I mean, some people like sports (laughs)!
PopHorror: True! There are even people who like rom-coms.
Larry Fessenden: Well, I do, too. I had to once list all of my favorite guilty pleasures, and one of my movies was Love, Actually. I knew it would make people insane and say that that doesn't make sense. But that's the point. I love Fred Astaire. I like musicals. But, I think, if I end up telling a story, it's always going to have a darkness. That's just what happens.
PopHorror: In life, there is no light all the time. If there was, we wouldn't appreciate it, because it would always be there. We can't be grateful for the light without the darkness that reminds us that it's there, whether we want to believe it or not.
Larry Fessenden: I agree. Horror movies remind you to cherish the light, because it could turn off at any moment. That's what I also like… the cautionary tale aspect of the horror trope.
PopHorror: Plus, it's just so fun to be scared.
Larry Fessenden: It is so fun to be scared!
[The phone call broke up for a minute here, and for some reason, all we could hear were my dogs barking upstairs]
Larry Fessenden: Are you there?
PopHorror: I'm sorry. I think I lost you for a minute.
Larry Fessenden: I'm so sorry! I like all of your doggies. How many do you have?
PopHorror: Oh, my goodness. I'm in my basement right now, trying to avoid this very thing. The dogs, barking like mad, at some random person walking by my house (sighs).
Larry Fessenden: (laughs)
PopHorror: I only have two dogs up there, believe it or not. Two not very big dogs named Benson and Rigby. They are as loud as all get out.
Larry Fessenden: (laughs)
PopHorror: Okay, enough about them (laughs)! Do you have any passions outside of filmmaking?
Larry Fessenden: Yeah. I really like to cook. I make furniture. I'm not really a naturalist. I don't go on hikes. That's too much effort. But I do love to putter around the house and build things and work with my hands. I make rough-hewn furniture and things like that.
PopHorror: That's really interesting and unexpected, honestly. Last but not least, what is your favorite Halloween candy?
Larry Fessenden: It's funny you say that. I have to say, I don't care about candy that much, so my answer is actually candy corn (laughs) because it is so aesthetically Halloween-y. That's fantastic.
PopHorror: It's kind of funny that so many people give me this answer. I thought people hated candy corn.
Larry Fessenden: Maybe it's what comes to mind? I mean, I like Fireballs.
PopHorror: Well, when you went trick or treating as a kid, what was the first you dug out of your Halloween bag?
Larry Fessenden: The poison apple!
(both laugh)
Larry Fessenden: Well, honestly, I have no sweet tooth. But I do love the whole aesthetic of candy corn. That's without a doubt, my answer. What would Halloween be without it?
PopHorror: You're right. Candy corn is so aesthetically pleasing, with the yellow, the orange and the white…
Larry Fessenden: And you can make them into weird little teeth. They look like little teeth.
RogerEbert.com
Hell to Pay: Indie Horror Icon Larry Fessenden on Wendigos and Ugly Americans
Indie horror icon Larry Fessenden is an American original. As a filmmaker, Fessenden's movies often concern American exceptionalism, and a general sense of foreboding about our culture's unexamined prejudices. But Fessenden even stands apart from contemporaries like Eli Roth, another horror-master whose work focuses on Americans' regrettable lack of self-awareness. With abundant gallows humor and an inviting fascination with mythic iconography, Fessenden makes movies that don't conclude with the end of the world as we know it, but rather suggest a more ambiguous, semi-optimistic post-human future. This is true of Fessenden-helmed films like "Wendigo," "The Last Winter," and "Skin and Bones," Fessenden's excellent contribution to the short-lived "Fear Itself" television anthology. Fessenden continues that focus with "Sudden Storm: A Wendigo Reader," a new book of essays edited by Fessenden and written by horror experts about Native American folklore, and the depiction of cannibalism and environmental portents in the media. RogerEbert.com spoke to Fessenden about Wendigos, Donald Trump, "Funny Games" and more.
When we last spoke in 2010, you talked about "American exceptionalism" as being part of what makes your films uniquely American. In light of that thematic focus: what would you say are some of the distinguishing characteristics of the wendigo narrative? 
Americans think we're exceptional, but we're not. As we become a stupider nation in our discourse, there has become more posturing and chest-thumping. The "wendigo" fits in as it is concerned with a kind of American expansionism that's been going on since we first touched this country's shores, taking over native population's land, giving them diseased blankets, and generally having our way with them. As if we had a right to this land. The myth of the wendigo comes from the Canadian, Northern Algonquin tribes. What I find intriguing about that story is how it can be applied to expansionism: taking over the land, and also taking over other people. To me, wendigo mythology has great resonance, whether it's a cannibal story, or a much broader comment on western culture destroying native people, and the environment. Which is where we are now. Global warming is the final frontier of wendigo-ism! [Laughs]
Cannibalism is often seemingly used in horror films as a sort of revenge against capitalism, or just financial inequality. Like zombie movies, there's a built-in class warfare element to it, though it often devolves into a war of all against all. What is unique about the wendigo and the fears we project onto it?
​Well, cannibals seem to really freak people out. [Both laugh] Because it is about eating another person. I've never had the same reverence for humanity that most people do. I don't eat animals either, except fish. So to say you could never eat human flesh … I see it all with a bit of irony, as an expression of narcissistic anxiety! Anyway, the wendigo is a fundamentally cautionary tale about not eating your fellow traveler in times of extreme duress, like if you were stuck in a winter storm. And extrapolating from that, the wendigo is a caution against over-reach, and rapaciousness.
It's a corrective.
Exactly. And I think that's how it was used in Native American cultures. Another thing that some of the authors in "Sudden Storm" discuss: there's a very real condition called "Wendigo Psychosis." And that's a description of actual madness, not just a fear of something. It's the fear that you'll become possessed by the spirit of the wendigo. These people would become unhinged, and try to eat their families, in the way that you do when you're unhinged. [Laughs] There are all of these intangible elements with the wendigo, whereas with werewolves it's a much more clear description of a man/beast dichotomy. With Frankenstein's monster, we understand that to be science run amuck. With the wendigo, it's a little harder to grasp.
Even that's unclear. There's only one mention of the wendigo in my movie "The Last Winter." But you can see the creatures at the end of the film as some sort of nature spirit. A lot of people tended to see that as nature's revenge, but I think of it differently: nature simply is. It's the people's sense of dread that overcomes them, and it is almost like a parable about guilt. When the world falls out of balance as it has, there is hell to pay. The wendigo is a way to discuss that. It's manifested in different ways. Sometimes it's a creature with antlers, and sometimes it's something in the wind. In my film "Wendigo," I have the creature appear as a bunch of sticks and branches. But in my movies, I always try to get at the fact that all of this is in the mind. And if your mind is troubled by what you've done, or by real, scary elements in your life, then maybe the wendigo will visit you.

In your introduction to "Sudden Storm," you mention your first childhood introduction to the wendigo. Was that also the moment where it became an obsession of yours? Or maybe it was the time your mother frightened you by growling "wendigo" from the kitchen corner? Was there a later event that really turned a trauma into something you just couldn't let go of?I can't think of any one incident. I came from a comfortable upbringing, no real trauma. But I think if you're a very creative, sensitive kid, you're aware—or I was aware—that this is a very fragile reality, and that it can disappear at any moment. I certainly could envision the dark possibilities in every moment. I was the third child, so it's possible that my mother didn't show me enough attention or something like that, really all subtle things that one could imagine. But the bottom line was that I was always oriented towards the horrific. I would read scary comics all day long, and would be terrified at night. It shows a sense of perversion that I never corrected that situation. And that's what we do at Glass Eye Pix, [the Fessenden-founded indie horror production company.] The common misconception is that people who make scary movies are above it all. But I feel exactly the opposite. I always say that I'm afraid of everything and I want audiences to see the world like I do.
Look at Hitchcock: He was clearly terrified by the world at large, and wanted to torture other people. Well, I'm of that school.
As for the wendigo: that was a childhood story told by a teacher in second grade at story hour, and it became an image that stuck in my mind. It was very evocative. I told my mother about it, and she proceeded to hide in the kitchen closet and scare me. Anyway, the wendigo story really stuck in my craw. When I went to Hollywood, after making "Habit," I pitched them something other than a horror movie. They said "Well, we really want a horror film from you. That's what you do, isn't it?" So I went and wrote the script for "Wendigo." I had this strange reserve in my mind, a latent memory about this creature that had haunted me as a kid. I wanted to convey that to others. I have been obsessed with death for all of my 52 years, which is an interesting way to go through life. Once you've made it to 52 years, you realize you've wasted all that time worrying. [Laughs] And it will come anyway. The question is always when … and how.
Let's go back for a moment: how does race play into mythology of cannibals? In your films "Wendigo," and "The Last Winter," as well as "Skin and Bones," your episode of "Fear Itself," you deal with this notion of appropriation and how white Americans are punished for what they probably see as a relatively benign kind of assimilation. How did you imagine dealing with that notion of privilege and manifest destiny?
Privilege is an important issue to address. Americans are so smug that they imagine that they are somehow entitled. You see this in public discourse; it's incredibly discouraging. The presidential race is filled with pompous blowhards who are not really addressing the essential violence of industrialized societies. I love my technology as much as the next guy. But I just feel, philosophically, there needs to be a correction. Now at the same time, I am also part of this culture; I always try to give my villains humanity, because there's a appealing characteristic in the adventurer, the explorer, and the exploiter. That's why I cast Ron Perlman in "The Last Winter": he's the oil man, and he serves as the villain. But he's robust and exciting. So I hope there's contradictions in my movies. Just like Donald Trump has a certain appeal but at the same time he is toxic.The basic assumptions we are living by are not sustainable. That's a very cliched term in the environmental movement, but it's an essential truth. What's going to bring about our end is pursuing this fantasy of perpetual growth that stems from a disconnect from reality based on an arrogance about our own self-importance. Meanwhile, we're destroying the poor classes, enslaving people. Maybe not literally, but it's basically the same thing: Mexicans work in our slaughterhouses, pick our fruits and yet, we disparage them as lazy. It's absurd. These people are the basis of our exploitive economy. Call me "bleeding heart," if you will—emphasis on "bleeding."Now, is there an alternative? Yes, there is. There is such a thing as a more modest, measured society. How we can ever get back to that is a complete mystery in this culture. However, if you can't even have that conversation, you'll never get there. I'd like to think that that conversation has to start with some wake-up calls. And why not bring in some horror pictures to do that? That's always been my orientation. I'm compelled to depict the dark side of Western civilization. I really think humanity is a virus, as I say in "The Last Winter."
Since horror movies have that cathartic element, a lot of the genre's milestones deal explicitly with taboos. Do you feel horror filmmakers have to be responsible in how they say or deal with certain issues? Like with "The Green Inferno": some people say it's not enough that Roth is inspired by films like "Cannibal Holocaust," but rather feel they have to take it out of the context of his influences, his subject, his genre, etc.: it's the power of the image that they worry about. Is that a fair critique for a horror film?It seems crazy to make politically-correct horror movies. So while I can't really trust Eli's taste, I think he has a right to use shocking images to make his point, if he has one. I wasn't a fan of his first film ["Cabin Fever"], and I was asked to sort of confront him in the press about it. I had made "The Last Winter," at the time, so it was assumed that we were coming from different places. I thought "Cabin Fever" was a silly movie. But before I went and spoke any further in confronting him in the press, I watched the "Hostel" films. And I enjoyed them. I felt like he was poking fun at American exceptionalism. The characters are buffoons! They go to Europe and expect to have their way. But things don't go well, there's some comeuppance there, which I think is pleasing in a horror film. I haven't seen "Green Inferno," but I don't assume it's bad. It may well be offensive, but maybe it's getting at something.Is there a line that you feel a horror filmmaker cannot cross?There's certainly no decree that I would make. However, as I get older, I'm less inclined to just watch appalling things unless there's a point to it. Extremely violent movies—that's just not my scene. I've never really made it through "Inside;" I've only seen part of it. And I take issue with "Funny Games," Michael Haneke's "masterpiece." I find it rude his presumption that I go to horror films to see people tortured. That's not my motivation, and that's what [Haneke] is accusing me of when he breaks the fourth wall in that film. So I find that pretentious, but what I do find effective in that movie is the cinematic brutality, and the cold-blooded murder of a child in front of its parents. That I find profound, and that kind of violence is 100% valid when it's done in "Henry: Portrait of a Serial Killer." Because there, the filmmakers are making a comment on this sub-culture of people in our society who are disconnected and very scary. That I find fascinating. It's not like "Friday the 13th" and all those films, which I think are silly. A lot of people love those films, but I never liked horror for horror's sake unless it's in the atmosphere. So maybe I mean violence for violence sake.
Other movies that almost cross a line? I love "Man Bites Dog." That's technically a satire, but it's incredibly brutal while also making a comment on horror, and violence, and the self-importance of the filmmakers. I love "Irreversible" … we're talking about difficult movies to watch now. And my favorite movie of this extreme nature is "Angst." They just re-released it on Blu-ray. It's gorgeous, absolutely compelling, and shocking, unblinkered horror. That film could easily be said to cross the line: sex with corpses, horror, mutilation. And yet, the movie feels like it's looking for truth, so it works for me.As you get older, all violence is sad. And you get tired of it, because it doesn't stop. Look at ISIS: I always say they're making the best horror movies out there. There's too much media, and in the end, you just want to retreat. It's hard to continue to be confrontational, and persevere as if you're going to make a difference. I feel exhausted with humanity.If you could recommend one Wendigo narrative that you think a lot about, or one you think is especially emblematic, which one would it be? I would start with Algernon Blackwood's "The Wendigo." It's a very quick read, but it depicts an unknowable dread, where you don't recognize people you thought you knew. Where the wind is crying out to you. Where somebody disappears from their tent, and you can't make sense of what happened to them because their footprints disappeared in the snow, as if they were carried away. It's incredibly evocative. If you are lucky enough to be reading "The Wendigo," I also recommend "The Willows," also by Blackwood. That's usually in the same collection of short stories. That's another story that has an unknowable fear. H.P. Lovecraft is credited with this style of horrific story-telling. But I'll take Blackwood over Lovecraft. I know that's throwing down a gauntlet for a lot of people, but for me Blackwood captures a more transcendent fear derived from our alienation from nature.
By Michael Nyman and Damon Albarn.Exactly. It is so delicious. It is one of my favorite films, and it is so unique. You can compare "The Godfather" to other movies, but you can't compare "Ravenous" to any film. It's a truly unique piece of cinema.

The Wendigo crops up more and more, on TV and in the movies, even in video games ["Until Dawn"].

And now … there's "Sudden Storm." A whole bunch of Wendigos in a book!