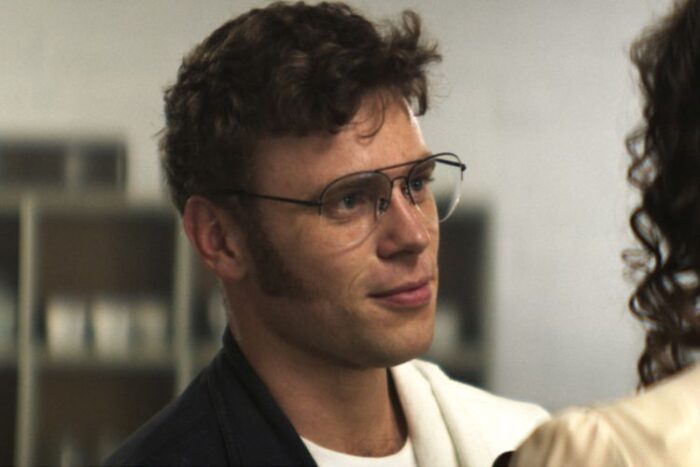 From Clark Collis at Entertainment Weekly:
… The Sacrifice Game is Wexler's second horror movie after 2018's Levine-starring The Ranger. The director started thinking about the project a decade ago while working at Glass Eye Pix, the film company founded by director and indie horror legend Larry Fessenden (Habit, the upcoming werewolf movie Blackout).
"I was really inspired by Larry, really inspired by the movies they were making," says Wexler, who cowrote The Sacrifice Game with her real-life partner Sean Redlitz. "I was doing marketing and social media for Glass Eye but I was like, oh, if I ever got the opportunity to make a movie what would be my dream movie? I wanted it to take place at a boarding school, because I grew up in suburban New Jersey, and I went to public high school, and the boarding school aesthetic always seemed romantic and mysterious to me. I thought it would be really fun to clash that setting with these Mansonesque cult killers because I read Helter Skelter as a teenager."
Wexler wrote the first draft of the movie's screenplay back in 2013 but then shelved the project when she realized she needed to "learn how to make movies first. After producing several movies for Glass Eye, I decided to make The Ranger as my first feature because I realized that would be way easier to achieve than The Sacrifice Game. Then I dove back into the script for The Sacrifice Game and also brought my now-husband on for the ride cowriting it with me."
The Sacrifice Game has been well-received on the genre festival circuit since the film received its world premiere at Montreal's Fantasia Festival in July. Wexler says that the "coolest thing" for her is "when people come up to me and are like, this is the kind of movie I wish I had when I was a teenager. Because that's why I wanted to make it. When I was 13-years-old, I would have loved a movie like this."
The Sacrifice Game will stream on Shudder from Dec. 8.
Watch the film's trailer exclusively at Entertainment Weekly.