Exclusive Photo And Comments: Larry Fessenden Heads Into Werewolf Territory With BLACKOUT
"It's got more blood than all of my other films combined, probably."
by Michael Gingold
Having offered a very personal take on the vampire story with 1997's Habit and a variation on Frankenstein in 2019's Depraved, Larry Fessenden has at long last fulfilled his desire to round out a triptych of classic-monster homages. The independent horror auteur recently wrapped shooting on Blackout, a werewolf drama starring Alex Hurt (son of the late William; pictured above), Marshall Bell (Total Recall, A Nightmare on Elm Street 2), Joseph Castillo-Midyett, Rigo Garay, Cody Kostro, Marc Senter (The Lost, Old Man) and such past collaborators as Joe Swanberg (You're Next), Depraved's Addison Timlin and James Le Gros and his regular player John Speredakos.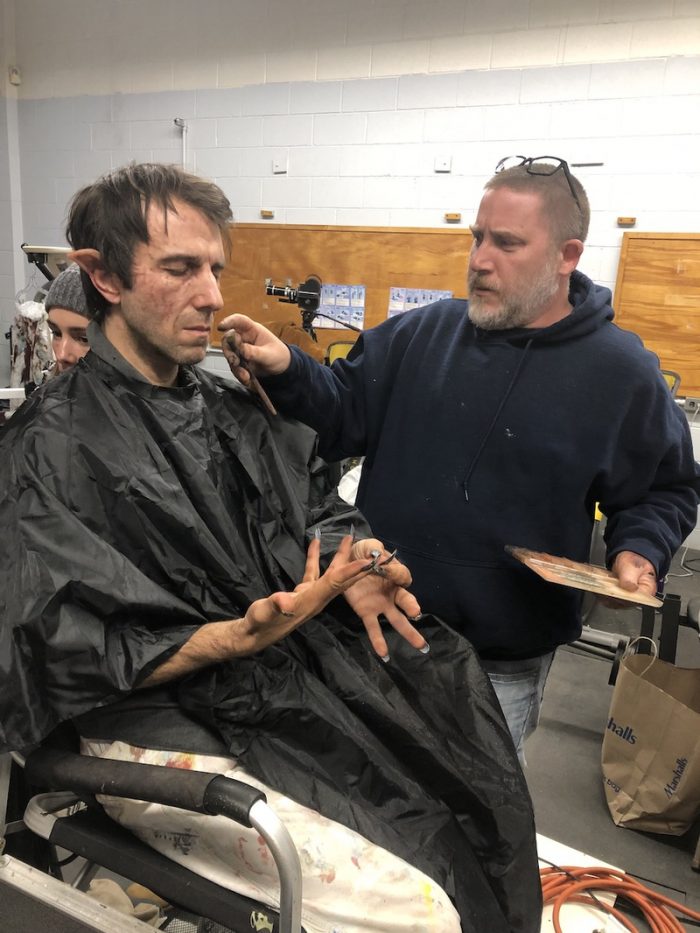 The makeup effects were created by another pair of frequent team members, Brian Spears (pictured below with Hurt) and Peter Gerner.
…
"It's about all the bad things you do when you can't remember," the filmmaker continues, noting that the title indicates, "Like all of my movies, it's sort of about alcoholism, and that weird state where you can't recall what happened. It's also, hopefully, thematically deeper than that; it's about our pasts and our histories, and of course, it's about a father relationship. He's haunted by his dad, so it's all my usual themes."
There's a touch of mystery to what Charley is going through, Hurt notes. "He doesn't know if he's a werewolf or not, so he's wrestling with a lot of feelings of grief and other things that have to do with alcoholism and addiction. He's wondering if that's what's coming out in these blackouts he's having, or if he's actually turning into an evil creature, this monster that's committing violent acts.
"And if he is," Hurt continues, "he starts out hating the fact that he's a werewolf, and then his journey is that he actually starts to accept it and use it. Larry is really pulling from so many different, beautiful sources for this film."
Lest this sound like a kinder, gentler approach to lycanthropy, Fessenden notes, "It's got more blood than all of my other films combined, probably. I don't know if it comes from a place of anger, or maybe that's just what the werewolf story is." Elaborating on the anger part, he explains, "I'm often responding to the events of the day, so Blackout is about a community that's divided, and scapegoating the wrong people. My theme frequently is, there's a real monster out there, but we're always arguing with each other.
"I'm also very influenced by the Marvel comic Werewolf by Night, and especially one of the issues drawn by Mike Ploog. Almost every image there is iconic to me. Now, I'm not saying we're going to achieve exactly that, but it was such a huge inspiration, that particular werewolf."
…