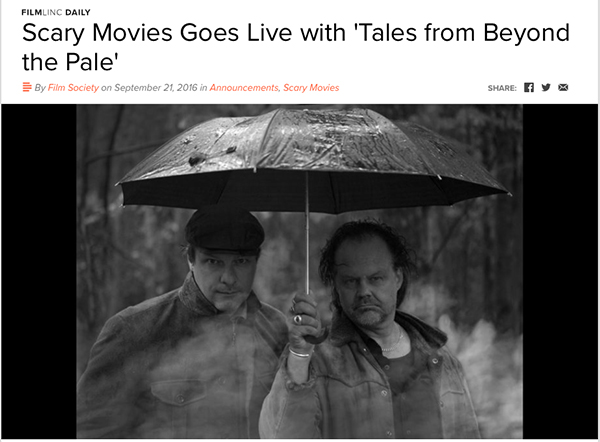 From the Press Announcement:
Get ready for a one-night-only Scary Movies live event! Tales from Beyond the Pale, from the acclaimed audio series curated and hosted by Glass Eye Pix's Larry Fessenden and Glenn McQuaid, will take over the Walter Reade Theater on Thursday, October 20 with two brand-new audio dramas written especially for the occasion.
In addition to the October event, the Film Society of Lincoln Center will continue to present special one-off Scary Movies nights throughout the year, culminating in the 10th anniversary edition of the annual horror fest, which is moving to Summer 2017.
"After being a Halloween fixture for years, we decided that bringing Scary Movies to the summertime would provide an unexpected and fun escape for horror fans," said co-programmer Laura Kern. "We've also been dying to work with Glass Eye Pix again, so we hope you will join us for this unforgettable collaboration in October, and for the other special events that we will be hosting throughout the year, until we return next summer, better than ever, to celebrate our 10th anniversary."
Created by Fessenden and McQuaid with the goal of making audio drama a vital, contemporary medium, Tales from Beyond the Pale provides a forum for up-and-coming and established writers and filmmakers such as Stuart Gordon, Simon Barrett, Kim Newman, Sarah Langan, and others to push the horror genre into new territory. Performed with a cast of familiar faces, live musicians, and Foley theatrics, Tales boasts 40 original audio plays thus far, presenting twisted stories that will chill and delight fans of the macabre.
The Film Society proudly presents an evening showcasing two brand-new Tales written by Fessenden and McQuaid. Counting Vincent D'Onofrio, Ron Perlman, Michael Cerveris, Misha Collins, Shea Whigham, Joe Swanberg, Nick Damici, Kevin Corrigan, and James Le Gros among its roster of talent, this award-winning series promises a night as fun to watch as it is to listen to. Check back for updates regarding the evening's participants.
Scary Movies is organized by Laura Kern and Rufus de Rham. Tickets go on sale Thursday, October 6 and are $18 / $13 for Film Society members and students.