Friday the 13th: Holy Mountain Printing releases Glenn McQuaid (aka Witchboard)'s ode to 1980's Goth music, Yes, I Drink Blood.
From McQuaid: "I'm obsessed with goth music of a certain period – early Cocteau Twins, Rozz Williams era Christian Death, Siouxsie and the Banshees and especially Tones on Tail. Witchboard is sort of an homage to those bands and that period of time when glam's androgyny met up with dub, punk, shit drum-machines and black eyeliner."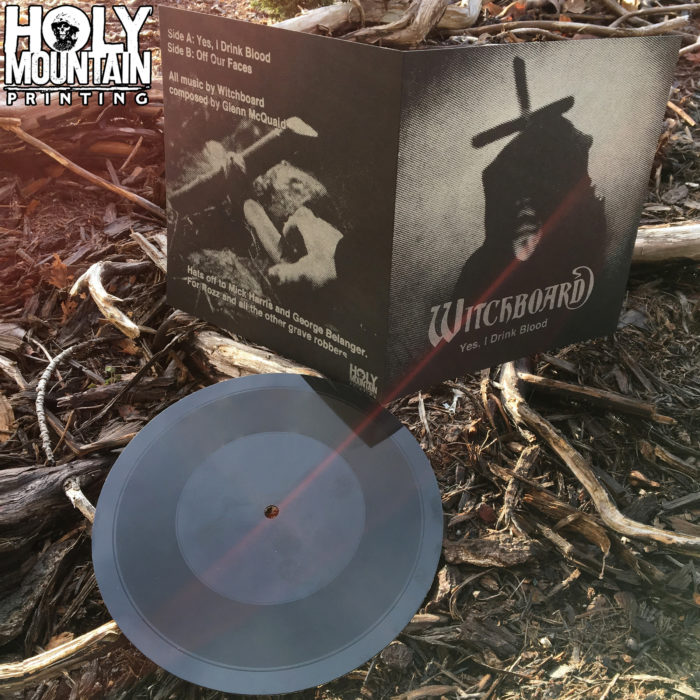 From Holy Mountain Press:
WITCHBOARD LIMITED 7″ LATHE CUT RECORD AVAILABLE NOW!
We are really excited to finally reveal the WITCHBOARD lathe cut 7″ record!  This project has been in the works for a very long time (too long) and we are so excited to finally make it available.  WITCHBOARD is the creation of Glenn McQuaid, the man responsible for the fantastic film I SELL THE DEAD.  This is a hand printed jacket and lathe cut record limited to 50 total pieces.  Give it a listen here: WITCHBOARD BANDCAMP and buy your copy here: WITCHBOARD OFFICIAL STORE