Luiz H.C. over at Bloody Disgusting reviews Mickey Keating's DARLING, calling Keating's direction "…inspired, with German expressionist undertones and classic horror atmosphere permeating every scene." DARLING hits theaters on April 1st and iTunes on April 8th.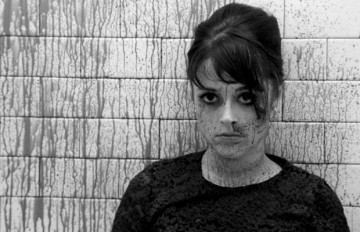 From Bloody Disgusting:
In a world full of soulless remakes and unnecessary sequels, it's good to have a robust indie market to fulfill our more obscure horror needs. There is a dark side to independent filmmaking, however, as most of these films walk a fine line between artsy trash and low budget masterpieces. In Mickey Keating's Darling, we're presented with a mesmerizing experience that knows which side of the line it's on, due in no small part to Lauren Ashley Carter's amazing work as the unnamed protagonist.
The story follows a troubled young woman that becomes the caretaker for a mysterious New York mansion with a dark past. Left to her own devices by the mansion's owners and tormented by confusing visions and nightmares, the woman begins to lose her mind as she encounters impossibly familiar faces on the street and deals with terrifying memories. Seemingly trapped by the house, she is left with no choice but to descend into madness.
It may not be the world's most complex story, but the screenplay seems almost superfluous in a film that relies so heavily on visual storytelling. In fact, there is very little dialogue in the movie, and the few lines that are spoken are so ambiguous that they sometimes leave you with more questions than answers. This works in Darling's favor, as the viewer is never quite sure if either the house or the leading lady is responsible for the horrific events depicted onscreen.
Although Darling boasts a modest budget, the cast and production values are phenomenal. There are only a couple of defined characters here, but their interaction (or lack thereof) helps to sell the protagonist's extreme isolation, despite living in a metropolis. In the end, Carter does steal the show, but Sean Young and Brian Morvant are also excellent in their small but effective roles. Larry Fessenden also has a small cameo towards the end, which is always a pleasant surprise.
Mickey Keating's direction is also inspired, with German expressionist undertones and classic horror atmosphere permeating every scene. The monochrome visuals may be off-putting to some, but they are masterfully used here, enhancing some of the gothic imagery instead of looking cheap. Darling does have some pacing problems, but the slower scenes are almost all done in service of mood and atmosphere, so these moments are easy to forgive.
There may be quite a few other films out there with a similar premise, but Darling is too charming and impactful to criticized for being derivative. The minimalist script and direction leave you mesmerized, and Lauren Ashley Carter's stellar performance simply can not be ignored. It may not be a perfect horror film, but it's damn good one, and I hope to see more of Keating and Carter in the future.