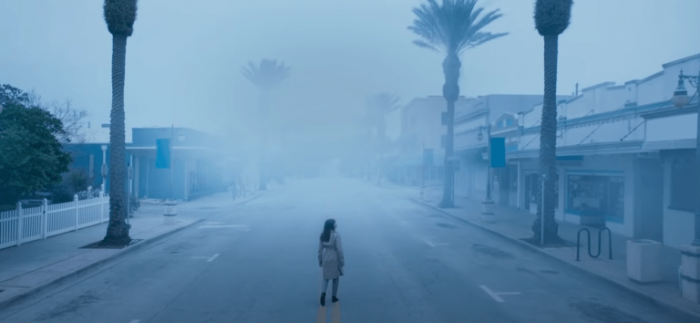 From Bloody Disgusting: No two Mickey Keating films are alike; the filmmaker consistently explores different corners of horror and influences with every production. From neo-western horror to psychological to sci-fi horror and beyond, Keating seems uninterested in retreading the same ground. His latest, Offseason, takes on cosmic horror.
In Offseason, "Upon receiving a mysterious letter that her mother's gravesite has been vandalized, Marie quickly returns to the isolated offshore island where her late mother is buried. When she arrives, she discovers that the island is closing for the offseason with the bridges raised until Spring, leaving her stranded.
"One strange interaction with the local townspeople after another, Marie soon realizes that something is not quite right in this small town. She must unveil the mystery behind her mother's troubled past to make it out alive."
RLJE Films and Shudder will release the horror film in theaters and on VOD and Digital on March 11, 2022. The cast is led by Jocelin Donahue (The House of the Devil, Doctor Sleep). Joe Swanberg (You're Next, The Sacrament) and Richard Brake (3 from Hell) also star.
Ahead of the release, we look back at Keating's horror films and how he switches up the aesthetic and style for every single one.
…
Ritual establishes the core constant to every Keating horror movie: Larry Fessenden appears in every single one.
Offseason releases theaters and on VOD and Digital on March 11, 2022.