Oscars this, Oscars that! We're just as excited about Fangoria's Chainsaw Awards. Along with WE ARE STILL HERE nods for BEST LIMITED-RELEASE/DIRECT-TO-VIDEO FILM, Fessenden's been nominated for BEST SUPPORTING ACTOR for his role in WE ARE STILL HERE. Congrats to all the movies and people nominated.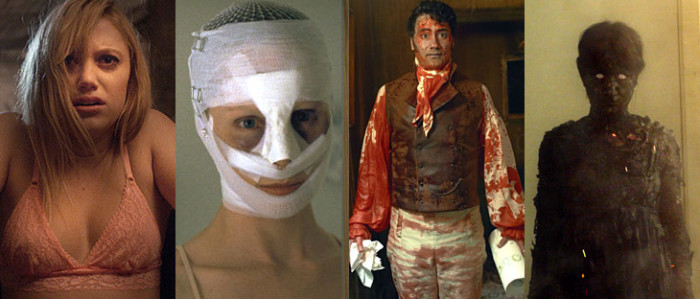 With the nominations for those other awards announced elsewhere, here's the chance for fright fans to vote for the best movies, TV, filmmakers and actors in the horror genre for 2015. Jump past the jump for this year's Chainsaw Awards nominees.
While the controversy continues regarding gender diversity in Hollywood, the horror scene has continued to offer a far higher percentage of strong roles for women. Once again this year, Best Actress was the hardest category to narrow down; we could have easily selected five more names beyond those who made the final cut. Film nominees were selected from among those commercially released in 2015, and we've kept to horror and horror/comedy movies, eschewing hardcore sci-fi (sorry, MAD MAX: FURY ROAD and TURBO KID). Let the debates, and the voting, begin…
E-mail your votes (be sure to vote in all categories, and only once per person; personal e-mails only, no mass ballots) to chainsaw@fangoria.com. For the Fango Hall of Fame, be sure not to vote for any of these current members: Forrest J Ackerman, Dario Argento, Tom Atkins, Rick Baker, Clive Barker, Mario Bava, Tobin Bell, Adrián García Bogliano, Rob Bottin, Doug Bradley, Tim Burton, James Cameron, Bruce Campbell, John Carpenter, Jeffrey Combs, Roger Corman, Don Coscarelli, Wes Craven, David Cronenberg, Jamie Lee Curtis, Peter Cushing, Joe Dante, Guillermo del Toro, Brad Dourif, Robert Englund, Larry Fessenden, Lucio Fulci, Stuart Gordon, Sid Haig, Danielle Harris, Lance Henriksen, Bill Hinzman, Kane Hodder, Tobe Hooper, Anthony Hopkins, Peter Jackson, Doug Jones, Udo Kier, Stephen King, KNB EFX, Heather Langenkamp, Christopher Lee, David Lynch, Richard Matheson, Dick Miller, Bill Moseley, Paul Naschy, Bill Paxton, Emily Perkins, Ron Perlman, Donald Pleasence, Vincent Price, Linnea Quigley, Sam Raimi, Robert Rodriguez, George A. Romero, Eli Roth, Tom Savini, Angus Scrimm, Dick Smith, Christopher Walken, James Wan, Sigourney Weaver, Ti West, Joss Whedon, Kevin Williamson, Stan Winston, Kevin Yagher and Rob Zombie.
Write-in votes are acceptable in all categories. Deadline for ballots is March 13; winners will be announced later that month.
BEST WIDE-RELEASE FILM
CRIMSON PEAK, directed by Guillermo del Toro
THE GIFT, directed by Joel Edgerton
IT FOLLOWS, directed by David Robert Mitchell
KRAMPUS, directed by Michael Dougherty
THE VISIT, directed by M. Night Shyamalan
BEST LIMITED-RELEASE/DIRECT-TO-VIDEO FILM
ANGUISH, directed by Sonny Mallhi
THE FINAL GIRLS, directed by Todd Strauss-Schulson
SOME KIND OF HATE, directed by Adam Egypt Mortimer
WE ARE STILL HERE, directed by Ted Geoghegan
WHAT WE DO IN THE SHADOWS, directed by Jemaine Clement and Taika Waititi
BEST FOREIGN-LANGUAGE FILM
ALLELUIA, directed by Fabrice du Welz
CUB, directed by Jonas Govaerts
DER SAMURAI, directed by Till Kleinert
GOODNIGHT MOMMY, directed by Veronika Franz and Severin Fiala
WHEN ANIMALS DREAM, directed by Jonas Alexander Arnby
BEST ACTOR
Mark Duplass, CREEP
Tom Hiddleston, CRIMSON PEAK
Lou Taylor Pucci, SPRING
Henry Rollins, HE NEVER DIED
Kurt Russell, BONE TOMAHAWK
BEST ACTRESS
Abigail Breslin, MAGGIE
Barbara Crampton, WE ARE STILL HERE
Maika Monroe, IT FOLLOWS
Ryan Simpkins, ANGUISH
Susanne Wuest, GOODNIGHT MOMMY
BEST SUPPORTING ACTOR
Pit Bukowski, DER SAMURAI
Joel Edgerton, THE GIFT
Larry Fessenden, WE ARE STILL HERE
Richard Jenkins, BONE TOMAHAWK
Rainn Wilson, THE BOY
BEST SUPPORTING ACTRESS
Malin Akerman, THE FINAL GIRLS
Jessica Chastain, CRIMSON PEAK
Deanna Dunagan, THE VISIT
Kate Greenhouse, HE NEVER DIED
Krista Stadler, KRAMPUS
BEST SCREENPLAY
Sonny Mallhi, ANGUISH
M.A. Fortin and Joshua John Miller, THE FINAL GIRLS
Joel Edgerton, THE GIFT
Sarah Adina Smith, THE MIDNIGHT SWIM
Jemaine Clement, Taika Waititi, WHAT WE DO IN THE SHADOWS
BEST SCORE
Hauschka (Volker Bertelmann), THE BOY
Fernando Velázquez, CRIMSON PEAK
Claudio Simonetti, Carpenter Brut, Brian Wiacek, Jeremy Gillespie, THE EDITOR
Disasterpeace (Rich Vreeland), IT FOLLOWS
Wojciech Golczewski, WE ARE STILL HERE
BEST MAKEUP/CREATURE FX
Hugo Villasenor, BONE TOMAHAWK
Roger Murray, Main Reactor, DEATHGASM
John Nolan, THE HALLOW
Weta Workshop, KRAMPUS
Marcus Koch, WE ARE STILL HERE
BEST TV SERIES
ASH VS. EVIL DEAD
HANNIBAL
PENNY DREADFUL
SALEM
THE WALKING DEAD
BEST TV ACTOR
Bruce Campbell, ASH VS. EVIL DEAD
Hugh Dancy, HANNIBAL
Josh Hartnett, PENNY DREADFUL
Mads Mikkelsen, HANNIBAL
Matt Ryan, CONSTANTINE
BEST TV ACTRESS
Caroline Dhavernas, HANNIBAL
Vera Farmiga, BATES MOTEL
Eva Green, PENNY DREADFUL
Lady Gaga, AMERICAN HORROR STORY: HOTEL
Janet Montgomery, SALEM
BEST TV SUPPORTING ACTOR
Richard Armitage, HANNIBAL
Seth Gabel, SALEM
Lennie James, THE WALKING DEAD
Rory Kinnear, PENNY DREADFUL
Evan Peters, AMERICAN HORROR STORY: HOTEL
BEST TV SUPPORTING ACTRESS
Gillian Anderson, HANNIBAL
Jamie Lee Curtis, SCREAM QUEENS
Dana DeLorenzo, ASH VS. EVIL DEAD
Lucy Lawless, SALEM
Billie Piper, PENNY DREADFUL
BEST TV MAKEUP/CREATURE FX
Eryn Krueger Mekash, David LeRoy Anderson, AMERICAN HORROR STORY: HOTEL
Francois Dagenais, HANNIBAL
Matthew Mungle, Clinton Wayne, SALEM
Steve Newburn, Sean Sansom, THE STRAIN
Gregory Nicotero and Howard Berger, THE WALKING DEAD
WORST FILM
We'll leave this one up to you (2015 releases only)