Creepy Christmas Film Festival
Glass Eye Pix (2008 80 min)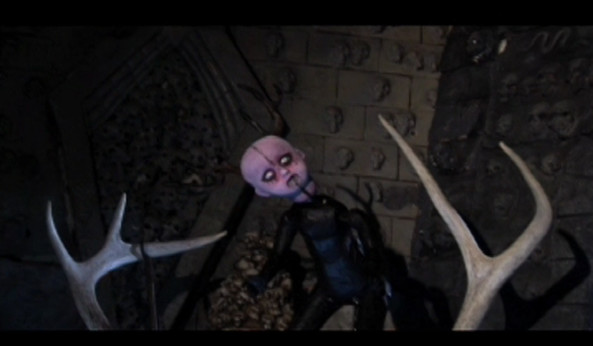 Beck Underwood's Creepy Christmas on-line Film Festival is a collection of 25 horror-themed Christmas shorts in dozens of creative mediums from artists such as Larry Fessenden, Jim Mickle, Sara Driver, Beck Underwood, James Felix McKenney, Glenn McQuaid, Mary Haron, Gerard Way, Voltaire and Ti West.
Click below to check out the 2008 Internet Film Festival curated by Beck Underwood 
based on the Glass Eye Pix Creepy Christmas Advent Calendar
25 Short Films now online featuring Santa Claws by Larry Fessenden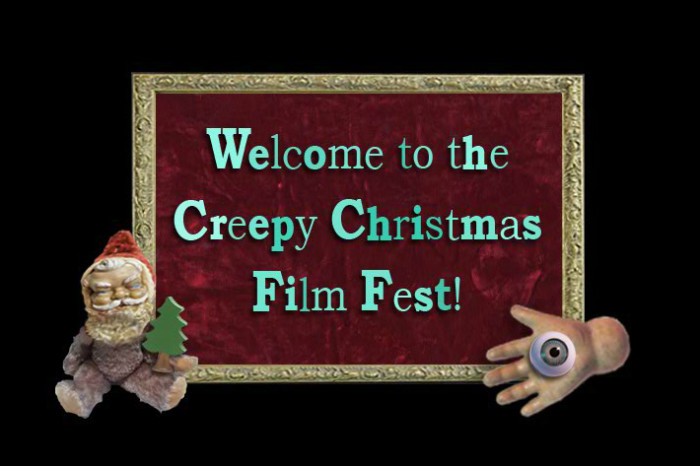 Once upon a time there was an advent calendar made of paper and glue and little die-cut windows. Behind the windows were 25 images of lonely dolls, sparkly skeletons, and other strange creatures caught celebrating the holidays in most unusual ways.
Then along came the idea to bring the toys to life in an advent-style online film festival to run from December 1 to the 25.
25 filmmakers were invited to participate. Each filmmaker received one of the photos from the printed advent calendar. This image corresponded to a date in December, which became the date their film would screen online. Boxes of old dolls and toys were sent around the world to each filmmaker. Diverse in their approach to the assignment and possessed of holiday spirit the filmmakers enthusiastically embraced their challenge and created 25 unique glimpses into a very Creepy Christmas.
December 1 – Electrifying Holiday Spirit – David Goldin
December 2 – Swollen Archive – Glenn McQuaid
December 3 – Gold Eye Ball – Sara Driver
December 4 – All Wrapped Up – Heather Sinclair
December 5 – Mangertooth – JT Petty
December 6 – The Lighthouse – Michael Vincent
December 7 – The Legend of Little Mary Min and the Twists – Devin Febbroriello
December 8 – Santa Claws – Larry Fessenden
December 9 – Phantom Limbs – Beck Underwood
December 10 – You Better Watch Out – Isabel Smaras, Marcos & Nico Sorensen
December 11 – Dissecting Santa – Brandon Taylor and Eric Branco
December 12 – The Souvenir – Merrill Rauch, Gareth, Sam & Maud Brown
December 13 – Christmas Memories – Brahm Revel
December 14 – One Night in December – Jim Mickle
December 15 – CREEP – Annie Nocenti
December 16 – Twelve Days of Black Mass – Graham Reznick
December 17 – Velvet and the Walk – Celine Guillaume & Beck Underwood with Peter Sis
December 18 – X-Mess Detritus – Voltaire with Gerard Way
December 19 – Part I: I Hate Christmas – David Leslie
December 20 – Michael Got His Gun – Oliver Noble & Sam Falconi
December 21 – Part II: The Gift – David Leslie
December 22 – Holiday Hooligans – Janet Kusmierski & Greg Singer
December 23 – December 23rd – James Felix McKenney
December 24 – T'was the Night Before Christmas – Mary Harron, John C, Ruby & Ella Walsh and Sophie Blackall Olive & Eggy Godlee
December 25 – Christmas Decay – Ti West
 Glass Eye Pix wants you to celebrate Shocktober this and every year by joining us in counting down the days to our favorite night of the season: HALLOWEEN! What better way than with our new Shocktober Nights calendar. Behind each of the 31 die-cut passages lurks a monstrous and ghoulish delight, brought to life by Glass Eye Pix Art Director Brahm Revel.

Warning: As it turns out, this product may be unsuitable for children!

Only $10.00 USD per calendar plus $3.00 for shipping. Order by September 22 for guaranteed delivery by October 1st! 
This year countdown to Valentine's Day with 14 nights of love and romance in this naughty peekaboo calendar! You will be feeling the love each day as you open a die cut window displaying a couple engaged in amour.

A selection of some of the most enjoyable positions from the Karma Sutra come to life in this happy house of pleasure. Make Valentine's day last a fortnight, or bring two weeks of pizzazz to your relationship any time of year! All brought to you with love by artist Brahm Revel and Glass Eye Pix!

Warning: This product is recommended for ADULTS ONLY!

Only $10.00 USD per calendar plus $3.00 for shipping. Order by November 22 for guaranteed delivery by December 1st. Also availble for wholesalers from Ghastly Greetings.
 Glass Eye Pix invites you to count down 25 Days till Christmas with this creepy Advent Calendar. What better way to celebrate the Holiday season than with a daily peek behind the doors and windows, nooks and crannies of this mysterious doll village assembled by artist and stop-motion animator Beck Underwood? See vintage dolls and Santas, stuffed critters and misfit toys, all to delight and tease in this merry celebration of Christmas mischief.

Warning: This product may be unsuitable for children who expect Christmas cheer served up without a taste of the macabre!

Only $10.00 USD per calendar plus $3.00 for shipping. Order by November 22 for guaranteed delivery by December 1st. Also availble for wholesalers from Ghastly Greetings.