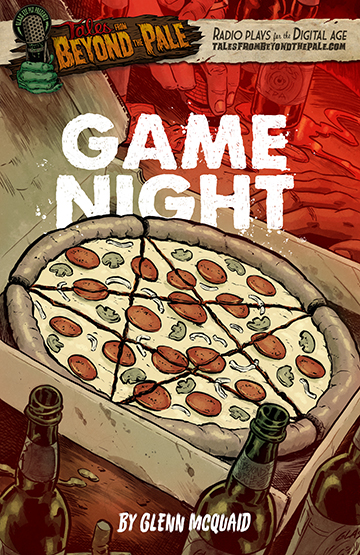 The Pale Men talk about the latest TALE to drop, "Game Night" which had been performed live at Lincoln Center's Walter Read Theater on a double bill with "Who Killed Johnny Bernard" back in August of 2016 (!)
Fessenden: Hello Glenn, Congrats on getting Game Night done in time for a Shocktober release! What took so long….?
McQuaid: We had plans to get it out earlier with the launch of the podcast but it got delayed and then life got complicated and it ended up gathering a bit of dust. I'm glad we waited to release it though as it's been a nice trip down memory lane and I think it holds up nicely.
Fessenden: What sort of adjustments did you make in post?
McQuaid: I sat with it for a while obviously so when I started post production on it I was in a completely different headspace and my instinct was to speed things up a bit, whereas on the night I had directed the actors to take things oddly slow. I like where it's ended up, it's got a stiffness to it that loosens up when things get strange and there's some nice rhythmic edits happening throughout.
Fessenden: What tone were you going for? How did the piece come about?
McQuaid: The inspiration for Game Night really came from Terrence Fisher's The Devil Rides Out. I wanted to have fun with a bunch of characters standing inside a protective magic circle as various demons try to trick them into thinking all is safe on the other side of the chalk. Also, there was a cartoon show based on Dungeons and Dragons that I absolutely adored when I was a kid and I think that had an influence on the tone, there' something almost cartoonish about the piece, particularly with the character April (named after April Snellings). I think this might just be our first audio drama horror cartoon!

Fessenden: Lauren Ashley Carter does triple duty in the piece!
McQuaid: She is amazing and it was only in rehearsal that we decided to do that because I hadn't cast anyone else for those roles yet. She was really excited by the challenge and it was wild seeing her switch so effortlessly between the different characters and great fun to revisit as I had forgotten the ins and outs of the thing.
The rest of the ensemble is quite charming: a lot of TALES regulars!
And all going by their real names. I wanted it to feel like these guys have been hanging out together since childhood and their goal when together is to always try to match the excitement of their formative experiences, and so we have four grown ass men who are acting like children, free of responsibility; free of maturity, and this is why they deserve the demonic bollocking they get, they're brats.
Fessenden: I noticed you used the TALES theme for the ring-tone in the story. Wanna divulge what that used to be and why we changed it?
McQuaid: On the night of the performance we used the Murder She Wrote theme song because I am a huge fan of the show, and though it went over really well I felt it was a shame to, after so many Tales, risk infringing on copywrite, so I swapped it out with something we own.
Fessenden: You had a funny story about the last minute shift in the music on the night…
McQuaid: Prior to the performances I was using ambient drones to underscore the play but on the morning of the show I created a more exotic piece that alluded to a grander world outside of the men's group; it hinted at the pleasures one might find if one were a demon. I was really excited to share it with you but when you heard it on the night you grumbled something about me going all "I Dream of Genie", maybe I did! Tough crowd.
Fessenden: I must say the poster by Brian Level is particularly appealing: Very simple and iconic. Did you notice the label on the beer bottle: "Beyond Pale Ale." Ha.
McQuaid: I really love the poster, done during the same sessions as Who Killed Johnny Bernhard and Reappraisal. Brian's a wonderful artist and a great guy, also I think there's actually a real bear named that.
Fessenden: Well Glenn, I think you mean "beer." Nice to chat. I hope everyone will buy our collectable Collection of TALES scripts now available from amazon.
McQuaid: Here here!
Fessenden: And I hope everyone will tune in next week for another special Halloween treat from the Tales HQ.