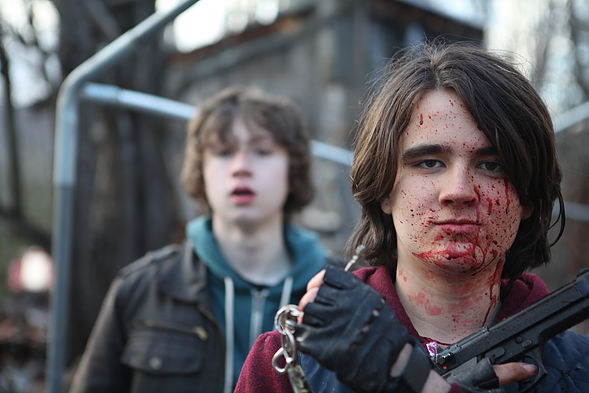 Jack Fessenden, son of filmmaker Larry Fessenden (who runs indie fright factory Glass Eye Pix and helmed the likes of HABIT, WENDIGO and THE LAST WINTER), didn't wait long to follow in his father's footsteps. The teen auteur's "first serious" production, a short zombie thriller called RIDING SHOTGUN that he made when he was just 13, is commercially available for the first time this week, and we've got exclusive words with Fessenden about it.
RIDING SHOTGUN will be visible exclusively via iTunes tomorrow, February 10, in conjunction with Screen Media Films' theatrical/VOD release of Fessenden's feature debut, the violent actioner STRAY BULLETS. (SHOTGUN will be included with an iTunes purchase of the latter.) Fessenden and his friend Alex Hoffman wrote the short together, and also star as two friends bickering their way through a postapocalyptic wasteland infested with the living dead. "We developed the story in one day," the now-17-year-old Fessenden (who discussed STRAY BULLETS in RUE MORGUE #173) tells us. "We were really sort of playing extreme versions of ourselves. The movie depends on our chemistry, and I think it works nicely."
It was far from his first shot at directing, he recalls. "I always made movies just because I could when I was growing up, from the time I was 7 or 8 years old, with my friends. My dad would shoot them with a little point-and-shoot digital camera. But it wasn't until I had just turned 13 that I wrote RIDING SHOTGUN. Before that, I hadn't thought of filmmaking as a serious pursuit, but after I made it, I got a camera and started taking it more seriously."
Fessenden notes that he also takes the zombie genre seriously. "I think apocalyptic movies and that sort of world are very cool," he says, "because it places characters in a situation of extreme stress, and allows you to see them for who they really are. I was very inspired by STAKE LAND, which my dad produced. I had gone to that set as a kid, when I was maybe 10 years old."
In fact, SHOTGUN's ghoul prosthetics were fashioned after the vampire visages created by Brian Spears for STAKE LAND, and Spears applied them himself on the big zombie day, with Fessenden's mother, production designer/animator Beck Underwood, taking that task on the rest of the shoot. Larry served as director of photography and plays a supporting role, as he subsquently did on STRAY BULLETS, and Fessenden says he's never had a problem telling his father what to do. "I was always a very bossy kid," he laughs. "I still call him 'Daddy' on set, which is pretty funny."
SHOTGUN hasn't had a great deal of exposure up to this point, due to issues with its running time: "It's a difficult length," Fessenden says, "because it's a 32-minute movie, and that's very long for a short." An organizer at the Woodstock Film Festival wound up taking it on, and gave SHOTGUN its world premiere in front of Rob Kuhns' George A. Romero documentary BIRTH OF THE LIVING DEAD.
Now, with both BULLETS (in which he also stars alongside James LeGros, John Speredakos and Asa Spurlock) and SHOTGUN headed out into the world, Fessenden says he's not letting genre be his guide when picking his future projects. "I don't really think about that too much," he explains. "I just like telling stories about people, and all my movies have a common theme concerning friendships and their complications. Whether that takes me to horror or action or just plain old drama, it doesn't really make a difference to me."
And as for whether he'll continue to cast himself in starring roles, he says, "I usually write scripts from my own personal perspective, which is why I end up in the lead. I want to try to get away from that, but for now, I think it's fine."