The Innkeepers Film Score
Jeff Grace (2011 CD, music JEFF GRACE)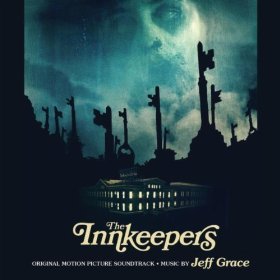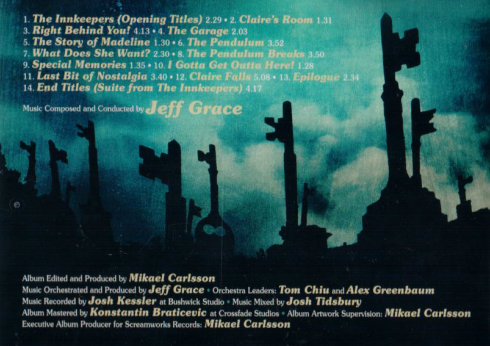 Soundtrack for the motion picture THE INNKEEPERS by Jeff Grace.
"Ever since composer Jeff Grace (Stake Land, The Last Winter, The House of the Devil) and director Ti West took their first impressive steps with The Roost in 2005, MovieScore Media has been among their most devoted fans and supporters. This is the fourth Grace/West score that we release and we are proud to witness the rise and growing success of these two great talents.
Jeff Grace's music for The Innkeepers is ingeniously atmospheric and somewhat old-school in its orchestral approach, eerie, yet quite melodic – there is something about it that reminds us of Jerry Goldsmith in the 70s and 80s. The quality of the score has already been confirmed at Screamfest where Jeff Grace won the festival trophy for 'Best Musical Score'. As with many films Grace has scored, a lot of reviews of The Innkeepers single out the score as one of its strongest elements and one the fits Ti West's directing style extremely well. As music on its own it stands out as original, fresh and inventive. And… scary as hell!"
Winner of Festival Trophy for 'Best Musical Score' at Screamfest, 2011
This is a great release, highlighting another impressive score by Jeff Grace." (Movie Wave)
Digital: iTUNES | AMAZON | eMUSIC | SPOTIFY
CD: CDBABY | SAE | AMAZON | HMV
SWR12001 • THE INNKEEPERS (Original Motion Picture Soundtrack)
Music Composed and Conducted by JEFF GRACE
Release date: January 31, 2012
1st CD edition limited to 500 copies.
TRACK LIST
1 The Innkeepers
2 Claire's Room 1.31
3 Right Behind You! 4.13
4 The Garage 2.03
5 The Story of Madeline 1.30
6 The Pendulum 3.52
7 What Does She Want? 2.30
8 The Pendulum Breaks 3.50
9 Special Memories 1.35
10 I Gotta Get Outta Here! 1.28
11 Last Bit of Nostalgia 3.40
12 Claire Falls 5.08
13 Epilogue 2.34
14 End Titles (Suite from The Innkeepers) 4.17