Just Desserts
Larry Fessenden (1980-2011 7 Albums)
TOM LAVERACK, LARRY FESSENDEN,
Just Deserts is a musical collaboration between Tom Laverack (guitar and vocals) and Larry Fessenden (sax and vocals).
Just Desserts
"They say revenge is sweet, but Just Desserts is absolutely delicious"
–Dianne Pine, ROCKPOOL

"beautiful, unclassifiable music that won't be pinned down"
–Sarge Blotto, METROLAND

"feels like a visit with an old friend…"
–THE HARD REPORT

"emotionally charged"
–CMJ REPORT

"good exciting music"
–David Hinkley, NY DAILY NEWS

"I never got tired of the good stuff"
–Robert Christgau, THE VILLAGE VOICE

Just Deserts is a musical collaboration between Tom Laverack (guitar and vocals) and Larry Fessenden (sax and vocals). They have recorded numerous tracks over the course of their seventeen year association, and have played with and without a backup band in venues including CBGB'S (on the bill with Tom-Tom Club and The Mekons) , Mercury Lounge, The Knitting Factory, The Pyramid Club, Tramps, The Rodeo Bar (with Freedy Johnston), LaMama (with Phillip Glass), Chameleon Club, Nightingales, P.S. 122, and Dixon Place. Their albums play extensively on college radio.

Their recent album, GIVE UP THE GHOST is NOW PLAYING on college and AAA Radio stations accross the U.S. including KPIG, KBSU, WERU, WYSO, KSLU, WLPW etc.

DISCOGRAPHY:

GIVE UP THE GHOST (CD; 1997-Earhorn Disks)
ALMOST SHOOK YOU UP b/w FLASHING BLUE (45; 1990-Bar/None)
COLD HEARTS & WHISKEY (CAS; 1989-Earhorn Disks)
SENTIMENTAL WAR (CD,LP, CAS; 1987-Earhorn Disks)
VAGUE NOTIONS (CAS; 1985)
WEEKENDING (CAS; 1983)
AMERICAN NURSING HOME (CAS; 1980)

OUT ON THE TOWN IN '99

Sunday, May 16 8:00 PM JUST DESSERTS at the TRIBUTE TO TOM WAITS at Continental Divide St. Mark's Place, NYC.

Thursday, May 13, 10:00 PM to Midnight JUST DESSERTS UNPLUGGED!! Laverack & Fessenden Live! at The Living Room Stanton and Allen.

Tuesday, May 11, 9:30 PM JUST DESSERTS Live!! at Mercury Lounge Houston Street and Avenue A, NYC.

Tuesday, March 23, 8:45 PM sharp JUST DESSERTS Live!! at BROWNIES NYC 169 Avenue A at 11th Street

Thursday, 8th October 11:00 JUST DESSERTS Live!! at BROWNIES NYC 169 Avenue A at 11th Street

August 6 at 9:00 PM JUST DESSERTS live at HOUSE OF CANDLES, 99 Stanton Street. Join Tom Laverack, Larry Fessenden, Mark Lerner and Wharton Tiers in celebrating the Earhorn Disks release of Just Desserts new 13 song CD, Give Up The Ghost.
Now playing and recording as Just Desserts and on the album "Give Up the Ghost"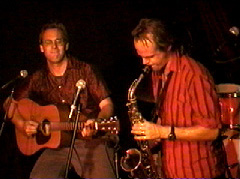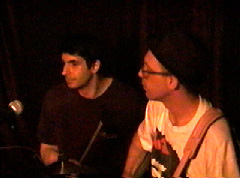 Tom Laverack (vocals, guitars, keyboards) is a social worker in New York City. He has written and performed music since 1975. He has numerous recordings compiled on cassette, including solo works "As You Remain," "Longshot," "Adolescent Soul," and "Mercy, Mercy, Mr. Percy." In addition to songwriting, Laverack has worked on film scores, including Fessenden's NO TELLING. Laverack has two forthcoming solo CDs: OUT OF THE BLUE and ANTHOLOGY 1979-93.

Larry Fessenden (vocals, saxophones) works as a filmmaker out of New York. He has directed several internationally screened feature films, including HABIT, NO TELLING and HOLLOW VENUS

Mark Lerner (bass) played bass for and generally ran the 8 piece band Flat Old World, whose recordings include the CD MUSICALE (1996, Rag and Bone Shop) and an EP distributed by Hello Recording Club, a mail-order music store. He has played in numerous bands, includingLife in a Blender and Canoe full of Strangers and has produced music for the albums I'M FLAPPING AND OTHER FAVORITES by Mark Donatto (1996, Rag and Bone Shop) and THE SYCAMORES (1995 Rag and Bone Shop).

Wharton Tiers (drums) is the founder of Fun City! in New York, a studio where he has engineered and produced music for over 100 bands including Sonic Youth, Dinosaur Jr., Swans, Helmet, and Glenn Branca, and where the Just Desserts album "Sentimental War" was recorded. He produced many albums for Sonic Youth including their recent "A thousand Leaves", and can be seen playing live with The Wharton Tiers Ensemble, promoting his recent CD, BRIGHTER THAN LIFE.
Essential band members from the past (featured on "Sentimental War")
Mark Ellison (guitars, banjo, keyboards)
Noah Stein (bass)
Bob Muller (drums)