Douglas Buck
Douglas Buck ( )
"The main goal with film, or any art form, is to impact us somehow. Whether with a gentle caress or a sledgehammer blow, if you can be rewarded with a brief touch of the sublime, you have been granted a true moment of understanding."
 "The works that speak to me the most – and which I think clearly influence my own work – are those that search for exploration within the elements of exploitation. The films that manage to validate these elements – Abel Ferrara's 'Bad Lieutenant', or Zulawski's 'Possession', to name two disparate examples – are true and rare achievements." "One of the main goals for the trilogy has been to express the image of the suffering face. I love the suffering face. However, when I see the incredibly pained and haunted faces revealed again and again by Tarkovsky and Bergman, presented with what seems an almost ease, I clearly see I haven't yet come close to achieving one – but I plan to keep trying." — Douglas Buck
FAMILY PORTRAITS: A TRILOGY OF AMERICA
PROLOGUE
(2003, 53 minutes. with William Stone Mahoney, Sally Conway and David Thornton)
Buck's reflective and somber denouement to the trilogy tells the tale of a young teenage girl,
brutally attacked just one year before, returning to her hometown where she will confront her attacker.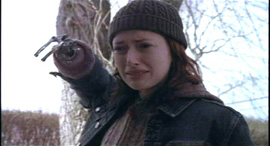 "Cold and analytical he dissects the roots and consequences of violence without sparing the audience.
This trilogy is a daring and authentic critique of American double standards and bigotry."
Diabolo (German weekly magazine)
"If Mike Leigh would like splatter-movies, his films might look like Douglas Buck's. In painfully long takes, Buck unfolds a family nighmare that forces its way into the audience's brain slowly, but therefore much more lastingly." 
Frank Arnold, Filmdienst (Monthly Nationwide German Cinema Magazine)
"With his latest short-film "Prologue" his "Trilogy of America" comes to a close."
Blickpunkt Film (German nationwide weekly cinema/industrial magazine)
"Buck's trilogy is unbearably intense and enormously moving."
Filmecho/Filmwoche (German nationwide weekly cinema/industrial magazine)
"Buck's violence is manifest to a daring and consequent filmmaker's conscience.
The atmosphere in his films, the performances and the brutally torn bodies
are thought-provoking metaphors for life in suburban America."
Schnitt (German quarterly movie magazine, nationwide)
"Without question, PROLOGUE is an absolutely brilliant film."
Steve Puchalski, Shock Cinema
.
.
.
HOME
(1998, 29 minutes. with Gary Betsworth, Christine Caleo and Ray Bland)
Acting as both pseudo-sequel to, and remake of, Cutting Moments, Buck's follow-up
changes the focus from the matriarch to the father… or, more fittingly, the many fathers… and the sins they pass down. Eschews explicit violence for a more psychological approach, to a no less harrowing result.
"'Home', shot reminiscent of Stanley Kubrick,
slowly envelopes the audience in the emotional vacuum of the characters"
Joseph O'Brien, Rue Morgue Magazine 

"Extremely powerful…I admired "Home" as much as "Cutting Moments" – a great deal, that's to say."
Ramsey Campbell, bestselling author, 'The Nameless'/'Nazareth Hill'
" ('Home') is well-shot, full of uneasy pauses, and highlighted by edgy performances
from both Gary Betsworth and Christine Caleo."
Steve Puchalski, Shock Cinema Magazine
"Director/writer Douglas Buck approaches the theme of the male psyche disintegrating…
"Home" maintains the emotional claustrophobia of "Cutting Moments". It is equally compelling."
Donato Totaro, Offscreen Magazine
.
.
.
CUTTING MOMENTS
(1997, 23 minutes. with Nicca Ray, Gary Betsworth and Jared Barsky)
Equal parts Ingmar Bergman chamber piece and B-movie exploitation gorefest,
Douglas Buck's acclaimed breakthough follows a troubled family's
harrowing descent into incest, self-mutilation and murder.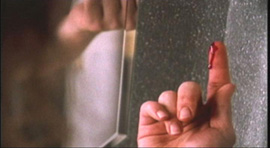 "If David Cronenberg had directed "Diary of a Mad Housewife",
the result might have been…"Cutting Moments"."
V.A Musetto, New York Post 

"…skewers the myth of normalcy in a nuclear family."
Bill Starnetts, Chicago Sun Times
"(A) TV movie-of-the-week as directed by Pier Paolo Pasolini…The most chilling potrait of the loss of humanity
in the manicured lawns of Middle America ever made."
Michael Simmons, LA Weekly
"…a truly disturbing cinematic experience."
Abel Ferrara, director, 'King of New York'/'The Funeral'
"…proof that a fine artist can use shocking violence to serve a higher purpose."
Zoe Lund, writer-actor, 'Bad Lieutenant'/'Ms. 45'
"…bravura film-making, a thirty minute masterpiece…Doug Buck's first film makes me wonder what raw terror and beauty await in his second; he offers new hope for the American cinema of horror."
Douglas E. Winter, writer of biographies on Stephen King, Clive Barker
"…this is the sort of filmmaking the world desperately needs more of – uncompromisingly honest works designed not to entertain an audience but to destroy them."
Mitch Davis, Flesh and Blood Magazine
.
.
.
AFTER ALL
(1995, 17 minutes. b&w. with John Pero)
A darkly humorous black and white tale of a young boy, unable to fit in, finally realizing
his calling while watching animals killing each other on nature documentaries.
Raw non-sync early effort, interesting as an early and funny example of Buck's forays
into continuing themes of painful isolation, suburban disassociation and the inherent violence that can follow.