Cutting Moments
Dir. Douglas Buck (1997 29 min, color)
NICA RAY, GARY BETSWORTH and JARED BARSKY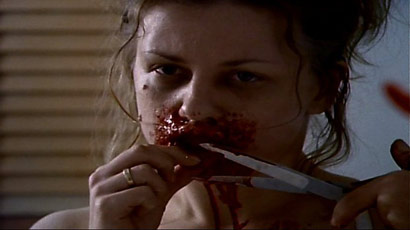 In the center of a monotonous suburban existence, Sarah lives silently and in subservience to her icy husband Patrick. They have been together far too long, and Patrick's affections for his wife have all but vanished. Instead, his sexual urges are tempting him to lust after their own son. Realizing how far gone her husband is, Sarah undertakes drastic, shockingly sickening measures to salvage some sense of her life and purge her years of festering resentment.
"If David Cronenberg had directed "Diary of a Mad Housewife", the result might have been…"Cutting Moments"."
"…a truly disturbing cinematic experience."
"…proof that a fine artist can use shocking violence to serve a higher purpose."
"…bravura film-making, a thirty minute masterpiece…Doug Buck's first film makes me wonder what raw terror and beauty await in his second; he offers new hope for the American cinema of horror."
"…this is the sort of filmmaking the world desperately needs more of – uncompromisingly honest works designed not to entertain an audience but to destroy them."
NICA RAY – is an actress, known for CUTTING MOMENTS (1997), FAMILY PORTRAITS: A TRILOGY OF AMERICA (2003) and EDGE OF OUTSIDE (2006).
GARY BETSWORTH – An actor and producer, known for CUTTING MOMENTS (1997), HOME (1998) and PENNY DREADFUL (2013)
JARED BARSKY- Is an actor from Lompoc, California, known for CUTTING MOMENTS (1997).
Douglas Buck, writer/director -Buck grew up in Long Island, later moving to New York City, where he began making films while working as an airport electrical engineer. Buck started by making short films, including CUTTING MOMENTS (1997), HOME (1998), and PROLOGUE (2003), all three of which were collected together in the FAMILY PORTRAITS anthology. Rue Morgue magazine selected CUTTING MOMENTS as one of its "100 Alternative Horror Films". In 2004 he began making a new version of Brian De Palma's 1973 film SISTERS, which was released in 2007, and described by Variety as "a worthy partner to his predecessor's famously violent slasher thriller".