Bitter Feast
Dir. Joe Maggio (2010 103 mins, canon 5D, 16:9 )
James Le Gros, Joshua Leonard, Amy Seimetz, Larry Fessenden, Mario Batali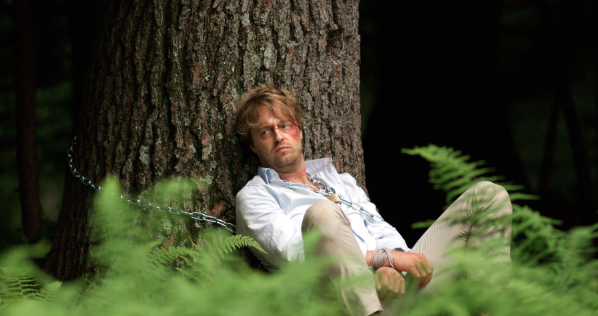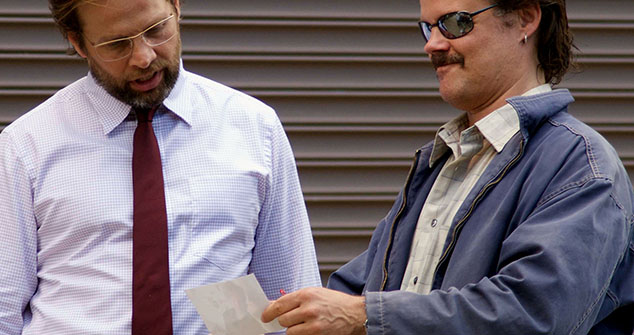 Peter Grey (James Le Gros), an overly zealous television chef, kidnaps J.T. Franks (Joshua Leonard), an influential and notoriously snarky food blogger after a particularly nasty review deals the final blow to Grey's already plummeting career.
Sequestered deep in the woods of the Hudson Valley, Grey keeps Franks chained up in a basement, presenting him with a series of deceptively simple food challenges – from preparing a perfect egg over easy, to grilling a steak precisely medium rare – punishing him sadistically for anything less than total perfection.
A tense thrill-ride served up with wicked wit and culinary flare, BITTER FEAST is an exploration of the creative impulse gone tragically and ferociously awry.
HUFFINGTON POST
Heeseung Kim 06/29/10
Director Joe Maggio creates a nightmarish world of a chef gone horribly, horribly bad with gory thriller Bitter Feast, which premiered June 18 at the Los Angeles Film Festival. When popular food blogger J. T. Franks (Joshua Leonard) slams chef Peter Gray (James LeGros), it's the last straw for Gray's declining career.
Maggio, who calls himself a "pretty good cook" who can make a "mean-ass paella," concocted the movie's premise after reading former New York Timescritic Frank Bruni's "lazy, silly … and totally unfair" review of Gordon Ramsay at The London in New York (which Bruni, incidentally, awarded a not terribly unkind two stars). In an interview (via Eater), Maggio elaborated:
The origins of BITTER FEAST go back to June, 2007. I was reading a Frank Bruni review of Gordon Ramsay's first New York City restaurant, "London Hotel." There was a lassitude in Bruni's writing that gave you the sense he liked the food, but wanted to dislike it, and so he delivered this odd, middling, lazy review, ultimately con- demning it for lack of what Bruni considered "the most important thing of all – excitement." It struck me that this was totally ridiculous and unfair. Then I started thinking what I would do to Frank Bruni if I were Gordon Ramsay. After many strange imaginings, I concluded that more than anything else, what Ramsay would prob- ably want is to somehow force Bruni to live in Ramsay's shoes for a bit, to teach him empathy, to force him to care about cooking with the intensity that Ramsay cared about it, and then to randomly and arbitrarily shit all over Bruni's dreams. Thus, BITTER FEAST.
Mario Batali makes a cameo appearance as Gray's steely boss who sticks the knife in his career after the review. Of his role, Batali dishes, "The whole thing is like me talking to myself if I was telling myself how to fail." But it's critic-blogger Franks who Gray really blames for his downfall.
From there on, "Bitter Feast" is a display of the theory that revenge is a dish best served cold with a number of cooking challenges, punishments and gore aplenty as Gray takes DIY butchering to a new level. In his captivity, Gray forces Franks to execute "a series of deceptively simple food challenges – from preparing a perfect egg over easy, to grilling a steak precisely medium rare – punishing him sadistically for anything less than total perfection." Beware, reviewers!
LA WEEKLY
Mark Olsen June 17, 2010
The premise seems like an extra act to Ratatouille: a disgraced celebrity chef (James LeGros) kidnaps a food blogger (Joshua Leonard) who slammed him, forcing a regime of torture and cooking lessons upon his quarry. In writer-director Joe Maggio's delightfully nasty Bitter Feast there are no heroes, only levels of villainy, with two outsize egos bruised in different ways.
Once the premise is launched, the film settles down to a simple series of mind-game one-on-ones between the chef and the blogger, each struggling to hold on to the safety of his carefully cultivated persona. Zesty fun for its actors, Feast is at once a sly parody of the celebrity-chef culture spawned by all the cable cooking shows and competitions, and a creepy little chamber-piece. Even Maggio's point of view on blogging captures something unique: Leonard's character likens himself to the Iron Sheik, applying an unlikely but apt wrestling analogy to online provocation.
The film's wonderfully wicked sensibility should come as no surprise to fans who notice the involvement of Larry Fessenden as producer and in a small role as a sleazy private detective. Fessenden, recently feted at the Aero, has become more influential and important as a producer and general facilitator of low-budget horror (not to mention his work with art-auteur Kelly Reichardt) than for the films he directs. If Bitter Feast is any indication, Joe Maggio is a name that can be placed alongside Fessenden protégé Ti West as one to watch out for. (Downtown Independent; Fri., June 18, 9:45 p.m., Sun., June 20, 10 p.m.) (Mark Olsen)
CULVER CITY OBSERVER
Debbie Lynn Elias
By now, you all know me well enough to know that I will kill for a great horror film. Sure, I like the blood and guts and slashing and hacking that often comes with the genre, but when I find a horror film that tantalizes both the mind and the senses, well, I just die. Thankfully, we've got a real champion of indie films and the horror genre in Larry Fessenden and Glass Eye Pix, who took a big bite of the great line-up of films at the 2010 LA Film Festival with BITTER FEAST, a deliciously wicked film written and directed by genre newbie, Joe Maggio. And returning with Fassenden for his own just desserts is none other than Joshua Leonard who wowed us in 2009 in "Humpday".
Peter Grey is a self-absorbed pompous ass television chef who was tormented by his brother during his childhood. A typical little nerdy "four eyes", Peter's brother took great glee in dominating, beating up, attacking, picking on and insulting poor little Peter, even going so far as to limit his time to go pee when nature called. When playing out in the woods, there was no escape from Peter as he was hunted down by his brother in games of make believe, that somehow seemed just a bit too real. But things change as one grows up and matures, or does it? Clearly, Peter's current pomposity and arrogance is the result of his need to be the one in charge, the one in the limelight. Boasting on his cooking show "The Feast" about his skills as a hunter, butcher and all around organically inspired chef, hunting and killing and foraging for all of his ingredients, he is a psychiatrist's dream. Sadly, he's not in therapy that we know of and merely exacts his emotional revenge on all that cross his path.
Thanks to his own lack of people skills , Peter's show is cancelled, his cookware contracts up in flames and his restaurant and his cooking skills, well they've been skewered to death by the immortal food critic, J.T. Franks, blogger of "Gastropunks." And of course, Grey blames Franks for everything as he couldn't possibly be the cause of his own misfortune.
Franks is another piece of work. Domineering, snarky, and also pompous and arrogant, he suffers with delusions of grandeur about himself, his own self-perceived superiority and his opinions. He is right and everyone else is wrong. And he doesn't give a damn about anyone else in the world except himself. Between Franks and Grey they should open up their own exclusive club for the egomaniacal.
Still harboring those deep-seeded resentments of childhood, Grey masterminds a plan to gain the upper hand and not only make Franks pay for what he has done to his reputation and professional career, but also alter his perceptions and bring him around to his own way of thinking in the appreciation of food. So, Grey kidnaps Franks and chains him up in the basement of Grey's cabin deep in the woods in which he played as a child. Torturing Franks by forcing him to learn to cook and appreciate masterful cooking and exquisitely prepared cuisine, Grey also excels at physical torture, exacting the same sort of brutality on Franks as his brother exacted on him, only this time with real knives, guns and other weaponry. In a wild game between the hunter and the hunted, Grey spirals ever deeper into manic passions fueled by the ecstasy of culinary delights and sensations.
With BITTER FEAST, Joe Maggio serves up a seven course meal of pure genius. Razor sharp acerbic wit whets the palette, making you beg for more as you are drawn deeper and deeper into the darkness of culinary genius and egomania, resulting in unabashed laughter peppering each scene. The characters of Grey and Franks are perfect foils and perfectly crafted, seasoned with the right amount of arrogance making them each delicious to watch.
Technically, there is nothing bitter to the senses. Thanks to Director of Photography Michael McDonough, color is saturated and rich like the most decadent desserts. Framing is tight and intimate while night lensing using natural light and a Canon 5D Mark II SR camera raises the tension on screen to the boiling point. Particularly notable is the make-up work of Brian Spears who makes injuries inflicted on our poor critic Franks more than realistic and consistent (given shooting was non-sequential). Maggio, a self-proclaimed foodie, makes certain particular detail is paid to food preparation and technique, bringing in a culinary hand person for beauteous and exacting effect, as well as utilizing cooking techniques and recipes of none other than Mario Batali, who is in the film. And if technical awards are ever handed out to BITTER FEAST, long time Glass Eye sound designer, Graham Reznick, takes the cake as his work here is masterful. Integrating Jeff Grace's great score with action and dialogue, he layers sounds, adjusting levels to enhance the flavor of each scene and build anticipation and tension as if one was salivating over the smell of a roasting turkey on Thanksgiving Day.
But let's talk about acting! Festival favorite Joshua Leonard really stirs the pot as JT Franks. We saw him last year in "Humpday" and loved him, but as Franks he raises the bar to levels of excellence I have never seen in him before. Likewise for James LeGros as Peter Grey – deliciously nasty and never moreso than when conveying fear and terror. And they both nail arrogant pomposity to a tee. Their timing is meticulous, with neither missing a beat and together, they are explosive.
There's nothing bitter about BITTER FEAST. It's too die for.
DOORQ.COM
Jody June 19, 2010
BITTER FEAST is a good meal.
I'm glad I'm not a food blogger. You see, I could die…
I bring this up because I got a chance to watch BITTER FEAST, the new horror-y thriller (thriller-y horror?) flick from director Joe Maggio, about a celebrity chef that exacts revenge on a food blogger who torpedoed his career.
Is my front-door locked?
FEAST follows the revenge of chef Peter Grey (James Le Gros), haughty and unhinged, who captures blogger J.T. Franks (Joshua Leonard), an influential and notoriously snarky writer who crashes what's left of Grey's career with a particularly malicious review of his food.
Dragging him deep into the woods and locking him in the basement, Grey presents Franks with seemingly easy challenges — cook perfect eggs, grill a precisely seared steak — or face a harsh punishment. (I never realized exactly how much damage a hot frying pan can do to the side of the face. Sizzle.)
Matters spiral toward a dark desert when a meddlesome private investigator nibbles at Grey's toes, searching for the whereabouts of the captured Franks while Frank's wife worries if she'll ever see her husband again.
She really shouldn't. This is a horror movie after all. These things have a way of sorting themselves out. Lots of blood is usually involved.
Le Gros and Leonard are the centerpiece of the film. Both inhabit men driven to nastiness by way of tragedy, each more similar than they'd like to admit. Le Gros' Grey spends the bulk of the film subjecting Franks to the acid exactness that churns in his soul, a solution he's more than willing to share after Franks' review exposes it to the air.
The origin of Franks' sting is the opposite, the result of wound forced on him by the capriciousness of life ripping away the one thing he really loved. He's determined to return the favor by savaging any chef's work by filleting what they — and in this case Grey — holds most dear: cooking.
There are a lot of creeps here, moments where things get rather unnerving: with every new challenge Grey presents Franks, you wonder what sadistic twist is going to be involved in what should be a straightforward task. There are also things like a bath that takes on life-and-death significance — and a novel take on back-stabbing: back-axing. It all made for a fun evening.
My only real disappointment about BITTER FEAST is that is that the one thing I wanted I didn't get: a final, ultimate, bloody — I like the blood — showdown just between Grey and Franks. Le Gros and Leonard had so much fun living in these characters, in playing the depths of their cruelties and in revealing their sadistic streaks, that I wanted all of the restraints to come off in the last act and watch them truly battle for the upper-hand. Instead, the movie adds a stalker / thriller element that, while fun to watch and still bloody and gory — as I said, I like that blood — it left me a bit peckish.
It's a minor quibble, one that I hope won't have director Maggio waiting for me in the parking lot, abducting me off to an abandoned movie theater and forcing me to watch the entire oeuvre of David De Coteau movies until blood seeps from my eyes…
I'm recommending you catch BITTER FEAST when it comes out. BITTER FEAST just screened Friday, Jun 18th at the L.A. Film Festival. It plays again at the festival, on Sunday the 20th, at 10 p.m, at the Downtown Independent Theatre. If you want a fun, scary thrill, go check it out.
Eat first, though.
HORRORSQUAD.COM
Peter Hall June 19, 2010
Whether or not you actually agree that "torture porn" is indeed a genre niche, it's hard to argue that over the years the horror genre has been mired by a deluge of torture. It's invaded from every corner of the planet, often usurping sophisticated characters and plot for extreme violence. There are film franchises that have made a literal game out of placing paper-thin characters up against razor-sharp wire simply so they can spill as much of the red stuff as the audience can endure.
I mention this not because Bitter Feast is one such film, but because that may be the type of film people are expecting from a plot that revolves around a chef, Peter Gray, (James LeGros) who exacts revenge on the food critic, JT Franks (Joshua Leonard), whose perpetually scathing reviews of his meals have finally cost him a career as a celebrity chef. So Peter kidnaps JT, takes him to his isolated house deep in the woods, and makes the blogger pay for all the bad reviews he's written over the years. Combine a plot like that with the current state of the genre and it's oddly natural to expect Peter to break out a pair of pliers and turn JT's body into a canvas of pain. What he actually does is, in a lot of ways, worse.
All Peter wants to do is make JT understand that because his words have consequences he better actually know what he's talking about. What he doesn't realize is that JT is a bit of a self-loathing jerk who has completely lost his lust for life. So it's going to be a little hard for Peter to break through to JT. Unfortunately for the latter, the former has all the time in the world and a house deep in the woods. Things start off simple. Peter reads to JT one of his reviews criticizing the chefs ability to cook an egg. He then gives JT a bucket of eggs and a frying pan. The critic is allowed to eat every egg that he cooks flawlessly over-easy, but if the eggs are imperfect in any way, he won't be eating. And thus begins an "eat your words (or don't) war between the two.
I usually hate to mention expectations for a film in its review, but I think it's important for Bitter Feast in order to understand just how unique of a film it is. Had Joe Maggio written the script and not directed it, it's easy to see all the corners most modern horror directors would have cut to make the film. The characters wouldn't have been as rich, their struggles wouldn't have the proper motivations and their clashes together would be a lot bloodier and far more in-your-face. But because Maggio is coming from a no-budget, character study background, his first stab at horror benefits from not having to give in to any trends currently going on in the genre.
On the flip side of that, however, I think his plotting in the script department is a bit too indicative of someone who is relatively new to the genre. Yes, this allows for a unique set-up of conflict, but the pacing and the highs and the lows may not come as complete surprises to watchers who watch more horror than any other genre. That said, even with a slight sense of pre-destination overshadowing the script, Bitter Feast is still a totally satisfying and engaging film. Maggio knows that showing less and implying more is a horror director's best skill. He also knows that actors who can do more than just fill a role, who can actually bring characters to life are his best tool.
James LeGros and Joshua Leonard both give completely to the essence of their characters. LeGros' Peter Gray is perfectly believable as a celebrity chef, but it's clear from very early on that he is completely unhinged and that the only thing that's prevented him from swinging wide open is a strong enough breeze in the wrong direction. Leonard, who most will recognize as "I gave you back the map!" Josh from The Blair Witch Project, is great as that strong breeze. He gives the character just enough damaging arrogance and swagger to keep his breaking point nearly invisible, which makes him a perfect match for Gray's tactics.
It's those very tactics that really seal the deal on Bitter Feast being such a special, worthwhile film. I always admire films that can take an otherwise mundane setup and make it absolutely gripping. To that end, I can guarantee that you've never been more invested in whether or not someone can properly cook a medium-rare steak than you will be here. And if Maggio can have you more fearful for what's going to happen if/when that steak isn't cooked properly, then he's done everything he needs to just right.
FEARNET.COM
Scott Weinberg June 20, 2010
In Bitter Feast, what sounds (perhaps a lot) like an indie retread of Saw, with a potential slice of cleverness thrown in, turns out to be a surprisingly compelling and unexpectedly provocative little horror tale. The "gimmick" here is that a famous chef who has recently fallen on (very) hard times … well, he snaps, basically, and after the loss of his television job, his swanky restaurant position, and all semblances of self-respect, he points his fury at the only logical scapegoat: the internet blogger who kept trashing the man's work.
I know what a lot of you movie fans are thinking already: "oh, here's a horror flick about a chef (aka filmmaker) who exacts brutal revenge on a food blogger (aka film critic), so already I know where this is headed." Or if that's not what you were thinking, it's certainly what was on my mind as the opening moments of Joe Maggio's Bitter Feast ran across the screen. But considering Maggios' earlier films (the very fine Virgil Bliss and Milk & Honey, neither of which are horror films) and the presence of hard-working genre producer Larry Fessenden (The Last Winter, Wendigo, The House of the Devil), I was more than willing to give Bitter Feast its fair 95 minutes.
Also of early note were the lead actors: namely, James LeGros (Point Break, Phantasm 2) as the fastidious and quietly intense chef Peter Grey, and Josh Leonard (The Blair Witch Project, Hatchet) as a thoroughly obnoxious lout who still (somehow) delivers a small shred of humanity. And considering how hateful his JT Franks character is, that's pretty impressive. Newcomer Amy Seimetz , as Frank's estranged wife, doesn't appear much, but does leave an impression. The multi-hatted Fessenden (a frequent actor in his own right) pops up and adds some color at just the right moments.
As for my earlier fears, I should have given Maggio a bit more credit. What I feared would be a horror/thriller about "filmmakers vs. film critics" is actually a plea for simple, basic humanity. Chef Grey is not averse to criticism (OK, maybe he is), but his main problem seems to be with people who bitch and moan and complain, loudly and incessantly, without any sort of basic consideration for other peoples' efforts. (I like to think my film reviews, even when negative, are written with knowledge and passion … plus I never make things "personal." That's for low-end food bloggers like JT Franks.) Franks, for example, doesn't even know how to boil an egg, so Grey has a valid point: if a guy can't boil an egg, or tell ketchup from cold marinara, what gives him the right to (literally) ruin a good chef's career? And make no mistake: Franks kills Grey's career, not unlike , for example, he killed the man's dog. Considering Grey's family history and home life, that career was the only thing holding him to any semblance of sanity.
It's a low-budget, well-paced, impressively performed and quietly engaging indie horror flick that's got two strong leads and a welcome sense of dark gallows humor. And it offers a good moral: think before you speak. And that includes bloggers!
BLOODY-DISGUSTING.COM
BC June 20, 2010
It's incredibly odd writing a review for a film that's premise focuses on a chef's revenge on a food critic blogger for destroying his career. Is director Joe Maggio attempting to say something about my career path or is he just tuning in on a potentially relevant social issue? That's the crux of BITTER FEAST, an unfocused, yet moderately entertaining thriller that premiered at the 2010 Los Angeles Film Festival.
BITTER FEAST follows sous-chef/TV personality Peter Gray (James LeGros) who's career tanks between his sh*tty onscreen attitude and a harsh review by blog food critic JT Franks (Joshua Leonard). Gray exacts his revenge by kidnapping Franks and torturing in an attempt to enlighten him on how difficult his job really is. Gray wants Franks to see the other side of the fence so he can truly appreciate the works he is reviewing, instead of violently destroying (with words) people's hard work.
Problem A: Gray doesn't intend on letting Franks survive. Since Gray wants to kill Franks, the lesson he's trying to teach becomes obsolete.
Problem B: Peter Gray is a Grade A piece of sh*t. He's arrogant, rude, and impossible to work with. He can't be the protagonist, which means Franks must be, right?
Problem C: JT Franks is a Grade B piece of sh*t. He's a bitter, angry individual who writes incredibly harsh reviews for absolutely no reason, right? The food is actually good, but he's just mean, grrrrrrr – or does the food actually not live up to his standard? Maybe it's just in the eye of the beholder? Nope. He's a jerk, and he should die. But wait; apparently Franks lost his son in a bout to leukemia. Now the audience is all of a sudden supposed to connect with him and pray for his escape? I don't think so.
Problem D: The prior leads me to my main point; there's no protagonist. Both lead characters are douche bags that deserve everything they get. There's no one to root for and no one to care about… until….
Problem E: All of a sudden Franks' wife Katherine (Amy Seimetz) becomes the lead character. The only development her character has is that she talks with JT about the leukemia and the angry writing. Then all of a sudden she's thrust to the forefront of the pic and the viewer is expected to care.
BITTER FEAST is more of a potluck than a delicious stew. There's an intense lack of focus and it's impossible to decipher what Maggio is trying to say. It's also becoming lazy and incredibly trite to make the critic a villain. What would have been interesting is if JT was correct about Gray's loss of focus, pointing out that Gray actually had lost his game. Gray in turn couldn't accept this and loses it. Then the audience could have sat back and cheered on Mr. JT Franks.
It's a fun movie — I just didn't feel any connection to the characters.
Although incredibly problematic in its ingredients, BITTER FEAST is still somewhat edible. There are some fantastic sequences sprinkled with intensity. The games Gray play with JT are enthralling and definitely engaging. While you don't really have anyone to root for, it is fun to watch just to see how it plays out. If you don't care who "wins", BITTER FEAST is still an enjoyable snack.
Score: 6 / 10
VARIETY
John Anderson June 20, 2010
It's the rare bit of horror that aspires to haute cuisine, and while "Bitter Feast" is accented with the occasional arterial geyser and McNugget-sized chunk of human flesh, it's really gore for the gourmet. First-rate performances by James Le Gros and Joshua Leonard, some novel tweaks to the standard revenge recipe and what may be cinema's first torture-porn abuse of a blogger lend this Joe Maggio-helmed thriller enough humor to complement its bloodlust. If marketing is executed with the proper panache, "Feast" could perform B.O. cookery.
Serving up that famous dish best served cold is Peter Grey (Le Gros), who hosts "The Feast," a delicious parody of a Food Network show — one Peter thinks is supposed to be about green markets and sustainable foods, and his channel thinks is supposed to be about ratings. Saddled with an unctuously unfunny comic sidekick, Peg (Megan Hilty), and told audiences don't really want to learn anything, Peter has one foot out the door when a food blogger named T.J. Franks (Leonard) trashes Peter's restaurant online. Peter is fired by his boss (former Food Network personality Mario Batali, whose cameo seems pointedly sarcastic), his show is canceled, and soon Peter — who, as glimpsed in flashbacks, had a rather troubled childhood — decides to kidnap T.J. and basically run him through the meat grinder.
Helmer Maggio reveals a fluency in the horror-genre vocabulary while also translating it to his own twisted ends. He's said that "Bitter Feast" was inspired by what he saw as an unfair New York Times review of chef/martinet Gordon Ramsay (as if such a thing were possible), but Peter is much more suggestive of Alton Brown, host of "Good Eats," the last really instructive program on Food Network. For all his soup-to-nuttiness, Peter is actually the sympathetic character here; T.J. is one seriously unpalatable dude (Leonard is perfectly vile), although he is, at the same time, a fantasy figure: a food blogger who could close a restaurant? Don't think so.
But such are the topical grace notes of "Bitter Feast," which might have contented itself with being just another thriller, but instead blends celebrity psychology, media criticism and basic cuisine (what's your definition of an over-easy egg?) while also fusing Emeril Legasse and Norman Bates. Larry Fessenden certainly seems to be channeling Martin Balsam as a private eye who goes sniffing around Peter's remote New York State home in search of the missing T.J., and there's a bit of Vera Miles in the blogger's wife (Amy Semietz) as she's dragged into the nonfeeding frenzy. Fessenden, whose own directorial efforts have included the vampire-addiction pic "Habit" and the unnerving eco-anxiety chiller "The Last Winter," has geared production shingle Glass Eye Pix toward a hybrid of intellectual and visceral horror, and "Feast" is a prime example.
It's also funny: When T.J., tied up like a dog, runs out his chain trying to get at Peter's throat, you can see it coming a mile away and you still laugh. There are some implausibilities to the whole chef-vs. food-blogger setup, such as the idea that T.J. would post his picture on his site and actually take notes while reviewing a restaurant (as the staff virtually genuflects around him).
Tech credits are tops, notably Jeff Grace's score and its recurrent themes, and the beautiful work of d.p. Michael McDonough ("Winter's Bone").
FROM THE DIRECTOR (MAY, 2010)
 The origins of BITTER FEAST go back to June, 2007. I was reading a Frank Bruni review of Gordon Ramsay's first New York City restaurant, "London Hotel." There was a lassitude in Bruni's writing that gave you the sense he liked the food, but wanted to dislike it, and so he delivered this odd, middling, lazy review, ultimately condemning it for lack of what Bruni considered "the most important thing of all – excitement." It struck me that this was totally ridiculous and unfair. Then I started thinking what I would do to Frank Bruni if I were Gordon Ramsay. After many strange imaginings, I concluded that more than anything else, what Ramsay would probably want is to somehow force Bruni to live in Ramsay's shoes for a bit, to teach him empathy, to force him to care about cooking with the intensity that Ramsay cared about it, and then to randomly and arbitrarily shit all over Bruni's dreams. Thus, BITTER FEAST.
Jump to two years later, the winter of 2009. Larry Fessenden, a pal from NYC and the festival circuit, called to ask if I had any horror scripts I wanted to make on a very low budget. At first I said no, but then I remembered this Frank Bruni review, and it suddenly occurred to me that while not a horror tale in the strictest sense, there certainly was the potential to explore the horrific repercussions of real human cruelty and indifference. Larry, Brent Kunkle and Pete Phok (the Glasseye triumvirate) also saw the genre potential, and together we shaped and molded this core idea of a man driven to excessive cruelty by the cruelty which he himself has been forced to endure throughout his life.
The challenges of making BITTER FEAST were many, but I only seem to remember the fun we had and the joy of finally working with a "real" crew, complete with a real gaffer (Brandon Taylor); the audio duo of Alison Jackson and Kate Driscoll (in the past I've always done my own sound); the sublime production design of Beck Underwood; Brian Spears' special FX make-up; Liz Vastola as the one-woman wardrobe machine; and Michael "McFilthy" McDonough behind the camera and martini mixer, to name but a few. Still, there were only 14 shoot days and we quite literally sprinted through the schedule. To facilitate shooting in the woods at night without lights we shot on two Canon 5D Mark II SR cameras which have tremendous low-light capabilities. Trying to keep the actors in focus, given the super-duper shallow depth of field of the still lenses, was a constant challenge that gave McD and our B-camera operator Eric Branco fits, but somehow we prevailed, coaxed along from day to day by the delectability of Larry and line producer's Jacob Jaffke's cooking, and nightly ice-cold wrap beers.
On my first three films I focused entirely on writing and working with the actors. The logistical challenges on BITTER FEAST forced me to focus more on what the camera was doing, special FX, stunts, etc. I was extremely fortunate then to have James LeGros leading our cast. James showed up with the entire script memorized and an entire life, complete with verbal tics and a special little strut, worked out for Peter Grey. Ditto for Joshua Leonard, Amy Seimetz, John Speradakos and of course the ineluctable Larry Fessenden as private investigator Bill Coley.
In preparation for the film, Michael McDonough and I watched several films. Oddly enough, the picture which had the greatest influence on our shooting was "All the President's Men." There was something about the darkness of Gordon Willis' frames that excited and inspired us and seemed appropriate to tell the sad tale of Peter Grey and his unfortunate collision with JT Franks. We were crazy with darkness and frames blotted out by mysterious objects and people moving in and out of the foreground. At the end of every day I would ask McD if we'd gone far enough and he assured me we had. I hope we did.
– Joe Maggio
 FROM PRODUCER LARRY FESSENDEN
In partnering with Dark Sky Films to make a slate of ultra no budget movies, Glass Eye Pix was committing to a daunting task: to deliver quality genre fare for almost no money. In thinking of resourceful filmmakers to meet the challenge, my mind drifted to Joe Maggio who I knew had made a number of no-budget features with strong performances. I invited Joe to try his hand at a genre script and the story he proposed was absolutely delicious. Originally titled MAD CHEF, it was a spare character piece about two smart and willful professionals engaged in a battle of wits. It reminded me of movies like SLEUTH and DEATHRAP: wicked and tense.
Because Joe had in the past worked as the sound mixer and boom operator on his own films while at the same time directing, we were able to conceive of an extremely small crew and still provide Joe with a bit more than he was used to, with producer Brent Kunkle doubling as Maggio's Assistant director. Another strategy to remain lean was the choice to shoot on the Canon 5D still camera with its 30fps video capability. When we made this decision in June of 2009 it was an unusual move, and we were among the very first to make a narrative feature on the device. The benefits of the camera are its extreme low light capabilities, its portability, and the diversity of lenses available for it. Mike McDonough, our cinematographer, was able to give the project a film look by limiting his depth of field.
The production called for several New York City locations including two restaurants, two apartments and a television studio, all of which were shot out in five days. The remainder of the story was lensed in 9 days in a house and surrounding woods in upstate New York— the same house where the Glass Eye Pix production WENDIGO had been shot in 2000. The entire crew was able to live in the location, giving the 14 day shoot the feel of an extended camping trip, and engendering a distinct camaraderie among all involved. Meals were prepared fresh daily in the very kitchen which would hours later be transformed into the sparse set, and more often than not there was barbeque for dinner. In fact one of the great challenges for production designer Beck Underwood was to make the house appear austere and unoccupied, when in truth there was a crew member dwelling in nearly every nook and cranny of the place. The producer's son had to give up his room to the wardrobe department and live in a closet for the duration of the shoot and Brian Spears the fx artist lived in a chicken coop.
Production wrapped in early July with one scene remaining to shoot: The sequence with world-renowned chef Mario Batali. This scene was filmed several months later to accommodate his and Le Gros' busy schedules. It is not the first time Glass Eye Pix has shut down a production and waited for an actor's availability; I SELL THE DEAD took a four-month hiatus from shooting to accommodate Ron Perlman's schedule. A bigger production might be ill-advised to take on these sorts of risks.
In post-production, it was decided that to further enhance the look of the film, we would down-convert the frame rate to 24 frames per second. Though this took some trial and error on the part of producer Peter Phok and editor Seth Anderson, the results were worth it. Similarly, we pushed the film's color boundaries with the help of the colorist, Milan Boncich, at Offhollywood. Our usual sound team, designer Graham Reznick, composer Jeff Grace and post facility Digit Audio, lent their skills to the aural landscape of the film, providing this humble production a big movie sound.
James LeGros, "Peter Grey" – has appeared in some of the most celebrated American independent films of the last two decades, including DRUGSTORE COWBOY, LIVING IN OBLIVION, SAFE, and THE MYTH OF FINGERPRINTS; he has appeared in such genre fare as NEAR DARK, PHANTASM II, THE LAST WINTER, and ZODIAK. Le Gros appeared on Showtime's Sleeper Cell and on Law & Order. He was also a cast member on the television show Ally McBeal and guest starred on ER, Roseanne, Punky Brewster, The Outer Limits (new series), Friends and the NBC series Mercy. He is currently shooting Mildred Pierce, an HBO mini series directed by Todd Haynes.
Joshua Leonard, "JT Franks" – is a Los Angeles based actor/writer/director who first garnered attention for his memorable role in 1999's lo-fi thriller THE BLAIR WITCH PROJECT. As an actor joshua has worked on over thirty films and a number of television shows, including such prestigious projects as Alison Ander's THINGS BEHIND THE SUN, HBO's LIVE FROM BAGHDAD and HUNG and Fox's MEN OF HONOR. Most recently he had a recurring role in Showtime's UNITED STATES OF TARA and starred in Lynn Shelton's HUMPDAY, which won the special Jury prize at Sundance, National Board of Review's Top Ten Independent Films of 2009 and Best Actor at the Gijon International Film Festival. He is currently acting opposite Vera Farmiga in her directorial debut, HIGHER GROUND.
Amy Seimetz, "Katherine Franks" – This year, Seimetz completed her first feature film CITY ON A HILL, which was selected for the 2009 IFP Director's Labs. She also completed production for a short she co-wrote, co-directed and starred in, with filmmakers Mary Bronstein and Ronnie Bronstein. She co-produced and acted in Joe Swanberg's next film SILVER BULLETS. She also produced a film for Alison Bagnall starring Greta Gerwig and Olly Alexander that is tentatively called 40 DAY DREAM. She recently acted in ALEXANDER THE LAST, with Jess Weixler, directed by Joe Swanberg, and produced by Noah Baumbach and Anish Savjani. Her other feature credits include THE OFF HOURS, MYTH OF THE AMERICAN SLEEPOVER and A HORRIBLE WAY TO DIE. Seimetz acted in several films coming out this year— ONE NIGHT ONLY starring Garret Dillahunt and Kristen Wiig, and Lena Dunham's TINY FURNITURE.
Larry Fessenden, "William Coley" – As a character actor Fessenden has appeared in numerous films, recently being cited with a special Jury mention for best performance at the 2009 Slamdance Film Festival for his role in Glenn McQuaid's I SELL THE DEAD. He has appeared in Neil Jordan's THE BRAVE ONE, Jim Jarmusch's BROKEN FLOWERS, Kelly Reichardt's WENDY AND LUCY, Martin Scorsese's BRINGING OUT THE DEAD, Steve Buscemi's ANIMAL FACTORY, Jim Mickle's MULBERRY STREET, Brad Anderson's SESSION 9, and IMAGINARY HEROES by Dan Harris. Fessenden stars in HABIT, and the Sundance pictures MARGARITA HAPPY HOUR (Ilya Chaiken) and RIVER OF GRASS (Kelly Reichardt). He can be seen in Joe Swanberg's upcoming SILVER BULLETS with Jane Adams.
Megan Hilty, "Peg" – Megan Hilty has appeared on television and Broadway, including starring in WICKED and 9 TO 5, for which she was nominated for the Outer Critics Circle Award for Outstanding Actress in a Musical, the Drama League Award for Distinguished performance, and the Drama Desk Award for Outstanding Actress in a Musical. She has appeared on television shows such as THE CLOSER, THE SUITE LIFE OF ZACK AND CODY, UGLY BETTY, CSI: CRIME SCENE INVESTIGATION, DESPERATE HOUSEWIVES AND SHARK.
John Speredakos, "Phil" – BITTER FEAST is John's seventh collaboration with Larry Fessenden and Glass Eye Pix, having appeared in I SELL THE DEAD (as Cornelius Murphy), WENDIGO (as Otis), Ti West's HOUSE OF THE DEVIL, THE ROOST and the upcoming THE INNKEEPERS (playing "Officer Mitchell" in the latter two films), and briefly in Larry's THE LAST WINTER. Other film work includes INSIDE MAN (dir. Spike Lee), CAYMAN WENT, FANTASTIC FOUR, RULES OF ENGAGEMENT (dir. William Friedkin), SCHOOL TIES, JERSEY GIRL, TOWN DIARY, and THE TRADE. John plays a starring role in the indie film UNCONSCIOUS, directed by Brad Wigor, and is currently working for director Raja Gosnell in next summer's THE SMURF MOVIE.
Owen Campbell, "Johnny" – is a sophomore at LaGuardia High, New York's celebrated FAME school. He began his film career in the role of young Jesco White for the feature WHITE LIGHTNIN' — which premiered at Sundance in 2009. He's looking forward to the premier later this year of BETTY ANNE WATERS, directed by Tony Goldwyn, where he portrays Ben, teenaged son of leading actress Hilary Swank. He has also appeared on LAW & ORDER SVU and in MTV's campaign against cyber-bullying. Professional stage performances include Puck in MIDSUMMER'S NIGHT DREAM and the upcoming NOCTURNES at Brooklyn's Piper Theater. Owen loves nothing more than being on set or in an edit room watching, working and learning as movies are made.
Tobias Campbell, "Young Peter" – plays brother in BITTER FEAST and uncle in BETTY ANNE WATERS to his real life brother Owen Campbell. This summer he'll appear in theaters as young Schneider in the Angelina Jolie action feature SALT. He also appeared in the ABC primetime series CUPID. He's looking forward to the fall premier of BETTY ANNE WATERS, directed by Tony Goldwyn and starring Hilary Swank, in which Tobias plays the feature role of young Kenny Waters, the character portrayed as an adult by Sam Rockwell. Tobias loves to study filmmaking in Brooklyn and plans to finish his third original short this summer.
Mario Batali, "Gordon" – With fifteen restaurants, eight cookbooks and a host of television shows, including the ever-popular Iron Chef America, Mario Batali is arguably one of the most recognized and respected chefs working in America today. This, combined with his larger-than-life personality is the reason that he has received accolades like GQ Magazine's Man of the Year and the James Beard Award for Outstanding Chef. Mario and his business partner Joe Bastianich own fifteen restaurants across the country including their flagship New York City restaurant Babbo Ristorante e Enoteca, as well as two restaurants in Los Angeles and three in Las Vegas. The duo's latest venture is Tarry Lodge in Port Chester, New York. Batali made his film debut in Wes Anderson's FANTASTIC MR. FOX.
Joe Maggio, writer/director – Joe Maggio's first film, VIRGIL BLISS (2001), was nominated for two 2002 Independent Spirit Awards — The John Cassavetes Award (for best feature under $500,000) and Best Debut Performance (for actor Clint Jordan.) VIRGIL BLISS was purchased for theatrical distribution by First Run Features, and for North American cable by The Sundance Channel. VIRGIL BLISS was also theatrically released to critical acclaim throughout the United Kingdom. Joe's second film, MILK + HONEY (2003) premiered at the 2003 Sundance Film Festival. It won a Special Jury Prize for Best Screenplay at the 2003 Atlanta Film Festival and was acquired by Wellspring Media. PAPER COVERS ROCK, Joe's third feature, premiered at the 2008 SXSW Film Festival and was purchased by IFC Films for worldwide VOD and DVD distribution. His fourth feature, BITTER FEAST, will premiere at the Los Angeles Film Festival in June 2010. He is currently in post-production on his fifth film, THE LAST RITES OF JOE MAY.
Larry Fessenden, producer – Winner of the 1997 Someone to Watch Spirit Award, writer, director and editor of the award-winning art-horror movies HABIT (Nominated for 2 Spirit Awards), WENDIGO and NO TELLING. His most recent film, THE LAST WINTER (Nominated for a 2007 Gotham Award for best ensemble cast), starring Ron Perlman, Connie Britton and James Le Gros, premiered at the 2006 Toronto Film Festival, was distributed by IFC FirstTake. Fessenden recently directed SKIN AND BONES, starring Doug Jones, for NBC TV's horror anthology show FEAR ITSELF. Fessenden has been a producer on various projects including Kelly Reichardt's WENDY AND LUCY (nominated for two 2009 Spirit Awards and on over 60 "Top 10 Movie of the Year" lists), Ti West's THE HOUSE OF THE DEVIL, James McKenney's SATAN HATES YOU, JT Petty's BLOOD RED EARTH, Ilya Chaiken's LIBERTY KID, Douglas Buck's remake of DePalma's SISTERS, Jeff Winner's SATELITE and David Gebroe's ZOMBIE HONEYMOON. Under his low budget horror banner ScareFlix, Fessenden has produced Ti West's THE ROOST and TRIGGER MAN, and James Felix McKenney's THE OFF SEASON and AUTOMATONS, Graham Reznick's I CAN SEE YOU, Glenn McQuaid's I SELL THE DEAD starring Dominic Monaghan, Ron Perlman, Angus Scrimm, and Fessenden. I SELL THE DEAD opened the 2009 Slamdance Film Festival where it won awards for best cinematography and best actor (Fessenden).
Brent Kunkle, producer – recently produced a slate of "pulp" horror films with Glass Eye Pix and Dark Sky Films. The pictures include Joe Maggio's BITTER FEAST, starring James LeGros, Joshua Leonard; Jim Mickle's STAKE LAND, starring Nick Damici, Michael Cerveris, Danielle Harris and Kelly McGillis; and James Felix McKenney's HYPOTHERMIA, starring Michael Rooker. Brent began his career assisting at IFP then joined Iridium Entertainment for a short period as a producer's and development assistant to Marisa Polvino and Michael Corrente (THE DOOR IN THE FLOOR, THE EDUCATION OF CHARLIE BANKS). He later transitioned into film production as production coordinator and music supervisor on LIBERTY KID, winner of Best Picture at the '07 NY Int'l Latino Film Festival, produced by Mike S. Ryan (PALINDROMES) and Larry Fessenden (HABIT). In 2007 Brent began working full-time for Fessenden at Glass Eye Pix. There he has served as line producer on I SELL THE DEAD starring Dominic Monaghan (LOST) and Ron Perlman (HELLBOY), production supervisor on Ti West's THE HOUSE OF THE DEVIL, and production manager on James Felix McKenney's SATAN HATES YOU. He co-produced JT Petty's short film BLOOD RED EARTH and produced GRAHAM REZNICK's 3D short film THE VIEWER.
Peter Phok, producer – Born in NYC and graduate of the School of Visual Arts started producing with Larry Fessenden's production company Glass Eye Pix in 2006 and put out Ti West's TRIGGER MAN, Graham Reznick's critically lauded I CAN SEE YOU, J.T. Petty's short, BLOOD RED EARTH, and Glenn McQuaid's I SELL THE DEAD which was distributed by IFC Films. Phok also produced Ti West's THE HOUSE OF THE DEVIL which Magnolia Films theatrically distributed. Phok is currently producing new films with Glass Eye Pix and MPI Media Group which include Jim Mickle's STAKE LAND and Ti West's THE INNKEEPERS both scheduled to be released in 2011.
Michael McDonough, director of photography – Scottish born Cinematographer Michael McDonough, studied art at The Glasgow School of Art and The Royal College of Art in London, developing an interest in film during a Prix de Rome scholarship and receiving a Master's from NYU's film program. WINTER'S BONE (Grand Jury Prize, Sundance 2010) and DOWN TO THE BONE (which won the Dramatic Directing Award at the 2004 Sundance Film Festival), were both collaborations with director Debra Granik. His other work as cinematographer includes NEW YORK I LOVE YOU with Allen Hughes, Randy Balsmeyer and Shunji Iwai, QUID PRO QUO and RAVENOUS with Carlos Brooks and BOWLING FOR COLUMBINE with Michael Moore (winning the 2003 Academy Award for Best Documentary). He recently finished THE MORTICIAN (in 3D) directed by Gareth Roberts and BITTER FEAST with Joe Maggio.
Beck Underwood, production designer – Underwood has been a frequent collaborator with Glass Eye Pix as a production designer (NO TELLING, BITTER FEAST, HOLLOW VENUS – DIARY OF A GOGO DANCER); art director (I SELL THE DEAD, STAKE LAND); and as a producer (The Creepy Christmas Film Festival). She also wrote NO TELLING, in collaboration with Fessenden. Her own short films are animated fantasies, (THAT CREEPY OLD DOLL AND PHANTOM LIMBS). Currently she is working on a stop motion music video.
Brian Spears, special effects make-up – Brian Spears is a special effects make-up artist who has been providing zombies, vampires, and all around gore for the past ten years to projects up and down the east coast. Brian has supplied effects to several feature films, award winning shorts and countless music videos. After working on I SELL THE DEAD he's had the opportunity to work on several projects with the emerging production company GLASS EYE PIX. He's contributed plenty of nastiness to many of their new slew of pictures such as BITTER FEAST, STAKE LAND and HYPOTHERMIA. Other credits include PLAGUE TOWN, BURNING INSIDE, SLEEPAWAY CAMP IV, SHADOW DEAD RIOT and the currently lensing THE INKEEPERS. Spears enjoys long walks on the beach with a fine wine and a good book but relishes the chance to dismember, disfigure and pore gallons of blood on a film set.
Graham Reznick, sound design – Graham Reznick is a sound designer and director. He created sound design for Ti West's THE HOUSE OF THE DEVIL, THE ROOST and TRIGGER MAN; Glenn McQuaid's I SELL THE DEAD; James Mckenney's AUTOMATONS; and the upcoming STAKELAND (Jim Mickle) and BITTER FEAST (Joe Maggio), among others. Graham recently directed the critically acclaimed feature film I CAN SEE YOU (under Larry Fessenden's Scareflix banner), as well as the stereoscopic 3D short film THE VIEWER.
Jeff Grace, composer – Jeff Grace is a composer working for film, concert and stage. His work has been performed by Flux Quartet, Bulgarica Philharmonia, Lucia Micarelli, Valentina Farcas (Berlin Comic Opera), Marcus DeLoach (New York City Opera), Kenny Barron and members of the Metropolitan and New York Philharmonic orchestras.Jeff's recent film credits include Larry Fessenden's THE LAST WINTER, Ti West's THE ROOST and TRIGGER MAN, and Ilya Chaiken's LIBERTY KID, as well as NBC's Fear Itself episode SKIN & BONES. From 2001 to 2004 Jeff was an assistant to Academy Award winning composer Howard Shore working on the three films of Peter Jackson's THE LORD OF THE RINGS trilogy, Martin Scorsese's THE GANGS OF NEW YORK, David Cronenberg's SPIDER, David Fincher's PANIC ROOM, and Frank Oz's THE SCORE. Through that association, Jeff worked with such artists as Renee Fleming, Annie Lennox, Enya, Isabel Bayrakdarian, Kronos Quartet, The London Philharmonic Orchestra, Terry Edward's London Voices, and top studio orchestras and musicians in London, Los Angeles and New York.
Seth Anderson, editor – Seth Anderson has edited feature length and short films to much acclaim. His work as editor on SPEED FOR THESPIANS helped earn the film an Academy Award nomination in the Best Short Film category. He edited GINA, AN ACTRESS AGE 29, which won Best Short Film at the Sundance Film Festival in 2001. The feature DOUBLE PARKED, also cut by Anderson, won the Moviemaker Breakthrough Award at the Slamdance Film Festival in 2000. He started his career working for Hal Hartley's company Spin Cycle Post working on the features THE BOOK OF LIFE and HENRY FOOL and editing Hartley's short THE OTHER ALSO. More recently Anderson edited the features PAPER COVERS ROCK, SNIPES, and PAPER SOLDIERS (Universal Pictures), and the THE UNDESERVED. He has also edited television, including series for ABC, Bravo, Style, HGTV, Discovery, and TLC. A graduate of NYU, Anderson's first film job was working as an apprentice editor for Ang Lee on SENSE AND SENSIBILITY.
About Glass Eye Pix: Glass Eye Pix ("one of the indie scene's most productive and longest-running companies" –Filmmaker magazine) is the fiercely independent NYC-based production outfit headed by art horror auteur Larry Fessenden (THE LAST WINTER, WENDIGO, HABIT, NBC's Fear Itself). Fessenden (winner of the 2009 Golden Hammer Award) has operated the company since 1985, with the mission of supporting individual voices in the arts. The company has produced numerous critically acclaimed films in and out of the horror genre, including 2009's WENDY AND LUCY (Kelly Reichardt), THE HOUSE OF THE DEVIL (Ti West), SATAN HATES YOU (James McKenney) and 2008's LIBERTY KID (Ilya Chaiken).
Glass Eye Pix's low budget horror banner, Scareflix, was designed to exploit hungry new talent and inspire resourceful filmmakers to produce quality work through seat-of-the-pants ingenuity. Lean budgeted auteur driven pulp pictures that nurture emerging talents of the genre, Scareflix offer faces both familiar and new in chilling tales that celebrate the diversity of the horror movie– from creature features to tales of psychological dread. Glenn McQuaid's gently macabre I SELL THE DEAD is the sixth Scareflick in the series that began in 2004 a series already populated with killer bats, Robot wars, ghost stories, psychedelic brain melts, sniper rampages, grave robbers and zombies in the films THE ROOST and TRIGGER MAN (Ti West), THE OFF SEASON and AUTOMATONS (James Felix McKenney), and I CAN SEE YOU and THE VIEWER by Graham Reznick. In 2010 the Scareflix library will se the addition of Joe Maggio's BITTER FEAST, Jim Mickle's STAKE LAND and James Felix McKenney's HYPOTHERMIA.
About MPI Media Group: The MPI Media Group is a leading distributor, licensor, and producer of films, home entertaiment, historical footage and more. Founded in 1976, Chicago-based MPI Media Group remains one of the largest independent entertainment companies offering a compelling slate of the world's most respected cinema, documentaries, performances and television series. MPI's wholly owned subsidiaries include MPI Home Video, Dark Sky Films, and the WPA Film Library programs. In North America, product is released via the company's subsidiary labels; MPI Home Video and Dark Sky.