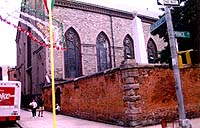 We couldn't get permits so we got essential footage the first few nights very discreetly. At first the Ferris wheel man was pissed off when he figured out we were filming on his rig. The next night I gave him a tape of the dailies, and his whole manner changed. He wouldn't take our money any more and even kept track of what color chair we were in for continuity between shots. Thanks, Nat.
Our Mayor Guiliani cracked down on the festival in 1996. Now it's a shadow of what it was. Few people come. And the ferris wheel didn't show up this year.

I'd always heard Steve Buscemi had been a fireman. When we asked if we could film on the fire station stoop in Little Itally, the cheif told us Buscemi had been a fireman there. This was his station.