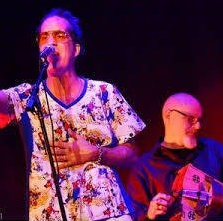 Glass Eye Pal Robert O. Leaver
(co-writer of THE LAST WINTER
and mastermind behind THE CRAWL and HOLE EARTH)
brings his eclectic music style to West Coast venues.
From LA Weekly: 
These N.Y./N.J.-based electro punks feature singer/lyricist/performance-art provocateur Robert O. Leaver (aka Birdthrower) and Jim Coleman, an experimental electronic artist known for his work with industrial noise-rockers Cop Shoot Cop and for his albums done under noms de plume such as Phylr, Here, Jim Coleman and J-CO. The duo's just-out debut album, Sorry About Tomorrow on the estimable Wax and Wane label, features guest spots from ex-CSC and Swans guy Phil Puleo on drums, and is a really fugging spooky kinda thing that hogties pitilessly harsh electronic buzzsaws 'n' whiplashes to caterwauling animal cries about various grim and dire things — which on paper sounds like not so much fun to have to endure but whose rich atmospheres and buried-deep sense of humor or proportion about it all makes this hybrid of New York punk, folk and industrial vérité a tasty challenge indeed. With opener Chandra Shukla aka Xambuca.