GEP pal and Vermont local Jeremy Holm (THE RANGER) curates SCAREFEST, a spooky celebration, now in its 3rd year. Fessenden's DEPRAVED unspools at the Vergennes Opera House, followed by a live Q&A with Fessenden, tix available!
Saturday, October 29, starting at 7pm.
Followed by a Q&A with Fessenden,
dance party and costume contest.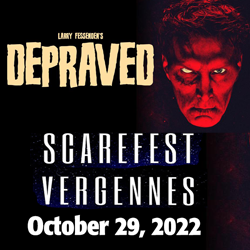 "This is our third Scarefest in the Opera House and it's an honor to partner with them to produce this event, this year's event is extra special because we get to show off Vergennes to my friend Larry Fessenden, director of hundreds of films, including our featured film "Depraved." We are looking forward to a robust turnout for both the film and dance party and raising a lot of money for the Vergennes Opera House." – Jeremy Holm.