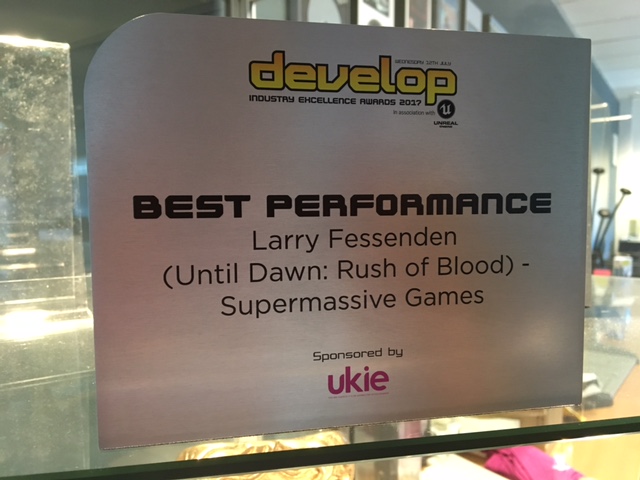 Fessenden nabs Best Performance at the Develop Awards 2017.
Now available for PS4, Super Massive's Until Dawn: Rush of Blood.
Competition was stiff:

Text of the press release:
Guildford, UK – 12 th July, 2017: BAFTA-winning independent British developer Supermassive Games picked up the award for "Best Performance" at the Develop Awards 2017.
Larry Fessenden's performance in Until Dawn: Rush of Blood was voted top out of nine distinguished competitors including Doug Cockle in The Witcher 3: Wild Hunt – Blood and Wine and John DiMaggio in LEGO Dimensions Adventure Time Level Pack.
Pete Samuels, Managing Director of Supermassive Games said "Working with talented actors to bring believable performances to the characters in our games is hugely important to us, so we were delighted to collect the Best Performance award for Larry's portrayal of Dan T in Until Dawn: Rush of Blood. We love working with Larry, both as an actor and writer, and look forward to future collaborations."
"It's a thrill to be in the company of these other nominees, and I would never have imagined carrying the day," Larry said. "I would like to thank Supermassive Games for giving me the opportunity to bring Dan T to life, and I'd like to thank the animators there for giving my performance a little extra jolt."
About Supermassive Games:
Supermassive Games are a BAFTA-winning, independent game developer with a reputation for innovation in both storytelling and VR. The studio has released a number of successful titles and are best known for the critically acclaimed PS4 hit Until Dawn. Supermassive Games recently announced three new titles coming for 2017 – Bravo Team (PSVR), Hidden Agenda (PS4) and The Inpatient (PSVR).
About Larry Fessenden:
Larry Fessenden is an actor and producer and the director of the art-horror films No Telling, Habit, Wendigo and The Last Winter, as well as he TV films Skin and Bones and Beneath. He has operated the production shingle Glass Eye Pix since 1985 with the mission of supporting individual voices in the arts.