"Veteran horror contributor and all-around cool guy Larry Fessenden has a lot of acting, directing and producing credits to his name. But he's never worked with anything quite like he did on Beneath. Fessenden recently sat down with Dread Central to talk about his new film.
First he gave us a brief synopsis of what viewers can expect when they hitch their anchor to Beneath. "It's a stylish little horror film about six teenagers stuck in a rowboat with a malevolent force under the water trying to get them," Fessenden said.
"It's a movie about the decisions they make to get out of the dilemma, and they're not all pretty decisions."
Indeed the film, which at first glance appears to be a monster movie, certainly has other, more devious intentions for viewers as they get deeper into the story and the characters become much less friendly with each other. "I'm a director with that sort of agenda on my mind. Life is what it is, but it's how you respond to it. So I make movies about people behaving badly. I find that to be an interesting topic," Fessenden said. "And the script sort of leant itself to that. I always say Jaws is a movie about a malevolent fish and three guys you really love. For one reason or another they're very charming. Whereas in this movie, the fish is just doing what it does. It doesn't have quite as much malevolence. But the way people react, that's kind of the story in this case, and that worked for me. I think that's what the original writers had in mind."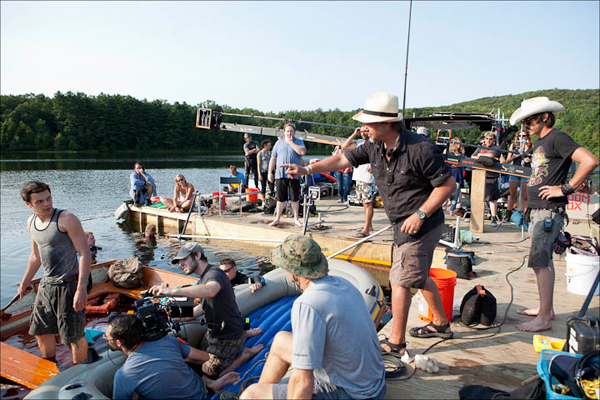 But the first thing that will grab viewers' attention in Beneath is a giant lake fish which terrorizes the teens stuck in a rowboat. And the veteran monster movie viewer will quickly realize the creature is a practical prop, not computer generated. "I pitched to Chiller that we'd have a real puppet. I had no interest in doing a CGI monster," Fessenden said. "It's not that I don't love CGI; it works in a lot of movies. But quite honestly, you need a lot of money to sell that stuff. I think it's tougher to sell than a rubber puppet, personally. So they agreed, just because it's sort of charming. People think, 'Why not? We'll have a big prop fish.' Well, then, of course, we had to make it."
And the making of the fish was a story in itself. "We hired our guys out of LA, and I sent them some sketches of the creature I pictured in my mind. It was pretty vague. It just said…giant fish," Fessenden said. "So we did some sketches and I did some Photoshop compositing and I sent them that. Then they had to build an enormous clay sculpture and they'd send me photos and I'd send them notes like, 'I think the gills should be more like this…' I'd draw on the pictures and we eventually got to where we made a mold, but it was really the talent of the sculptors that created this beautiful prop."
Fessenden continued on the adventures of the fish. "Then it got shipped to New York and it went in the water with two puppeteers who would wear wetsuits and they'd go under the water and drag this fish around on a little line. It was incredibly old school," he said. "It was just basically a huge inanimate object. Each shot required a different approach. If you wanted the jaws to move, maybe you had to be on a platform manhandling that. It was arduous but cool because you're forced to break down the exact shot you wanted and get the fish to behave the way it has to just for that shot, and that was the toughest part."
And although the giant prop is all handmade with good old fashioned elbow grease, the filmmakers did use just a dash of CGI for a couple finishing touches. "I think a lot of the last-minute details were accomplished though a little bit of CGI on top," Fessenden said. "It gives it some life and the eye was sort of our main focus for that kind of thing. And they don't make practical monsters so much anymore. I'm reminded of the Jurassic Park days, which were notoriously CG…but, of course, they really aren't. They were enormous puppets. Beautiful creatures, huge armatures and even quite heavy and dangerous, and I came from that tradition.'"
Check out the full interview on Dread Central.
BENEATH hits Blu-ray/DVD March 25th via Scream Factory.