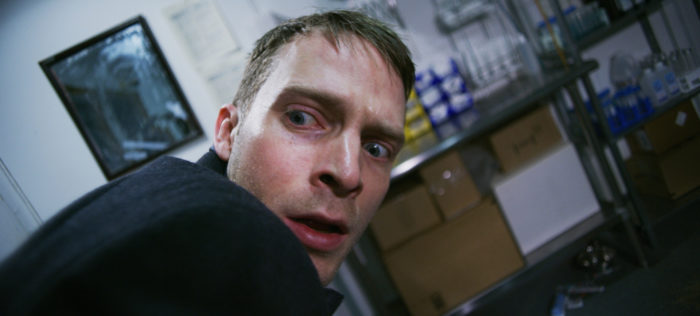 DEPRAVED isn't the first time Larry Fessenden has delved into the Frankenstein mythos. The Godfather of Indie Horror Cinema played with reanimation in one of his first films, the mad science drama NO TELLING. That was 1991 and even though NO TELLING was a memorable and powerful film, Fessenden has perfected his distinct style and delivered a stunning low fi masterpiece in DEPRAVED.
Fessenden brings Mary Shelley's tale into the modern age, following a PTSD afflicted war medic named Henry (David Call) who pairs up with an opportunistic pharma businessman named Polidori (BLAIR WITCH PROJECT's Joshua Leonard) to test their new experimental drug on a recent murder victim. Naming the reanimated victim Adam (Alex Breaux), Henry goes about his private rehabilitation in a meticulous and careful manner – teaching Adam basic coordination and memory skills. Of course, this isn't fast enough results for Polidori. Meanwhile, Adam is having flashes of his previous life and urges to find a mate of his own, much like Henry's devoted girlfriend Liz (Ana Kayne). You know where this is going…and it's going to be bad.
Fessenden hits all of the story beats we've seen in tons of reinterpretations of the Shelley classic. The difference here is that Fessenden distills the basics from the story and applies it to a modern tale of big pharma, lofty ambition, and the conflict between corporate demand vs. humanitarian treatment. Despite those heady themes, DEPRAVED is drenched with character and heart all around, as Fessenden imbues both Henry and Adam with sympathetic traits. Henry wants what's best for Adam, looking after him like a child. But this treatment isn't happening fast enough by Polidori, who is desperate to report results and make money off of all of this. This conflict is one of two in this tale, paralleled with Adam's struggle to regain his humanity. All elements work marvelously and reflects Shelley's tale in an intricate way that most Frankenstein tales fail.
Another thing that sets this film apart is Fessenden's unique cinematography. Fessenden uses quick montages of images, simple overlays of color and light, and other rudimentary (but effective) camera effects that gives even more substance and style. This is a technique Fessenden has used before in films such as WENDIGO and THE LAST WINTER. Though this technique has been used by other directors (Aronofsky's REQUIEM FOR A DREAM, for example), it feels like Fessenden's unique stamp on each of his films. I would love to see Fessenden get his hands on a big budget film. He has been behind the scenes for way too long and has been a major trumpeter for many of the best voices in today's horror game. Maybe he is comfortable with the low budget control and personal take to all of his own films, but I'd love to see what this soulful and passionate filmmaker would do with a couple of mill. That said, DEPRAVED is truly one of the best FRANKENSTEIN adaptations you're going to find. Be on the lookout for it