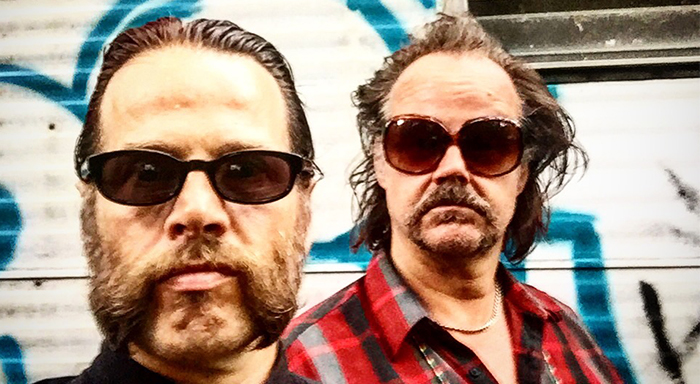 You may have seen Larry Fessenden (I Sell the Dead, Wendy and Lucy, Habit) and James Le Gros (Living in Oblivion, Girls) on the red carpet of the Independent Spirit Awards, among other places. Where you won't see them is on HAP AND LEONARD where you'll hear them instead. (They guest star in the radio play to which Uncle Chester is listening in Episode 102.) Learn more about Fessenden's and Le Gros' longtime collaboration below.
Q: You two worked together on Larry's feature The Last Winter. Is that how your collaborative relationship started?

LF: Yeah, that's definitely our first film together… We were in a very remote part of Iceland for half of the shoot, and for the other half we were in Reykjavik, which was fun too. It was a really great adventure. That's when I met James. Friends for life. Then we made a film called Bitter Feast together… That was about the time we made Stake Land with Jim Mickle and Nick Damici [HAP AND LEONARD's co-creators].
Q: How did you and Mickle meet?
LF: When I was younger, Mickle wrote me a letter. He worked at Kim's Video in New York City, which was a great video outlet. He wrote me a letter and said, "Dear Mr. Fessenden, I would love to serve you coffee or whatever other needs you have." And so we kept up, for years, and then eventually I thought of him when I got the opportunity to make a series of low budget movies. And what he brought to Stake Land was outstanding. That was a big hit for Glass Eye Pix. I still have the letter somewhere.
Q: Nick Damici has appeared on your podcast, Tales From Beyond the Pale, which critics have called the best audio-only horror out there. How would you describe Tales to the uninitiated?
LF: Well we do them with Glenn McQuaid, who's another director in my circle. He made a wonderful movie called I Sell the Dead. And it's ironic we're having this conversation, because we were driving to visit the set of Stake Land and I had my young kid in the back of the car and we were listening to audio plays. And at that moment, we turned to each other and said, "Wouldn't it be fun to do audio plays with Glass Eye Pix? We know so much talent, everybody's waiting on a film to get financed…. Why don't we do that? It'd be a lot cheaper than making a movie."
Q: How long's it been around?
LF: We've now done three seasons. James here has been in every season, often acting with Vincent D'Onofrio.
JL: And his progeny! I did one with his daughter.
LF: So it's this community of artists and actors and filmmakers, that's what Glass Eye Pix is… I've been in Mickle's subsequent movies after Stake Land and the audio plays have been a really special way to keep working together. And so I think Mickle wanted to give a nod to that when he realized he needed some audio component to HAP AND LEONARD… We did the second season [of Tales] live, and that was a great experience. That means you're listening to a single take of the piece and the sound effects were on the stage. It was really….
JL: Old school. Old school.
LF: The other thing that comes to mind about this little collaboration is, it's funny, because Nick Damici and I have always joked about playing Sherlock Holmes and Watson on the stage. Just as long as we've known each other, we've sort of teased each other that that would be great fun. So when this came out, it just seemed so much in the wheelhouse of our conversations. Then Nick couldn't actually act in it for one reason or another, so I said, "Well, we've got to get James in on it."
Q: Who plays the show-within-a-show's announcer?
JL: Larry's the announcer!
LF: It was in my contract. I have to have more roles than James Le Gros. I counted the lines!
JL: Larry is always lead tambourine player in any band we're in.
Q: Why a Sherlock Holmes parody? Damici apparently wrote the script. It's a very dignified conversation between Holmes and Watson, and then Holmes' story takes this bizarre turn about a husband throwing his dentures at his wife.
LF: Dude, I have the same question. When I knew I was going to be doing a little snippet with James from Sherlock Holmes I was very excited, and I thought that we'd get into one of those [classic Holmes monologues] where he's figuring out, like, because of a little dirt under your shoes you've been down this or that road… None of that comes into play. It's the most peculiar script that he's got. And I don't know if Nick had a hangover or how this came about… You're going to have to get an exclusive interview with Nick Damici to reveal that information. We're just pawns in this game, James and I.
JL: But a poor player who struts and frets his hour on the stage.
LF: Signifying nothing!
JL: A tale told by Nick Damici.
Watch new episodes of HAP AND LEONARD every Wed. at 10/9c.